Digital Transformation (DX)
Creating new value. Redefining work. Every business is on the digital frontier.
What is

digital transformation?

Digital transformation is the process of applying digital technologies to reinvent how and why work gets done to create and deliver new value.
But the definition of digital transformation is only a starting point—in practice, digital transformation represents a unique journey for each organization, and its path will be defined in large part by workforce culture and resilience to adapt and experiment.
What

does digital really mean?

It's a digital world—but what do all the digital business terms mean? Digitization, digitalization and digital transformation are common terms that get used interchangeably by mistake.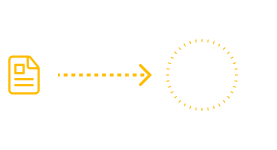 Digitization
...means moving data from analog to digital. Typically, it means going from paper to computer.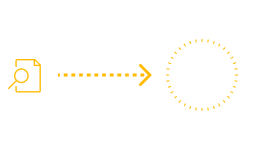 Digitalization
...means making use of digitized information to increase efficiency and effectiveness. Think of time saved by being able to search digitized information and use that data more effectively because it is categorized and easily accessible.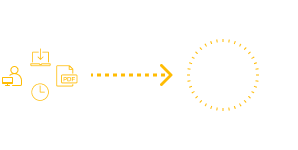 Digital transformation
...means remodeling business to make the most of this digital reality. On the digital playing field, every aspect of business—from products, services, and profit models, to the customer experience and value propositions—is fair game for reinvention. In other words, digital transformation isn't about the data, it's about business strategy.
Why

is digital transformation a top priority?

Overnight, enterprises discovered their level of "digital fitness" and realized the only way forward is through digital transformation.

Immediate urgency

Business continuity
Disaster-ready business systems and more flexible capacity rely on digital technologies, like Robotic Process Automation (RPA).

Customer service
Reaching—and being reachable by—customers. Extending customer support through new channels and tools, like attended chatbots.

Cost containment
Increasing business operational "hygiene" by scrubbing existing processes and systems for redundancies, conflicts, and value leaks, with tools like process discovery.

Future proofing

Value creation
Increasing workforce productivity to focus resources on developing new products/services and business models, built on and designed for a digital context.

Customer experience
Enabling constant evolution from sales and marketing through to customer service in response to the dynamic customer journey.

Business resilience
Building an adaptive organization with fluid business infrastructure to respond to and accelerate change.
Get ahead

with the first steps of digital transformation
Get ahead

with the first steps of digital transformation

Defining Direction

Before starting any digital transformation initiatives, establish clear strategic goals. This begins with understanding the business needs and drivers of change. Transformation is not a predetermined path or destination—nor a specific technology or solution—so your drivers and strategic goals are the forces that will align and empower your transformative efforts.
Understand business needs
Define drivers of change
Establish strategic goals
1
Making space for change
Transformation relies on people. Becoming an adaptable organization starts with your current state. What are the mindsets of both leadership and your workforce? What data, tools, and processes are the norm? Digital transformation will flourish where teams are enabled with the tools and skills needed to support—and create—change.
Start with people
Recognize current state
Enable with tools and skills
2
Getting digital
No matter your specific digital transformation strategy or goals, how you operate needs the right technology and data for today as well as tomorrow. Build digital muscle by applying accessible technologies, such as digital assistants, to existing work and processes. Focus on eliminating digital silos and empowering teams to use data in new ways, in particular to improve customer experience.
Apply accessible technologies
Eliminate digital silos
Focus on the customer experience
1
Where

can digital transformation make an impact?


Insurance


Banking


Healthcare


Manufacturing


Public Sector


Life Sciences
How

does automation drive digital transformation?

One of the biggest hurdles to digital transformation is the burden of existing business processes that consume resources and leave zero time for strategy and innovation.

Technologies such as Robotic Process Automation (RPA) and intelligent automation (IA) in the cloud make quick work of automating existing business processes to free up resources and deliver a new level of process and business intelligence, that itself provides a foundation for digital transformation initiatives to build from.

Process Discovery
Apply AI to automatically uncover processes and create bots. Process discovery can increase the pace of automation by 5X.

Intelligent Document Processing
Harness cognitive technologies to create flexible automations to find and work with data from any information source.

Robotic Process Automation
Deploy software bots with advanced digital skills to execute any structured business process error-free, non-stop.

Real-time Analytics
Get insights from bots with embedded analytics that return not only process data but everything the bot sees along the way.
Free capacity by eliminating the burden of existing processes
Harness the potential of digital technologies across the business by connecting disparate systems and applications
Surface and analyze data from systems and processes
Galvanize workforce resilience by transforming the human work experience
Setting the stage for deeper transformation of business
Frequently Asked Questions

about RPA

With all the buzz, it can be tough to get clear answers to basic questions. We believe RPA is a tool that belongs in everyone's hands - so we're here to help. Here are plain language answers to common questions about this automation technology that no one should be afraid to ask!
Future state:


Hyperautomation and the dynamic digital enterprise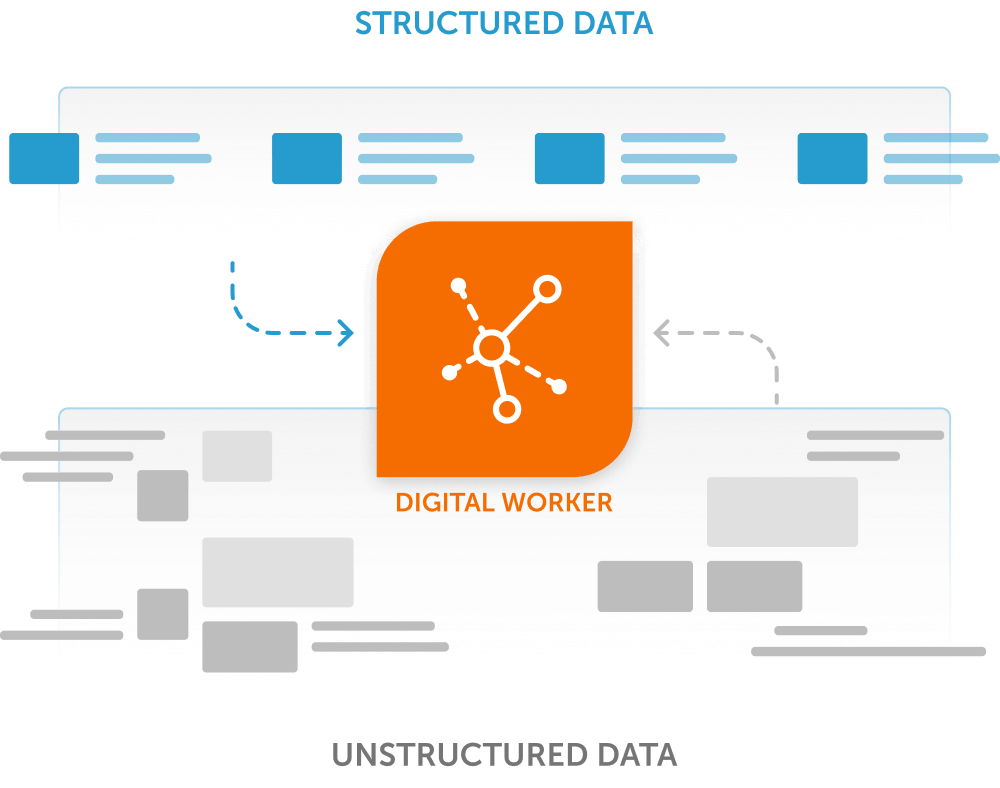 Future state:


Hyperautomation and the dynamic digital enterprise

Further along the digital transformation continuum, hyperautomation supports the ongoing evolution of business.

 

Hyperautomation refers to self-perpetuating automation of business processes by intelligently uncovering and automating previously inaccessible data and processes—with the additional benefit of creating a digital twin of the organization (DTO), revealing unseen interactions between processes, functions, and key performance indicators.

Learn more about hyperautomation