Let's make an impact together
131K+
Hours of training in future-ready
skills donated
56K+
Free licenses donated
5K
Refugees in Ukraine received humanitarian aid due to bots
Based on FY2023 social impact data
Unlocking opportunity and human enablement
We believe our catalyst technology can be part of the foundation for a more equitable society, creating a diverse and accessible future of work for all.
Tech for good solutions like intelligent automation enable nonprofit organizations and humanitarian agencies to connect more people with resources and disburse life essentials in a fast and efficient manner for real human impact.
And, as part of Automation Anywhere's ongoing commitment to unleashing human potential, we're closing the opportunity gap in partnership with the workforce development ecosystem.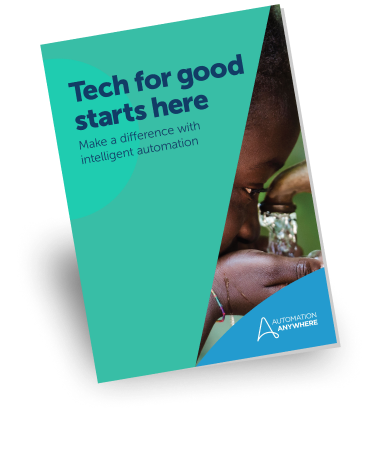 Scaling impact for nonprofits
Our intelligent automation solutions help the nonprofit sector amplify its reach to solve the world's biggest problems that impact everyone, everywhere. From processing data to creating efficiencies and increasing productivity, we improve and scale nonprofit operations by automating tasks and workflows. Automation humanizes work so nonprofits can focus on what matters most—driving their mission and empowering staff and volunteers to use more of their time on serving people in need.
Connect more people with vital aid
Improve registration and reporting systems
Manage increased demand for services
Organize information for decision-making and resource delivery
Our team gives back
We empower teammates to #GoGiveBack and unleash their potential in the workplace and beyond.
Our people are changemakers and doers. Employees use their time, money, and voice to make a positive impact, and we provide them space and opportunities to turn their passion into action across the communities where we live and work. Want to learn more about our social good programs? Read the latest ESG report.
Volunteer Time Off
Our Volunteer Time Off program enables employees and teams to contribute to their local communities and support eligible organizations they care about. Every employee has up to 32 hours of paid time each year to volunteer and use their time, skills, and expertise to make a difference.
Employee Giving
Teammates around the world personally contribute to different nonprofits and causes that they care about most. We support and encourage giving by hosting humanitarian drives, holiday donation drives for gifts and essential items, and fundraising for crisis relief and disaster response.
#GoGiveBack Day
Volunteering together as a one team delivers even greater impact for the community. Across many cities and virtually, we delivered blankets to the needy, supported community farms, and worked with children to promote STEM for #GoGiveBack Day in Fall 2022, contributing 450+ volunteer hours for our first-ever global day of service.
Women's Empowerment Circle
At Automation Anywhere, women know they belong, are seen as equals, and have opportunities to reach their full potential. The Women's Empowerment Circle brings the women of Automation Anywhere together to provide support, exposure, career development, and learning to foster leadership and help each other grow. Our mission to uplift women extends throughout our ecosystem like celebrating female tech leaders in the #GoWomen social media campaign.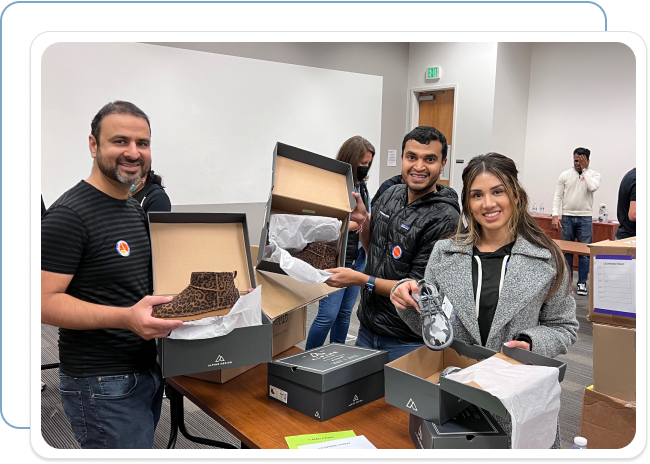 Our community of partners and collaborators
We are reimaging the future in collaboration with nonprofit organizations, social enterprises, and workforce training providers. From delivering humanitarian aid to providing safe drinking water and upskilling people, our partners are making an impact around the world.
Giving back is a core part of our value system and how we do business. We are proud to be part of the Pledge 1% global movement and have committed product and time to ultimately impact 100 million humans.
We believe collective efforts will result in greater good. Our social impact initiatives and investments align with the United Nations Sustainable Development Goals to improve health and education, reduce inequality, and spur economic growth all while tackling climate change.
Spotlight
A force for good in healthcare
Automation in healthcare is transforming crisis into critical change, creating the future of care with leading public health organizations to conserve resources and save human lives. Intelligent automation solutions—like the 'Oxygen Bot' developed with the UK's National Health Service to monitor oxygen supply for COVID patients—return thousands of hours to clinicians for vital frontline work and patient care and increase efficiency and timely delivery of services.