Robotic Process Automation (RPA)
Automation software that anyone can use for any business process
What is

Robotic Process Automation (RPA)?

Robotic Process Automation (RPA) is software technology that's easy for anyone to use to automate digital tasks.
With RPA, software users create software robots, or "bots", that can learn, mimic, and then execute rules-based business processes. RPA automation enables users to create bots by observing human digital actions. Show your bots what to do, then let them do the work. Robotic Process Automation software bots can interact with any application or system the same way people do—except that RPA bots can operate around the clock, nonstop, much faster and with 100% reliability and precision. Want to see what RPA is like? Let's Build-a-Bot™ together.
Get hands-on experience where we'll show you how to build, edit, and run your own automation, step by step.
What

can RPA do for me?

Speed & Accuracy
Tasks are done the same way every single time



Improved Employee Morale
Employees focus on human tasks, not robotic tasks



Increased Compliance
Full auditing capabilities



Improved Productivity
Get more done with the same staff



Scalability & Flexibility
Quickly scale up to accommodate unexpected volumes



Improved Customer Experience
Faster turn-around times Low Barrier to Entry
Low code bot building without programming background required


Robotic Process Automation bots have the same digital skillset as people—and then some. Think of RPA bots as a Digital Workforce that can interact with any system or application. For example, bots are able to copy-paste, scrape web data, make calculations, open and move files, parse emails, log into programs, connect to APIs, and extract unstructured data. And because bots can adapt to any interface or workflow, there's no need to change business systems, applications, or existing processes in order to automate.
RPA bots are easy to set up, use, and share. If you know how to record video on your phone, you'll be able to configure RPA bots. It's as intuitive as hitting record, play, and stop buttons and using drag-and-drop to move files around at work. RPA bots can be scheduled, cloned, customized, and shared to execute business processes throughout the organization.
Why

should I implement RPA?

Integrate Across Platforms

Harness Artificial Intelligence (AI)

Why should I implement RPA?
The benefits go on and on...
Robotic Process Automation has a positive snowball effect on business operations and outcomes. RPA delivers measurable business benefits right out of the gate—think cost reduction, greater accuracy, delivery speed—then continues to add value as it picks up momentum and spreads across the organization. RPA improves business outcomes like customer satisfaction and enables competitive advantages by freeing humans to do what they do best—solving problems, improving processes, conducting analysis, and other value-added work—resulting in higher employee engagement and new revenue opportunities.
Greater Productivity
RPA bots create step-change in employee productivity by accelerating workflows and enabling more work to get done by executing processes independently. In document-intensive industries like financial services, insurance and in the public sector, RPA bots can handle form filling and claims processing all hands-free.
Greater Accuracy
With 100% accuracy there is no rework and near-perfect compliance. Automating with RPA is enabling industries such as finance, healthcare and life sciences to leverage the reliability of bots to achieve strict compliance standards. Robotic Process Automation in accounting is enabling new levels of speed and precision in order-to-cash and procure-to-pay processes.
Cost Savings & Fast ROI
The intuitive, code-free interface allows anyone to quickly master bot creation and start driving ROI. For the average employee, that means regaining 40% of their time each day that was wasted on manual digital administrative tasks. In industries like healthcare the value of automating is amplified by the critical importance of error-free, compliant process execution to patient outcomes.
Integrate Across Platforms
RPA is application agnostic so you'll never need to upgrade or replace existing systems for RPA to work. Bots enable enterprises to live the dream of eliminating technology siloes by seamlessly connecting across all software tools regardless of function and department, in both front office and back office. The result? Achieve never-before seen enterprise-wide efficiencies and collaboration that taps into the true value of your human capital investment.
Customer Experiences
In the front office, attended RPA bots help agents interact with customers by doing all the system and data entry legwork—resulting in reduced call handling time (AHT) and a 50% improvement in customer experience at the same time. Industries such as telecommunications and life sciences deploy bots to streamline customer inquiry handling and smoothly respond to spikes in call volumes.
Harness Artificial Intelligence (AI)
When artificial intelligence (AI) is combined with RPA to create Intelligent Automation, automating extends by an order of magnitude, able to draw on the 80% of enterprise data that's unstructured. In procure-to-pay, automate invoice processing of non-standard vendor invoices. In insurance, automate extracting claims data and detecting potential fraud. In HR, automate request intake by understanding the employee's intent.
Scalability
RPA enables high-volume business processes to be more elastic and able to adapt in uncertain times and changing environments. Flexibly handle any workload—planned or unplanned—by expanding your Digital Workforce the moment it's required. Now imagine it being so simple, so intuitive, that anyone can do it.
Get ahead

with RPA: Start the journey like other top companies

Get ahead with RPA:
Start the journey like other top companies

DISCOVERY
What is your vision for digital transformation?
Determining your readiness for RPA (the next step on the RPA journey) is closely tied to your organization's approach to digital transformation.
If you're starting the process, ask lots of questions–both internally and externally. Reach out to trusted partners, vendors, and other organizations already on their RPA path to inform creating the vision of what your organization looks like during and after digital transformation.
Success tip: Put people at the center of your plans. Involve a broad cross-section of stakeholders and bring HR to the table early on. People, at every level, are ultimately your change agents and RPA champions.
READINESS
Who will your RPA leaders be? And what will you automate first?
There are two critical leadership roles to fill: RPA sponsor and RPA evangelist. The RPA sponsor is your senior-level automation champion. This person has budgeting influence. The RPA evangelist is your project lead. This person will align leaders across business units and departments to determine the right business processes candidates for automation.
Set up your RPA proof of concept and/or pilot for success by targeting processes for automation that have high business value and defining success criteria before you start automating.
RPA VENDOR ENGAGEMENT
Evaluate and select your best-fit solution and support model
The golden rule? Think long-term. RPA, or more broadly, intelligent automation, is a fast-moving market. A vendor that will be relevant as an ongoing partner will have demonstrated experience and stability, and be invested in continuing to adapt and innovate.
Looking ahead to RPA expansion and achieving digital transformation goals, RPA can only be successful at scale when your workforce is empowered to automate on their own. You'll need to choose RPA software that's not only be technically powerful but also exceptionally intuitive.
RPA PoC
Test your RPA business case, implementation model, and assumptions—in your unique business context.
The value of your RPA proof of concept is in seeing if your business case assumptions were accurate and proving out your implementation model.
Reminder: pick a process to automate first that has significant potential for gains through automation, and not a process that's lowest risk. Bonus points if the processes touches as many business technology systems and applications as possible.
RPA PILOT
Test RPA in the real world of your business operations
Post-PoC, the next step in the RPA journey is putting an automated process into everyday operation.
Your RPA pilot will follow the implementation model as defined in your PoC, and you'll assess the performance of the RPA pilot against predefined success criteria and specific pilot exit requirements. Now is the time to ensure you are including people. Learn from everyone's experience of the RPA pilot to ready your roll-out for widespread RPA adoption.
RPA CENTER OF EXCELLENCE (CoE)
Establish your global center for RPA standards and oversight.
Plan for full-scale RPA adoption by creating a global CoE focused on effectiveness and governance.
Your CoE will be in charge of creating standards, and propagating best practices, tools and templates, that support business users who create bots. The CoE has concentrated RPA expertise to assist business units get up and running with building and optimizing their own automations.
EXPANSION
Create ongoing momentum, and extend and deepen the use of RPA across the organization
Here is where your selection of intuitive-to-use RPA software will really shine. Expanding RPA as an end-to-end solution relies on your workforce using RPA on their own.
With guidance from the CoE, business units and departments start up bot building functions that will be the day-to-day engines of automation. The CoE will focus on monitoring progress, establishing best practices, promoting successes, and continuing to enhance resources and expertise.
DIGITAL TRANSFORMATION
See the results of engaging everyone in RPA
RPA is a major enabler for digital transformation, not only by providing an accessible way for business processes to become more "digital" but by changing the human work experience and setting the stage for more complex and intelligent augmentation and transformation of business.
Automation as an embedded part of work life—part of your organization's DNA—means digital siloes are a thing of the past, and processes of increasing complexity can be automated, with people adding value by applying human creativity and invention to solve new problems.
1
Where

is RPA being used?


Insurance


Banking


Healthcare


Manufacturing


Public Sector


Life Sciences
With a complete and intelligent platform.
The Automation Success Platform accelerates transformation with flexible cloud-native automation supported by a global member community and partner ecosystem.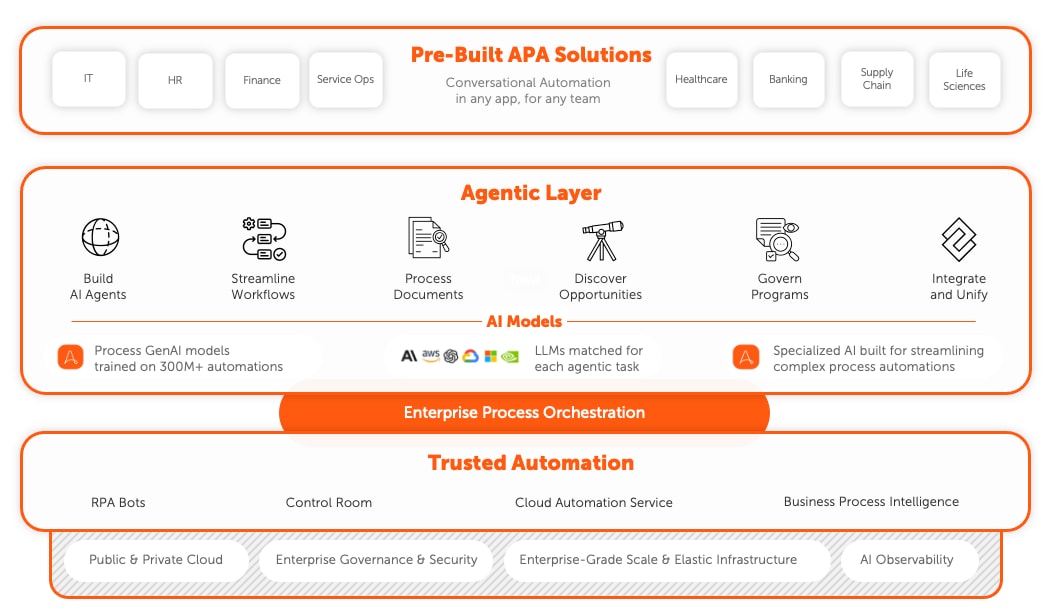 Ready to try building a bot?
Join a free Build-a-Bot™ session to get hands-on experience building, editing, and running your own automation.
Frequently Asked Questions

about RPA

With all the buzz, it can be tough to get clear answers to basic questions. We believe RPA is a tool that belongs in everyone's hands - so we're here to help. Here are plain language answers to common questions about this automation technology that no one should be afraid to ask!
Explore

additional resources