Blog
You're Moving Forward with Your Digital Transformation. What's Next?
August 10, 2022
7 Minute Read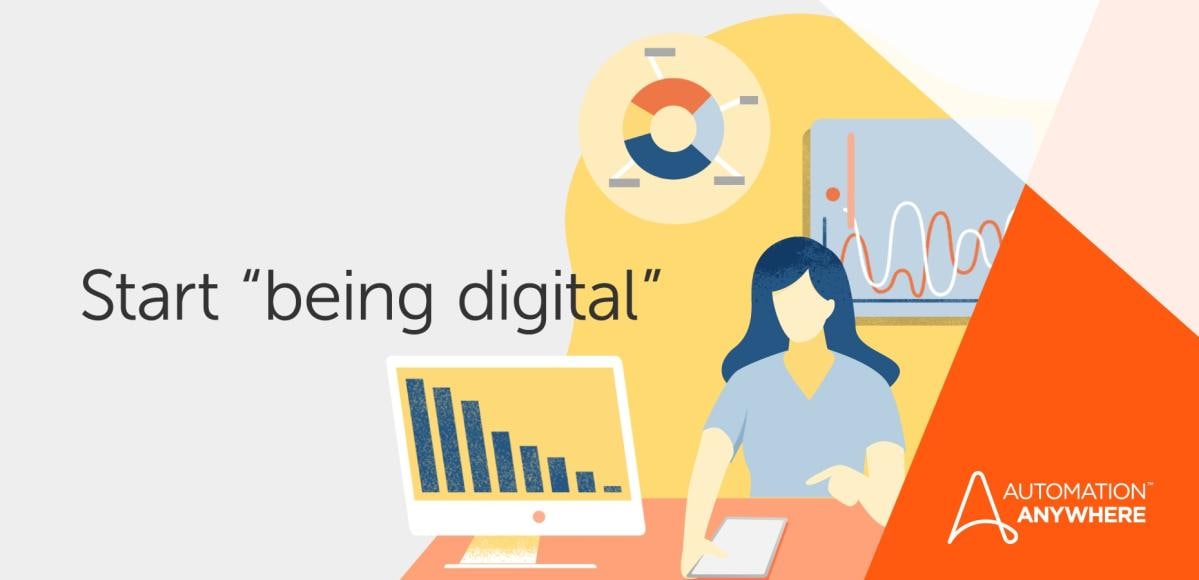 A new study by Deloitte found that organizations deploying intelligent automation are inching closer to completing their digital transformation journeys. In the study, executives were asked to "imagine an ideal organization transformed by intelligent automation." Then, they rated their businesses on a scale of one to 10 as to how close they were to that ideal. In 2022, Deloitte saw a significant improvement in their responses over previous years. Executives' self-assessment scores rose from 4.41 out of 10 in 2020 to 5.04 out of 10 in 2022. In 2019, the average self-rating had been just 4.24.
Intelligent automation is the combination of Robotic Process Automation (RPA) and artificial intelligence (AI) technologies such as machine learning and natural language processing. According to a new report, half of organizations (50%) will invest in intelligent automation this year. This indicates that intelligent automation is slowly being transformed from an abstract buzzword to a technology that is actually used in production.
According to the "State of Automation in 2022" report, on average, companies had automated 120 processes, and the top 10% of respondents had more than 251 automation in production. The average annual spend on RPA alone is approximately half a million dollars.
Given that businesses that have adopted intelligent automation are now more than halfway done with transforming their organizations, what happens next?
 
Stay the course. And keep evolving…
Keep going, of course. But what else? First, embrace change. People talk a lot about the "new normal." But the new normal is not one thing. It's a constantly changing economic, technological, and organizational environment.
Organizations must display agility in the midst of constant change. Those that aren't agile enough to cope with this environment are getting left behind.
A case in point: The average lifespan of the average company is dropping, fast. According to Statista, in 2020, it was only 21 years, compared with 32 years back in 1965. This number is expected to fall even further throughout the 2020s to just 14 years by 2026. At this rate, about half of the S&P 500 will be replaced over the next decade.
Even if your organization doesn't rank among S&P, you have reason to be concerned, as the same continuing change applies to you, too.
Here's some advice on how to build on your current success and continue to flourish.
 
Stay on track with intelligent automation
As Isaac Asimov wrote, "It is change, continuing change, inevitable change, that is the dominant factor in society today. No sensible decision can be made any longer without taking into account not only the world as it is, but the world as it will be."
Here are six things to do to make sure you take change into account and make it to the digital transformation finish line.

Expand your intelligent automation technology toolbox
The 2022 Deloitte study found that almost three-fourths (74%) of organizations are already using RPA and that many are started to use the "full suite" of intelligent automation tools. OCR, process mining, and process monitoring are the most popular technologies to then add to their intelligent automation portfolios. You should be actively investigating them if you haven't already.
The use of low-code technologies is on the rise, too. By 2020, 24% of businesses had deployed low-code technology. By early 2022, that number had skyrocketed to 40%. Only 30% had no plans to deploy the up-and-coming low-code tools.  

Move from task-based to end-to-end automation
If you haven't already, advance past merely automating tasks to automating end-to-end processes. That's when you'll start reaping accelerated benefits from intelligent automation. Deloitte found that 44% of businesses are already doing this, and 48% are planning to do so in the next three years.
But doing this requires what Deloitte calls "reimagination": "A radical approach to process improvement that requires the end-to-end rewiring of processes aligned to the organisation's objectives." That means not just automating processes by emulating the way you've always done them, but completely rethinking them to simplify and innovate to take advantage of all that intelligent automation can do.

Scale across organizational boundaries
There are many barriers to successfully scaling your intelligent automation efforts. Process fragmentation is the most serious one. This especially gets in the way when trying to achieve end-to-end automation of a process that spans several business functions or departments. You have to rethink organizational boundaries—as well as the human-machine relationships involved—to successfully scale those processes to work seamlessly across the enterprise.

Hone your vision
A related but different thing to do is to make sure you 1) have an intelligent automation vision for your entire organization; 2) that you keep adjusting it to meet the constant change in the environment; 3) have your C-suite behind you in your evolving vision.
One perplexing challenge is the constant innovation going on in the intelligent automation technology space. Part of your vision must involve ways to avoid vendor lock-in. You want to be ready for any new tools and solutions that emerge, but be cautious that they play well with others. And carefully control "shadow IT" purchasing of platforms and technologies that could limit your ability to change in the future.
Another place to carefully consider your overall vision is when the C-suite gets involved. They can be your biggest fans—but also challenge you in ways you didn't expect. They might not see the purpose of changing something that is working, not fully understanding the rate and pace of external turbulence you are facing. Patient and clear communication with the C-suite on the whys of your strategic decisions is necessary.

Get IT on board for real
Even with the general user-friendliness of most RPA tools and the emerging popularity of low-code solutions, IT is still an important partner in your intelligent automation plans. Keep the IT team part of the conversation at all times. Any gaps between the business side of operations and IT can be bridged with strategic communications and even organizational restructuring.
Remember, IT has a learning curve when it comes to intelligent automation, too, especially the AI components. IT also is responsible for the all-important infrastructure that your intelligent automation processes run on—yes, even your business's use of public cloud is typically managed by IT—so the group will need to be heavily involved in planning for computing and storage capacity, as well as for provisioning other resources your intelligent automation projects may need.

Train and upskill your employees
The labor market continues to be extremely tight for skilled workers capable of designing, building, and maintaining intelligent automation. As intelligent automation frees up the time of your workers, you need to leverage those resources intelligently by providing training and retraining that upskills them to meet the demand for expertise that you're experiencing. This is a win-win situation: You grow valuable talent from within that you require, and employees evolve with the environment to keep their skills current.

Be prepared to disrupt your own business
According to Ernst & Young, organizations today that intelligently evolve with change will reinvent themselves. Digital transformation means more than just being more efficient and productive. It means delivering new, innovative, and enhanced products, services, and experiences. It means disrupting yourself.
In short, organizations must stop "doing digital" and start "being digital," says Ernst & Young. It means looking within your organization to see where intelligent automation can transform your business. It means analyzing the market to see what your competitors are doing—because face it, it's a head-to-head race to digitization. Not only that, you have to anticipate which companies that were formerly partners or which perhaps didn't exist at all are now new competitors. Traditional approaches just won't cut it. Be prepared for a wild ride for the second half of your journey.
 
About Automation Anywhere Staff