A Work Revolution
Changing the way the world works
We build products that anyone can use to make their work—and the world—better. Automation 360 is the only cloud-native intelligent automation platform, enabling companies to transcend front- and back-office silos and systems, both SaaS and legacy. AARI is the digital assistant that simplifies automation so anyone can automate their business processes.
Environment Social Governance
Diversity, equity, inclusion. All belong here.
Our commitment to diversity, equity, inclusion, and belonging is as well-worded as the next well-meaning organization's. But we're not hung up on the words. We're focused on making it real while being honest that we won't have the full list of what needs to change, yet. We are a work in progress moving as fast as we can to end racism and exclusion by giving them no space or opportunity in our Automation Anywhere community, starting by screening for biases during the hiring process.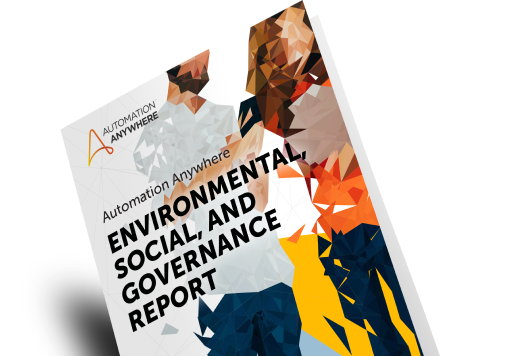 Join our high-performance culture with 360-degree support for your success

Paid time off

Volunteer time off

Health care benefits

Flexible work schedule

Learning and development

Equity program
Vision & Values
Moving fast. Making change. Always anchored in our vision and values.
Go be great. It's what we stand for as a company, because when we unleash the greatness in others, we also unleash it in ourselves.
The opportunity: Redefine productivity and liberate people from mundane tasks. Our technology empowers everyone to achieve their potential in the workplace and in their life's work—in other words, to go be great. It's what we do every day at Automation Anywhere, inside and out.
Passion

Driven by curiosity, a sense of adventure, and joyful perseverance. Passion is first on our values list. Only the passionate can change the world because they keep trying until they get it right.
Innovation

Every employee offers creative skills and ideas to delight our customers. We are comfortable questioning accepted wisdom and moving on when we hit bumps in the road. We feel empowered to be bold, take action, solve problems.
Customer First

We all have internal or external customers and are responsible for their experience and success, anytime, anywhere. Proactive, trusted advisors, we exemplify caring, loyalty, and commitment.
One Team One Goal

Our best ideas take shape when we are approachable, inclusive, accessible, respectful and easy to work with. We share thoughts and plans to gain support and agreement. We jointly establish a common goal to work toward.

You have the ability to make your own decisions and drive toward the goals that you have with support of the entire team.
– Kim Smith
Senior Director Finance Operations & Chief of Staff

We love figuring out problems. And that's why we're here.
– Justine Ma
Director, Corporate & Customer Strategy

We are an extremely fast paced company but that's what makes the work very exciting, there is something new to do every single day.
– Sharmaine Webb
HR Representative, Sr.
Automation Anywhere is where you can make a difference by applying cutting-edge automation technologies to take human beings to the next level. With our products we can remove the repetitive tasks from the workday and set people free to perform higher value activities (free to create and collaborate). Our products contribute to the upscaling of the human experience.

Ricardo Portela, CQF, PMP
Senior Customer Success Manager at Automation Anywhere
Join Us
Ready to revolutionize work? Join us.
This is an opportunity to work with a global, passionate team pioneering technology that's redefining the way people work, everywhere. Join us and discover the many ways that you can have an impact, achieve your potential, and go be great.