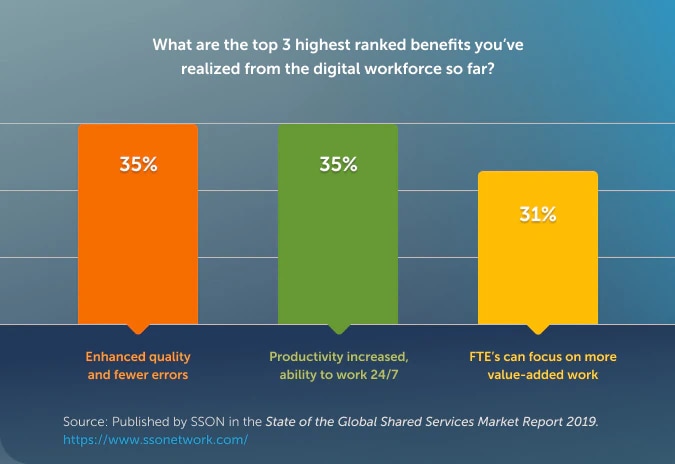 Increase quality, productivity, and capacity for value-added work with RPA
SSC and SSO leaders see the benefits of intelligent automation (IA) to improve quality and productivity while empowering employees to focus on higher-value work. An AI-powered Digital Workforce is the answer to simultaneously managing costs, maintaining controls and compliance, and meeting high delivery expectations, 24/7.
Key Benefits
Realize the benefits of transformation. Shared services is ready for its digital makeover.

Reduce the need for offshoring.
Automate with AI-powered RPA to make in-house services more cost effective.

Increase productivity.
Digital Workers augment human teams so they can get more done and focus on high-value work.

Gain process transparency.
Monitor and analyze every step in every process with data from self-reporting bots.

Drive valuable insights.
100% process visibility helps foresee issues, identify causes, and enable innovative solutions.

Support compliance.
100% accuracy and RPA security means all information is handled with full compliance and controls.

Improve employee experience.
Invest reclaimed employee bandwidth in professional development.
Customer Story
Tricor launches RPA-powered shared services and sees a 30% increase in productivity
Created to boost efficiency and improve client experience, Tricor's new SSC led digital transformation with RPA that proved essential to navigating the pandemic.


I am so pleased we made the strategic decision to establish a shared service center and implement RPA in 2019. This enabled us to confidently navigate through the challenges COVID-19 presented and continue delivering cutting edge solutions for our clients.


Lennard Yong, Tricor Group CEO
Read Case Study
50%
Extra work capacity achieved
3,000+
Hours saved in payroll services in first year
7,000
Hours saved in financial reporting services annually
Specific Solutions
Employ a Digital Workforce and empower more nimble and competitive shared services

Finance and accounting processes are perfect for Digital Workers
McKinsey reports that nearly 70% of Finance and Accounting processes are automation-ready. Bring in bots for everything from procure-to-pay and order-to-cash to financial planning and analysis, and tax operations.

Create flexible capacity—and continuity—in IT
RPA bots enable new standards in continuity by working seamlessly across disconnected systems and applications. Create capacity by automating time-consuming IT processes such as asset tracking, cybersecurity alerts, and end user support.

Empower HR to tackle critical strategic initiatives
Put HR power to work to address workforce transformation, reskilling, and talent acquisition by automating time-consuming processes in compliance and reporting, employee benefits, payroll management, and workforce data administration.
Ready to take the next step?
Get a personalized demo of the world's most-deployed Digital Workforce platform and consult with our team of RPA experts on your specific automation needs.
Automate labor-intensive processes across shared services to realize efficiencies and uncover synergies
Shared services organizations juggle costs, controls, and compliance, while meeting high delivery expectations. The Automation Success Platform empowers shared services to do it all.
Resources
RPA for shared services is yours to discover
WHITEPAPER
The value of RPA to the future of shared services
Learn about the top 10 critical trends that confirm RPA's strategic value in modern enterprise services in this in-depth research report from SSON.
WEBINAR
Business continuity
Enabling business continuity and resilience in Shared Services with intelligent automation
DEMO
AARI in action
See how AARI assists automation of approval and escalation processes with human-bot handoffs and process visibility
Meet your digital workforce
Get to know the Automation Success Platform