Increase user productivity
Free your resources from manual, repetitive data entry
Improved data quality
Eliminate human error and validate data before it enters your business-critical systems
Meet Regulatory Compliance and Standards
Protect your data and adhere to regulatory requirements
Lower Cost of Ownership
Reduce the time to configure document extraction projects and get started instantly with pre-built document models.
Real-time Intelligent Document Processing Platform
Integrate class-leading intelligent document processing technologies directly into the flow of work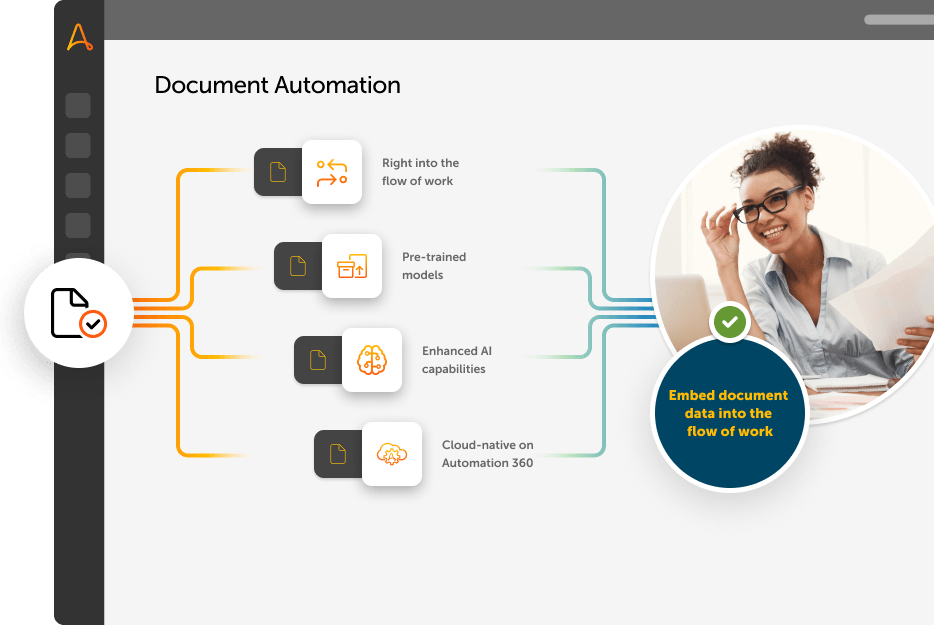 Embedded in the flow of work
Use RPA to collect document data at the point of origination and apply to any process at scale.
Simple to configure
Kickstart your automation journey with pre-built workflows and pre-trained document models.
Integrated with best-of-breed AI
Leverage advanced capabilities from Automation Anywhere and our strategic partners.
Cloud architecture
Part of the cloud-native Automation 360 platform.
How does Document Automation work?
Document Automation combines RPA with AI technologies to classify, extract and validate document data. Learn More.
Pre-Processing
Improve document quality using noise reduction, binarization and de-skewing techniques.
Classification and Splitting
Classify and separate multi-page documents to identify relevant pages.
Extraction
Use advanced technologies to extract specific data from documents.
Data Validation
Validate using rules and AI-driven techniques to improve the extraction results.
See Document Automation in action
With a personalized demo, see how Automation Anywhere's integrated intelligent document processing (IDP) platform finds, extracts, and embeds data into complex business processes faster than ever.
Top use case for Document Automation
Leverage IDP to quickly automate document processing tasks across the business and embed data where you need it to be.
Structured Documents
Automate and streamline forms and application processing to drive increased customer satisfaction.
Semi-Structured Documents
Automate processes with pre-built models for invoices, purchase orders, receipts, and utility bills.
Meet the complete Automation Success Platform
Document Automation is built on Automation 360, making it simple to inject document data directly into any process, at scale. It's designed for the 80% of business processes that rely on people to find and organize data before a process can even begin.
AARI
Automation Solutions
Intelligent Automation Apps
Trusted Cloud
Data
AI
Micro-Services
Pubilc Cloud & On-Prem