Hyperautomation
Hyperautomation is end-to-end automation accomplished by harnessing the power of multiple technologies
What is

Hyperautomation?

It's the extension of legacy business process automation beyond the confines of individual processes. By marrying AI tools with RPA, hyperautomation enables automation for virtually any repetitive task executed by business users.
It even takes it to the next level and automates the automation - dynamically discovering business processes and creating bots to automate them. Hyperautomation was identified by Gartner as one of the year's top 10 strategic technology trends.
With a range of tools like Robotic Process Automation (RPA), machine learning (ML), and artificial intelligence (AI), working in harmony to automate complex business processes—including where subject matter experts were once required—hyperautomation is a means for real digital transformation.
How

does Hyperautomation work?

According to Gartner, RPA enriched by AI and ML becomes the core enabling technology of hyperautomation. Combining RPA and AI technologies offers the power and flexibility to automate where automation was never possible before: undocumented processes that rely on unstructured data inputs.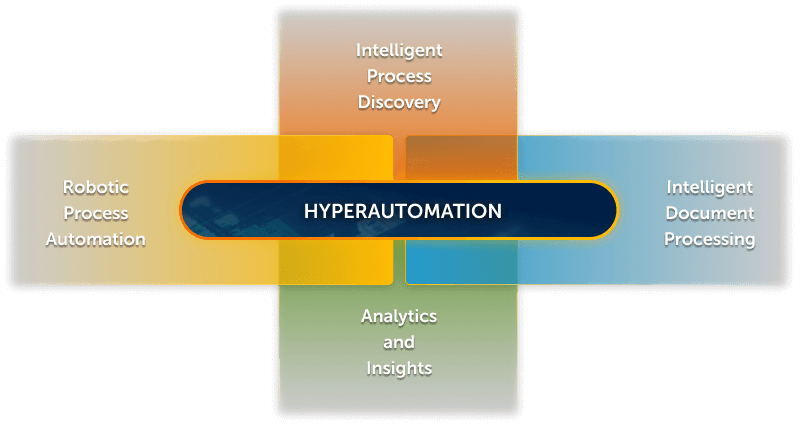 What are the benefits of Hyperautomation?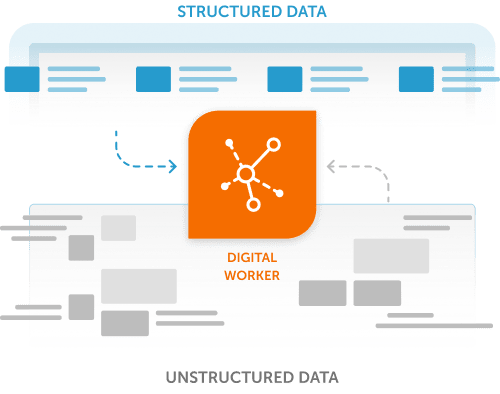 What

are the benefits of Hyperautomation?
Accelerating Complex Work
Hyperautomation provides a high-speed route to engaging everyone in transforming the business, supported by automating more and more complex work that relies on knowledge input from people.
Deploying Digital Workers
Upskilling RPA with intelligence creates an intelligent Digital Workforce that can take on repetitive tasks to augment employee performance. These Digital Workers are the change agents of hyperautomation, able to connect to various business applications, operate with structured and unstructured data, analyze data and make decisions, and discover processes and new automation opportunities.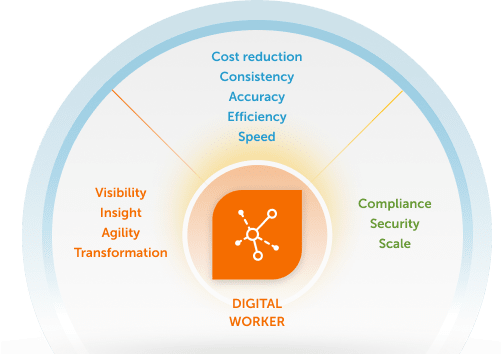 The Power of Artificial Intelligence (AI)
AI is what differentiates Digital Workers from standard automation approaches—making RPA+AI the essential ingredients of hyperautomation.
And by uncovering and automating previously inaccessible data and processes, hyperautomation offers another unique benefit: the creation of a digital twin of the organization (DTO). How does that help? A DTO makes visible the previously unseen interactions between processes, functions, and key performance indicators.
Imagine seeing business value creation as it happens—or doesn't happen—and leveraging the intelligence to rapidly respond as well as identify new opportunities.
Where

can Hyperautomation make an impact?


Insurance


Banking


Healthcare


Manufacturing


Public Sector


Life Sciences
A customer journey: End-to-end automation with RPA and AI
A customer journey:

End-to-end automation with RPA and AI


RPA + AI will give us the end-to-end entourage of enabling customers toward the automation journey.
– Naman Kher, Head of Cloud Services, Atos

With a complete and intelligent platform.
The Automation Success Platform accelerates transformation with flexible cloud-native automation supported by a global member community and partner ecosystem.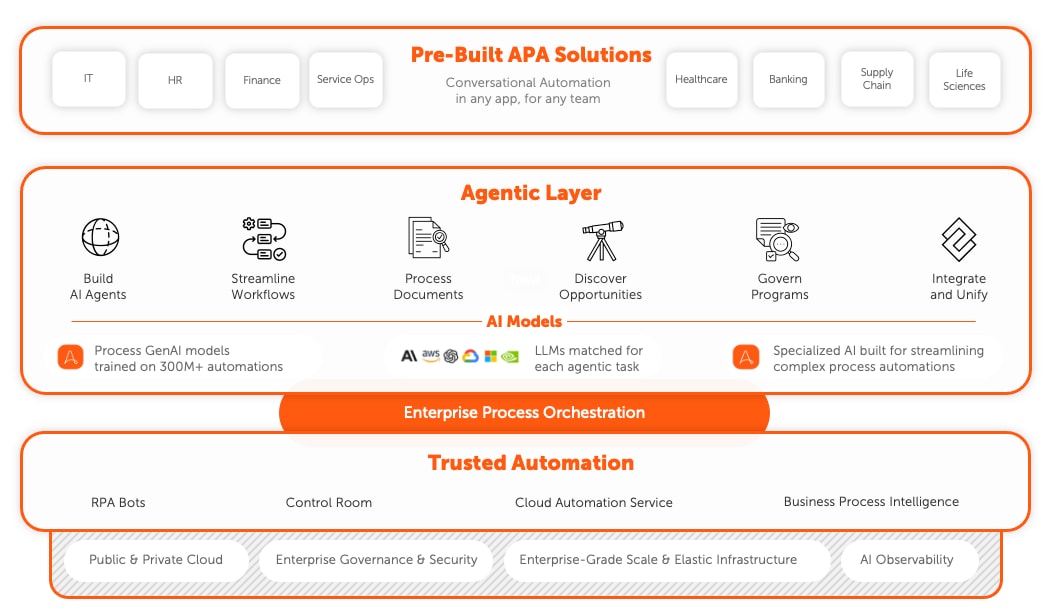 Frequently asked questions

about Hyperautomation

Hyperautomation consists of increasing the automation of business processes by introducing Artificial Intelligence (AI), Machine Learning (ML) and Robotic Process Automation (RPA). Where almost any repetitive task can be automated and it is even possible to find out which processes can be automated and to create bots to perform them.
Hyperautomation is an infrastructure of advanced technologies that are used to scale automation capabilities in an organization. It further automates already automated processes, taking business operations beyond individual input.
These automation technologies include Robotic Process Automation (RPA), artificial intelligence (AI), machine learning, process mining, and other tools that identify time-consuming business procedures and establish the means to automate them.
Intelligent automation on the other hand also encompasses tools like optical character recognition (OCR), AI, and machine learning algorithms, but in order to simulate human behavior and intelligence. This type of automation allows businesses to process complex actions that may otherwise require human input, analysis, or decision-making.
While it's easy to confuse intelligent automation and hyperautomation, it is more accurate to view the former as a subcategory of the latter.
Intelligent automation is just one aspect of hyperautomation technology, amongst others like RPA, natural language processing (NLP), digital process automation, decision management structures, and intelligent business process management (IBPMS) infrastructures.
Identify your business goals

The purpose of hyperautomation is to improve your business processes and consequently speed up and better your operations. To do this, you need to identify automation opportunities in your business that could benefit from hyperautomation. Understand why you need automation and where you need it most, to make sure you get the best of it.

Essentially, you need to set up hyperautomation goals and KPIs that will help you track if the system is beneficial for your business… which it will be!

Learn more about available hyperautomation tools

Be sure to research available automation tools that meet your goals. There's no point using hyperautomation where it isn't needed or doesn't work for your business, so read up and find relevant tools for you. For instance, do you need low-code or no-code instances of hyperautomation if you don't have an expert level of tech knowhow in your firm?

A good starting point would be for you to find out hyperautomation use cases where your industry competitors are already leveraging the tech.

Make sure your chosen tools are sustainable

Once you've researched and selected the right automation platform for you, make sure it's scalable. How can the tool allow process optimization right now as well as in the future as your business expands? Pick sustainable, future-conscious tools that introduce digital transformation today but grow with your business tomorrow!
Before going full-on and undertaking your hyperautomation journey, these are a few challenges you ought to consider:
Finding ways to measure success (does your chosen tool have advanced analytics?)
Calculating return on your investment
Selecting the right hyperautomation infrastructure
Getting buy-in from your company's stakeholders and employees (robust onboarding can help here)
Lack of previous business process information leading to difficult and slow implementation
May sacrifice customer experience and satisfaction at times during implementation
Despite these challenges, however, there are substantial and notable benefits of hyperautomation. Top amongst them are the boost to productivity and the higher-level functionality and workflow streamlining that hyperautomation offers your organization.
It enables employees to work smart and avoid repetitive tasks, and offers your business a range of tools to drive its presence well into the future!