Transform vital healthcare operations with intelligent automation
AI-powered RPA catalyzes digital transformation in healthcare, enabling organizations to adapt, increase capacity, and respond to the spectrum of healthcare challenges throughout the care delivery value chain.
Key Benefits
Gain capacity and increase productivity with a flexible and secure digital workforce
Improve quality of care.
Bots can automate monitoring quality protocols against scores like AHRQ, HEDIS, and HCAHPS.
Reduce compliance risk.
Stay audit ready with bots to keep compliance-based records up to date with 100% accuracy.
Boost morale and productivity.
RPA relieves healthcare workers of repetitive digital tasks to engage in more productive, higher-value work, and focus on patient care.
Improve efficiency, accuracy, and productivity.
Automate healthcare processes and achieve greater throughput, 100% accuracy, and reduce critical errors and costs.
Better patient experience.
Improve patient experience by reducing busywork and making patient encounters, whether virtual or face-to-face, more seamless and successful.
Achieve interoperability.
Bots can securely extract data and safely communicate between any system, following complex privacy rules and process triggers.
Customer Story
R1 RCM transforms health system revenue cycle performance across settings of care
AI-powered RPA enables R1 RCM to adapt automated revenue cycle management to each unique healthcare organization's systems and processes.

We selected Automation Anywhere's RPA solution due to its ability to scale quickly and its bank-grade security and encryption which is critical in the healthcare industry.

-Sean Barrett, Vice President of Digital Transformation Process Owner
Read Customer Story
50M+
Tasks automated annually
425+
Digital Workers in production
75+
Systems in 200+ locations connected
Specific Solutions
Apply intelligent automation across the spectrum of health services from patient care to medicare
Claims Processing
Digital Workers can automate the intake, evaluation, and handling of incoming claims from providers to seamlessly extract required data, identify exceptions, and process invoices through to payment.
Revenue cycle management
AI-enabled RPA bots can improve processes across revenue cycle functions such as new patient appointment requests, claim denials, and billing to extract data from documents, process data, and transfer data to other systems and formats with up to 100% accuracy.
Contact centers
Attended automation can help contact center agents rapidly retrieve patient or member data, and can trigger RPA bots to execute requests, enabling full focus on the patient interaction, faster issue resolution, and appropriate follow-up.
Inventory management
Create a Digital Workforce to download, update and communicate inventory levels, providing constant visibility, eliminating reporting errors, and ensuring optimal levels of critical medical supplies.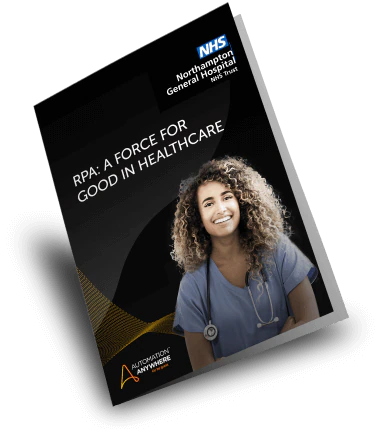 If the NHS did it, so can you.
Find out how the NHS introduced automation in a matter of days, during a global pandemic and within a vast legacy healthcare system, with a trajectory to save more than half a million hours a year in non-clinical staff time by 2025—the equivalent of 66 years of work.
Read white paper
The unified platform to automate healthcare processes end to end
By automating operational processes, both healthcare providers and payers—and every healthcare organization in between—not only realize cost and error reductions, they create much-needed bandwidth to tackle healthcare transformation objectives.
Resources
Resources to bolster the health of your automation journey
BLOG
Processing healthcare transactions manually squeezes operating margins and adversely impacts the quality of patient care. Discover top healthcare use cases for intelligent automation.
BLOG
Interoperability is essential to healthcare transformation. RPA can support the change, but not all platforms are created equal. What should healthcare organizations look for in an RPA solution?
REPORT
What should healthcare payers automate first? Find out where to apply RPA with the Everest Group Enterprise Value Chain Approach (EVCA).
Meet your digital workforce
Get to know the Automation Success Platform