Equip your customer service agents with the power of intelligent automation.
Delighting your customers means streamlining your agents' ability to solve issues quickly and efficiently. The Automation Success Platform seamlessly combines automation and generative AI across every team and system, helping service agents safely and securely resolve cases faster and keep customers happier. Achieve greater customer satisfaction right from the beginning of the customer journey.
Bancolombia delivers world-class customer experiences with intelligent automation.
Leveraging the Automation Success Platform, Bancolombia has saved more than 127K hours of time in their branches, increased customer satisfaction, and opened new revenue streams.
Customer Story


We have achieved a 50% increase in customer service efficiency in the branches where front office automation has been implemented.
127K
annual hours freed up in branches
$19M
reduction in provisioning costs
1300%
ROI in the first year
Enhance and improve the customer experience with automation and generative AI.

Reduce AHT
Speed up support agent response time by 100% by connecting systems, people, and processes.

Accelerate impact
See impact in a matter of days with out-of-the-box, customizable AI models.

Improve accuracy
Reduce human error and drive consistent messaging across every customer interaction.

Personalize experiences
Deliver custom solutions fast with automation powered by genAI to provide a tailored experience.

Boost job satisfaction
Automate mundane tasks and empower agents to focus on delighting customers.

Ensure compliance
Create AI guardrails to adhere to your business's compliance, privacy, and security needs.
Drive authentic, engaging customer experiences that scale with AI-powered automation.
Contact Center

Order Management

Complaint Resolution

Virtual Agents

Disjointed systems create headaches for customers and agents alike. Integrate automations within internal systems to provide a single view of everything your agents need to deliver stellar customer service. With the context of a 360-degree view of the customer, agents are able to personalize customer interactions and move quickly to resolve cases.

Losing goods and shipments can be a major cause of stress, made even more frustrating by outdated processes and technologies. Intelligent automation powered by generative AI alleviates these headaches by capturing and reviewing inquiries instantly, identifying order information and automatically kicking off workflows such as updating the order status and sending customer notifications.

When things go wrong, customers demand instant resolution. With automation and generative AI, incoming complaints can be analyzed for content, need, and tone, creating a case if necessary and notifying the agent of case details. Equipped with this information, agents can use generative AI to auto-draft a personalized reply that includes an appropriate response and resolution with the appropriate tone of empathy and gratitude.

Customers are increasingly accustomed to a fully virtual customer service experience. Automation and generative AI can power virtual agents to meet customers where they are and provide immediate, accurate responses to inquiries. Routine questions and common issues are handled 24/7, ensuring customers receive prompt and personalized assistance without putting additional burden on your customer service agents.

Go from zero to customer delight in seconds with intelligent automation
Customers want more out of their experiences with brands. Learn how to use automation and generative AI to equip your customer service agents with the tools they need to deliver personalized experiences and resolve cases at lightning speed.
Request demo
Automate the impossible with the Automation Success Platform.
Empower and engage your customer service team to accelerate business transformation and scale productivity with the most trusted automation solution.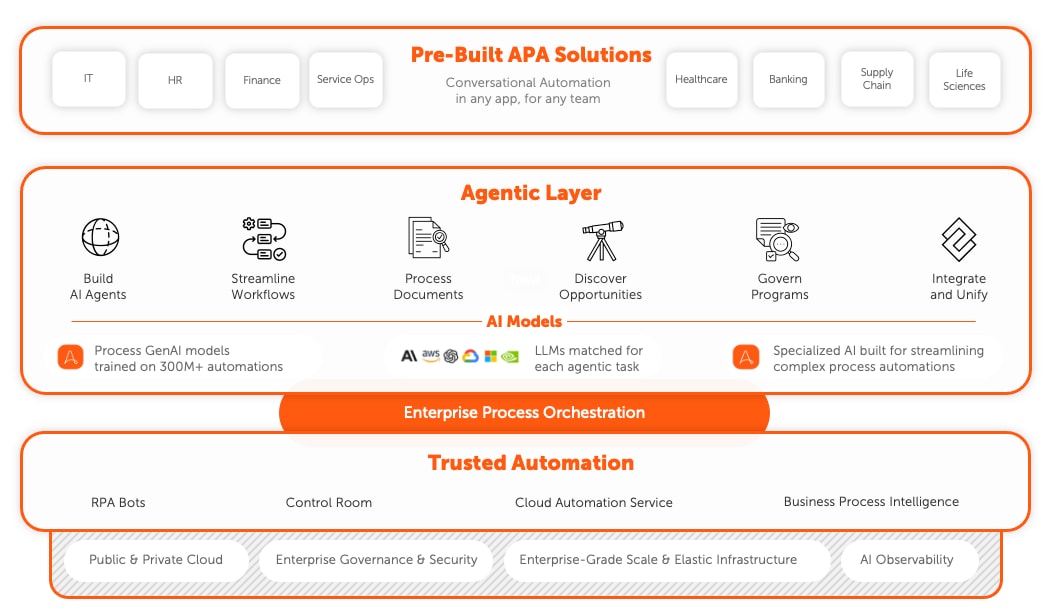 Meet the Automation Success Platform
Become an expert in automation and generative AI for customer service.

Webinar
Hear first-hand from customers using intelligent automation to level-up customer service, reducing AHT and creating a frictionless customer experience.
Watch webinar
Watch webinar