Intelligent Automation
Combine the power of RPA and AI to empower rapid end-to-end business process automation
What is

Intelligent Automation?

Intelligent Automation (IA) is a combination of Robotic Process Automation (RPA) and artificial intelligence (AI) technologies which together empower rapid end-to-end business process automation and accelerate digital transformation.
To extend the horizons of business process automation by an order of magnitude, Intelligent Automation combines the task execution of RPA with the machine learning and analysis capabilities of automatic process discovery and process analytics as well as cognitive technologies, like computer vision, Natural Language Processing, and fuzzy logic.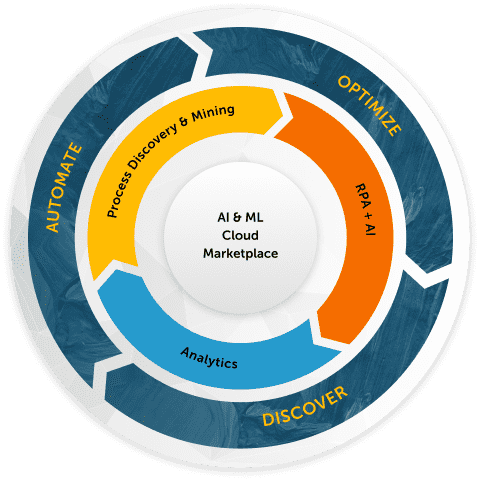 Intelligent Automation spans the entire automation journey—discovery, automation, optimization—automating any front- or back-office business process, and orchestrating work across combined human-bot teams.
How

does Intelligent Automation work?

Intelligent Automation works by harnessing and integrating cognitive technologies with RPA

Intelligent Automation

Process Discovery
Disaster-ready business systems and more flexible capacity rely on digital technologies, like robotic process automation (RPA).

Optimize
Reaching—and being reachable by—customers. Extending customer support through new channels and tools, like attended chatbots.

Analytics and Insights
Increasing business operational "hygiene" by scrubbing existing processes and systems for redundancies, conflicts, and value leaks, with tools like process discovery.
What

are the benefits of Intelligent Automation?

AI + RPA makes automating incredibly complex business tasks a reality

Augmenting RPA with AI technologies expands the possibilities of business process automation to include nearly any scenario—cognitive bots can reason and make decisions, learning on the job to become valuable resources in your human-digital workforce.

But the transformative potential of intelligent automation is that it creates the opportunity to reimagine how businesses operate by seamlessly integrating technology, work processes, and people.

Automate any business process, end-to-end
Save time and money by reducing human interaction, increasing processing speed, and regularizing outputs.

Reduce operational obstacles
RPA + AI can navigate legacy systems and other functional barriers and connect front-office and back-office operations.

Organize and process complex data
Intelligent automation tools capture, store, manipulate, and retrieve records from unstructured sources, ensuring processes run successfully.

Eliminate Errors and Exceptions
Digital Workers improve efficiency and accuracy of both routine tasks and complex procedures. Over time, intelligent bots continue to decrease exceptions by self-learning how to handle them on their own.

Strengthen Cybersecurity
Implement checks and balances to analyze networks and data structures, assess threats, and address potential security weaknesses before they can be exploited.
Ensure Compliance
Intelligent automation enables guaranteed adherence to requirements established by regulatory statutes, industry standards, and best practices.

Enhance Customer Experience
Improve customer satisfaction by delivering faster response times, greater accuracy, and more consistent results.

Liberate Employees
With intelligent Digital Workers handling more complex tasks and complete processes, employees can focus on objectives that use their unique human skills.
Getting started with Intelligent Automation
Select the right RPA + AI platform for your intelligent automation journeys
Making the claim to automate any business process, end to end, implies an impossibly broad range of AI capabilities coupled with deep RPA functionality. How can a single platform offer every necessary tool? The key is natively integrating core cognitive technologies while at the same time being any-AI compatible.
Automation Anywhere is designed for simple and easy AI platform combining on top of the industry's most advanced intelligent automation platform with built-in cognitive technologies. Then see and analyze all of the data and outputs in one comprehensive dashboard.
Empower data scientists and developers to create tailored AI-powered tools for business users using any AI platforms of choice such as Google translate, Microsoft intent analysis, and IBM Watson sentiment analysis. At the same time, all Automation Anywhere Enterprise users can automate unstructured data processes using AI technologies like Computer Vision, Natural Language Processing (NLP), fuzzy logic, and machine learning (ML) without calling in data scientists or highly trained specialists.
Where

can Intelligent Automation make an impact?


BPO


Banking


Healthcare


TECHNOLOGY


Public Sector


Life Sciences
With a complete and intelligent platform.
The Automation Success Platform accelerates transformation with flexible cloud-native automation supported by a global member community and partner ecosystem.