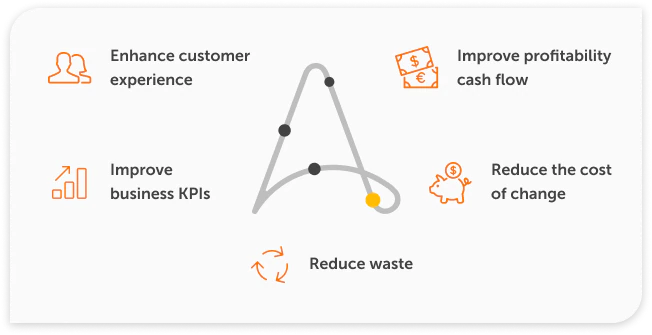 Fuel innovation while reducing cost and time to market
Leading manufacturers are automating back-office and operational processes to eliminate waste and increase agility, while at the same time reducing costs, speeding up time-to-market, and enabling innovation to flourish.
Key Benefits
Maximize productivity. Minimize errors. Reimagine manufacturing operations with RPA.
Make every business process lean
RPA enables manufacturers to eliminate process and workflow waste across the enterprise.
Reduce costs in back-office
Eliminate human error and increase compliance in business processes from HR to IT.
Build a resilient supply chain
Apply RPA+AI to make supply chain processes like onboarding new vendors more agile.
Increase go-to-market speed
Deploy a Digital Workforce for faster process execution and maximal productivity.
Connect systems and access real-time data
RPA works seamlessly across systems and can process loT data and analyze information instantly.
Upgrade post-sale customer experience
Drive loyalty with real-time data from RPA bots to improve support processes and anticipate customer needs.
Customer Story
RPA PROPELS STANLEY BLACK & DECKER TOWARD TARGET REVENUE GROWTH
In year one of applying intelligent automation to business processes, Stanley Black & Decker exceeded target savings by 124%

"Our corporate goal is to reach $22 billion of revenue by the year 2022. The only way to scale that much is to do things better. Automation is allowing us to do that."

—Cynthia Holmecki, Global Leader Intelligent Automation Solutions, Stanley Black & Decker
READ CASE STUDY
1500+
journal entries at monthly close
Specific Solutions
RPA is ready to tackle your toughest processes
Automate ERP Processes
Improve efficiency by applying RPA bots to handle creating and disseminating reports, process invoices and check payment status against SLAs, and monitor and manage inventory.
Purchase Order Processing
Automate invoice processing for all vendors and eliminate errors and delays. RPA can extract invoice data in any format, request approvals, monitor payment status, and update systems.
Inventory Management
RPA bots can work around the clock to track inventory, delivering real-time reporting and inventory analysis to help you keep pace with demand fluctuations.
Customer/Vendor Support
Get attended RPA bots that work together with your support team. Bots handle the data and systems so your teams can focus on service level and customer/vendor relationships.
Lean into the future of manufacturing with intelligent automation
See how you can apply RPA to swiftly adapt and optimize the complex, intertwined processes that define the manufacturing value chain.
Harness the power of a Digital Workforce to transform manufacturing operations
Increase the speed of operations and keep pace with connected manufacturing with the Automation Success Platform
Resources
See what a Digital Workforce can do for manufacturers
Meet your digital workforce
Get to know the Automation Success Platform