Accelerate every automation with real-time action and data across any system.
Harness the power of low-latency APIs on the Automation Success Platform. Close the gaps between disconnected systems, scale faster, and warp-speed every automation.
Quickly connect to business applications with
pre-built packages.
Instantly unlock API and UI-based automation development with a library of packaged actions across key business applications.
Automate across complex workflows with
iPaaS integrations.
Easily automate high-scale, low-latency, complex enterprise workflows with limitless API connections.
Speed automation development with
API Tasks.
Transform APIs into no-code automation building blocks for fast and flexible process composition at scale.
Get automating fast with pre-built packages for leading business applications.
Simplify automation development with an out-of-the-box library of command packages for business applications your teams use the most. Just drag and drop into your automation workflows.
Featured package
OpenAI connected package
Solve real-world problems by integrating tools such as ChatGPT into your automation workflow. This provides a smart, easy-to-put-together conversational AI system to help save time and resources, increase process efficiency, and improve the customer experience.
AWS Cloud Operations
AWS Comprehend
AWS Dynamo DB
AWS Lamda
AWS S3
Boomi
Camunda DMN
Celonis
Data Robot
DocuSign
EPIC
Google AutoML
Google Maps
JMS

Kore.AI
MS LUIS NLP
MS PowerPoint
MS SharePoint
MS Teams
MS Word
Open AI Chat GPT
Pega Infinity
Slack
SmartSheet
Trello
Twilio
Twitter
Workday
Zendesk

IBM Watson
Genesys
Google Doc AI
MS Office 365
Calendar
Relational Databases
Google Apigee
Google Drive
MS Office 365
Excel
REST
Google Calendar
Google Sheet
MS Office 365
One Drive
Salesforce
SAP BAPI
ServiceNow
Sharepoint
(coming with A.29)
Azure
Cognitive Services
IBM DB2
TensorFlow
Effortlessly execute automations from your enterprise workflow apps and iPaaS platforms.
Native connectors in enterprise apps and iPaaS make it easy for developers to call any automation. Reuse your automation assets across the enterprise and drive more value from your investment.

Speed automation creation with API Tasks, your new automation building block.
Accessible right within Process Composer, API Tasks make it possible for developers of all skill levels to drag and drop APIs into any process. Automating complex workflows has never been more simple, fast and flexible.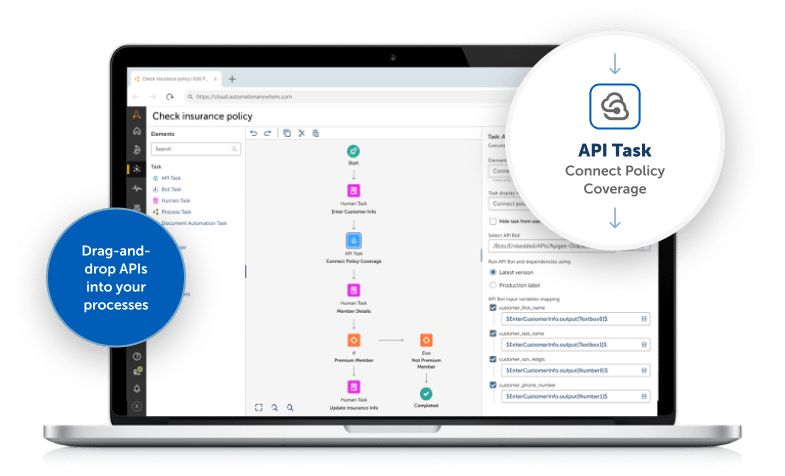 Low latency data access
Enable lightning-fast data interactions with API-enabled back-end systems, delivering real-time data and empowering seamless integrations within familiar platforms.
No on-premises infrastructure
API Tasks run completely in the cloud and therefore do not require on-prem bot runner devices. No infrastructure for you to manage — just build your automation and run.
Easy-to-use low-code user interface
Designed for automation developers, no special training or programming skills required. You build API Tasks just like you build Bots.
Imagine all the ways you can use Integrations.
Quickly build and orchestrate workflows with Process Composer.
Your new automation canvas allows users to easily drag and drop RPA bots, API Tasks, integrations and human-in-the-loop actions — all in a single, visual interface — no code required.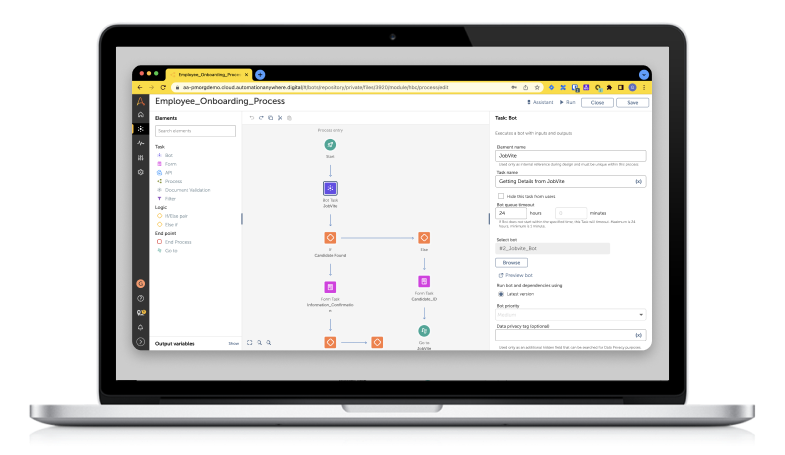 Optimize complex workflows
Simplify business operations across departments by automating multi-user, multi-step tasks and approvals.
Empower employee experience
Transform end-to-end processes by bringing together robotic tasks, connecting APIs and inserting human in the loop where needed.
Boost operational productivity
Decrease the time between tasks, enforce service level agreements (SLAs), and alert teams promptly within their application of choice.
The cloud-native intelligent automation platform.
Explore AI-powered solutions that support the many facets of your transformation journey including your workforce, integration with existing systems, security and scale.
Continue your API automation journey.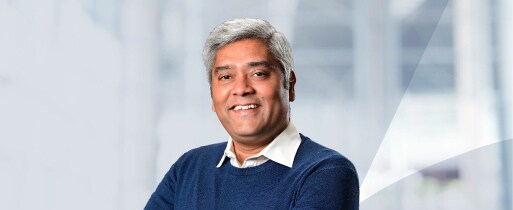 Blog
Automation Anywhere partners with Google Cloud to bring together Generative AI and Intelligent Automation.
Read the blog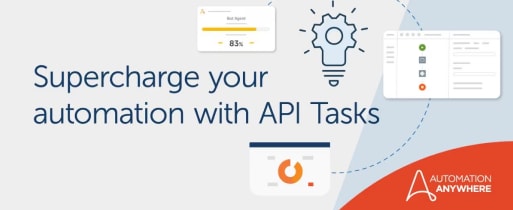 Blog
Check out our blog to get an overview of the concept of API Tasks, typical use cases, and gain insights on incorporating it into your existing tech stack.
Read the blog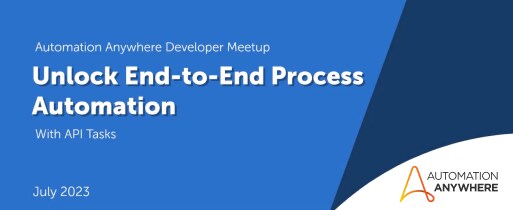 Video
Unlock End-to-End Process Automation with API Tasks to learn more about how API Tasks can help you accelerate.
Watch video