What is process intelligence?
Process intelligence is the automatic, continuous acquisition of business process data across every enterprise system for fast and accurate visibility into the current state of your processes.
Your business runs on processes. But most businesses don't know how their processes really work, where people, applications, and data interact. The reality is business processes change over time as adaptations make a patchwork of the original workflow, and inefficiencies and redundancies creep in. At scale, this fragmented process landscape has major implications for productivity and the ability to transform.
Process intelligence clears the way to business process automation, enterprise optimization, and digital transformation by delivering a real-time flow of accurate, unbiased data to continuously pinpoint inefficiencies, streamline processes, and kickstart automation.
What are the benefits of process intelligence?
Process intelligence enables you to see and decode the way work happens today to accelerate automation and optimize for operational excellence at scale. For example, with process intelligence, you can see where to apply automation to improve the customer experience, identify high-efficiency teams, and uncover bottlenecks and deviations from compliance. Having a transparent, accurate map of your operational landscape empowers transformation; process intelligence is the data that fuels intelligent automation.

Accelerate automation

Improve operational efficiency

Reduce costs

Uncover optimal process paths

Create a digital twin of operations

Improve compliance & governance

Derive instant AI value

Unblock employee productivity

Improve customer experience (CX)

Maximize technology investments
How does process intelligence work?
Process intelligence uses computer vision, artificial intelligence (AI), machine learning (ML), and natural language processing to continuously observe and interpret digital activities across all applications and departments throughout an organization. The result is a real-time detailed map of every digital process across the enterprise.


Where are enterprises applying process intelligence?
For enterprises of all sizes, complex large-scale change is impossible without detailed knowledge of current state activities. Process intelligence helps companies across industries eliminate process unknowns to better plan and execute business process automation and shorten the runway to digital transformation.

Financial Services
Inform risk management
Ensure on-time regulatory filings
Strengthen process controls e.g. BSA AML / KYC

Healthcare
Optimize patient flow and improve quality of care
Faster claims processing
Streamline policy issuance and underwriting

Life Sciences
Accelerate clinical trials
Improve GCP/GMP compliance
Optimize pharmacovigilance (PV) and AE reporting

Human Resources
Optimize employee onboarding
Accelerate training and development
Improve staffing and shift management

Finance
Accelerate financial close and consolidation
Automate report generation
Improve compliance

Customer Service
Speed resolution times
Streamline returns processing
Increase responsiveness to customer requests

Operations
Invigorate transaction, collateral and funds management life cycles
Gain efficient reporting
Establish proper operational controls

Transformation
Improve project execution and success
Identify automation opportunities at scale
Bring innovative technologies to life

Retail
Inform omnichannel strategies
Increase hiring effectiveness and improve CX
Optimize logistics and deliveries

Information Technology
Maximize technology investments
Match technologies to needs
Secure against cyber threats

Risk & Compliance
Identify and report on areas of risk
Ensure adherence to policies and procedures
Strengthen internal controls

Logistics & Supply Chain
Streamline inventory processes
Optimize order management
With a complete and intelligent platform.
The Automation Success Platform accelerates transformation with flexible cloud-native automation supported by a global member community and partner ecosystem.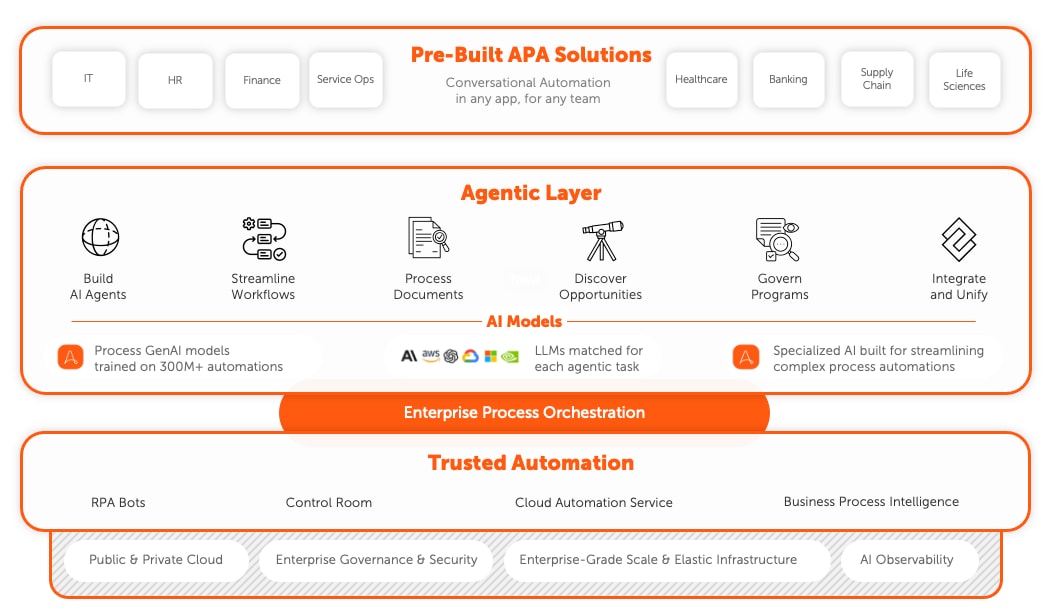 How is process intelligence better than process mining or discovery?
Process mapping, process mining, and process discovery represent recent limited methods to uncover and understand enterprise operations. Unlike its predecessors, process intelligence creates a continuous, accurate map of enterprise processes at scale.
SPEED
Automation and AI reduce time to intelligence by 90%
SCALE
Continuous, granular, enterprise-wide data capture and process analysis
ACCURACY
100% complete process understanding with no bias or errors
EFFICIENCY
Frictionless deployment with zero workflow disruption
Process mapping
is a manual method of documenting processes using interviews and physically monitoring work. Limitations include execution speed, cost, work disruption, and reliance on data from a small sample size.
Process mining
is software that leverages application log files to piece together step-by-step workflows from user interactions with specific systems. Process mining misses digital work that does not produce log files, such as email.
Process discovery
is an evolution of process mining that tracks workflow at the software user interface level. Process discovery is limited by manual analysis, representing a major barrier to enterprise-scale process understanding.
Frequently Asked Questions about process intelligence
Explore additional resources