What Is Business Process Automation?
Business process automation reduces or removes human intervention to make business workflows simpler, faster, and more accurate.
Business process automation (BPA) and other forms of automation processing are not new to the modern business world. We've traded in filing cabinets, which once filled an entire back office, for databases. Clerks are now data entry jobs performed from home. And human resources do much of their work through HR software now powered by artificial intelligence (AI) and machine learning (ML).
Software robots and automation solutions in business process management (BPM) are just the next steps in the digital transformation of traditional business processes that we already perform daily. You can incorporate automation software into almost any area, from beginning to end, in nearly every industry, including manufacturing, education, and even healthcare. Why? It's the smart way to do business.
Business process automation software allows small business owners, enterprises, and organizations of all kinds to:
Reduce the risk of human error
Improve accountability to stakeholders
Maintain compliance and monitor for errors
Eliminate inefficiencies by automating repetitive tasks and tasks with a high-volume of data
Improve customer experience and vendor communications
Strengthen decision-making with data and measurable results
Simplify and standardize complex functions like onboarding, CRM system integrations, and more
The possibilities are endless. And if you run out of ideas, we have a collection of use cases that highlight the latest trends and inspire new ideas and uses for automation technology, the integration of Application Programming Interfaces (APIs), and other automated software tools.
If you're hesitant about Robotic Process Automation and automated workflows, don't worry. Research from Forrester in 2018 suggested that 22% of all businesses still hadn't adopted business process automation, so it's not too late. The best time to get started with BPA was yesterday. The next best time to get started is today, with our new Pathfinder program.
What can business process automation do for me?
Using machine learning, artificial intelligence, and automation technology can translate into a wide range of benefits for small business owners, organizations, and Fortune 100 companies alike. Benefits depend on the what, where, when, why, and how an automated process. However, you'll notice the advantages of BPM and automation tools throughout an organization.

Reduce losses
Robotic Process Automation is ideal for monitoring and flagging problems. Use business process management technology and other intelligent tools to spot and eliminate inefficiencies, the misallocation of resources, and waste. Then, make changes, and continue monitoring these systems to measure the results against performance indicators to determine how much you saved.

Higher accuracy
The ability to automate manual tasks eliminates the risk of human error, often translating into lost time and lost sales while contributing to employee and customer dissatisfaction. As a bonus, staff who would typically spend many work hours on mindless tasks like data entry can focus elsewhere, increasing productivity and job satisfaction and adding value to the organization.

Consistency and uniformity
Process standardization translates into a better customer experience, higher productivity, better quality, more clarity for better decision-making, and increased morale across the organization.

Better communication
Business process automation can gather intelligence and information from all areas of an organization, including HR, sales, marketing, and logistics, routing it to one central location. This practice allows all teams and management to look at the big picture, see how a company measures up against its defined business goals, and stay in the loop on what's happening in other departments. They'll have a decision-making process based on facts and produce better results.

Motivation, morale, and loyalty
Employees actively seek ways they can add value to the company, solve problems, and contribute in meaningful ways. Automation allows them to focus on problem-solving instead of boring tasks. And if they're trained in automation basics, they'll be able to automate the things they find helpful, too. The result? A better work environment, a better customer experience, increased productivity, and value-added services that benefit everyone.

Compliance
Compliance is essential, but it can also be hard work. The automated audit trail created by Robotic Process Automation makes it easier to ensure you stay in compliance with less human intervention. You can get an instant notification if something goes wrong. And if it does, you'll have the information you need to rectify the problem. In short, it's the digital transformation of traditional oversight procedures.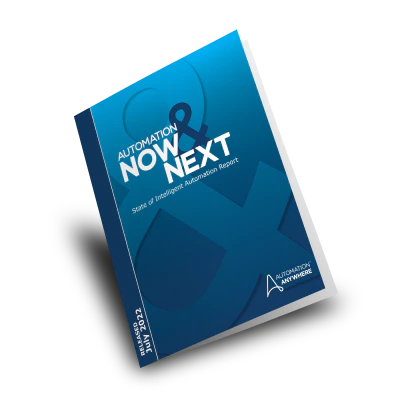 A must read, one-of-its-kind, industry report
Learn how top performers achieve 8.5x ROI on their automation programs and how industry leaders are transforming their businesses to overcome global challenges and thrive with intelligent automation.
Who uses business process automation?
Any business or organization that follows a process can benefit from business process automation. You can incorporate it early in the process, such as when dealing with vendors or purchase orders. You can use it at the other end of the business process for Customer Relation Management (CRM), support, or retargeting. With so many different programs, APIs, and automation technology available, the possibilities are endless. Today, you can find use cases in almost every industry.

Manufacturing
Manufacturers spend much time perfecting and maintaining the tracking of their vendors, purchase orders, supply chains, and inventory. Automated processes can provide all this information instantly to anyone in the organization without taking time and energy away from other tasks. Perhaps more importantly, these systems consistently offer more comprehensiveness and accuracy than manual processes.

Non-profits
Whether you're feeding the hungry, promoting equality, or giving love and care to the furry, automating workflows can come with a whole host of benefits. The money savings alone can be a massive advantage over traditional procedures. There's also the flexibility to adapt to emergency or unexpected situations. Some organizations automate purely to identify opportunities and triage cases to maximize their impact on the world.

Educational institutions
Educational organizations often adopt automation technology to handle enrollment, payments, course material, and other administrative tasks. However, you can use business process automation software like RPA and process mining on course content to improve learning outcomes and increase learning efficiency.

Startups and entrepreneurs
Those in the small business world often wear numerous hats and take on many responsibilities. Workflow automation technology can help take a few of these jobs off your plate and relieve some of the stress. Business process management solutions are varied, customizable, and scalable, perfect for any growing business with its eyes on market domination.

Retail
You can benefit from business process automation regardless of how big your retail operation is. In addition to managing the backend of the business, automation tools and artificial intelligence can make marketing more effective, reduce time spent during customer support interactions, and help you compare current work against the business' KPIs.

Finance
Financial companies, departments, and professionals lose a lot of their time on mundane tasks like compiling data, tracking changes, and monitoring for potential problems. Business process automation and automation software can take the boring out of these business areas, so these professionals can focus on clients, decision-making, and using their expertise.
Frequently asked questions about business process automation
How do I get started with business process automation?
Before you can set any robotic software loose on your data, it's essential to understand what the systems you rely on involve. Go through them to ensure they do what you want them to do, are relevant, and are helpful. Then, start the automation process. Create a map that visualizes where information comes from, where you should be routing it, and what steps it goes through. You can stop there and monitor the various systems, but the possibilities are endless if you choose to go on.
Artificial intelligence and machine learning can make decisions, optimize processes, and suggest growth opportunities. You can use them to focus on production, the customer experience, or anything in between. And if you decide some of the automation technology could do more or isn't working the way you'd hoped, make adjustments or augment it with other automation tools and rerun it.
Explore

additional resources