What is OCR?
OCR stands for Optical Character Recognition. This technology allows the user to convert various types of documents into a digital format that can be searched.
IDC (International Data Corporation) predicts worldwide data will exceed 175 zettabytes by 2025. Yet, while data is one of the largest drives of the digital transformation, over 80% of all business data is embedded in unstructured formats. Hand-written content, printed documents, emails, digital images, and PDFs are all examples of these formats. These documents are unable to be compiled or searched without someone to transfer them to a more structured format, such as text files.
This is where an OCR program comes into play. OCR automates the process of converting unstructured formats into machine-readable, searchable text. For example, if you've ever scanned a receipt into your phone, you've used this technology. For businesses, this makes paper-to-digital data entry much quicker.
OCR technology has a plethora of uses. On the outset, it can sound like something simple, but its applications are far reaching. From individual use to small businesses to giant mega-corporations, Optical Character Recognition has a very definite place in today's digital world.
What are the benefits of OCR?
Optical Character Recognition has a very specific niche in the world of automation software. The ability to use OCR as part of business workflows facilitates any industry's business processes. Beyond that, there are very definitive benefits for any level of business:

Speed
The largest benefit of OCR software is how fast it can make the processes of date entry and data processing. The fastest typist ever recorded typed at 216 words per minute. By comparison, the fastest OCR software on a decent computer can recognize over 1500 characters per second.

Accuracy
Another benefit is accuracy. For humans, each touchpoint - data entry, data processing, data extraction - is an area that allows for possible errors. OCR accuracy just for basic software is around 98%. Adding in AI technology such as deep learning algorithms, natural language processing (NLP), intelligent character recognition (ICR) and other recognition software brings the accuracy even further.

Functionality
While hand-written text can be turned into digital images and scanned documents without Optical Character Recognition, OCR functionality adds the abilities of indexing, editing and searching those documents. If you've ever received a PDF that was nothing more than a scanned image, you understand the frustration of not being able to edit the text. OCR takes that frustration away, whether you're working with scanned paper documents, business cards, hand-written memos or even store receipts.

Cost
More and more of today's businesses are moving towards the cloud and digital everything, thanks to the many benefits of having information at your fingertips. However, the cost of manual data entry, processing and extraction can be exorbitant. Opting for OCR helps trim hiring costs for data extraction, as well as the costs of copying, printing and so on.

Space
As OCR quickly and accurately helps you turn enterprise-wide mounds of paper documents into digitized, documented, catalogued information, those physical papers are no longer needed. Gone are the huge file cabinets full of paper files, replaced by a single server and a platform that makes it simple to find any information within the organization.

Editability
As mentioned above, a huge frustration is having a PDF that is only an image and not being able to edit the text. OCR removes that problem by converting all your documents into a preferred file format such as Word. This makes document contents easier to update, instead of the time consuming copy/paste/edit.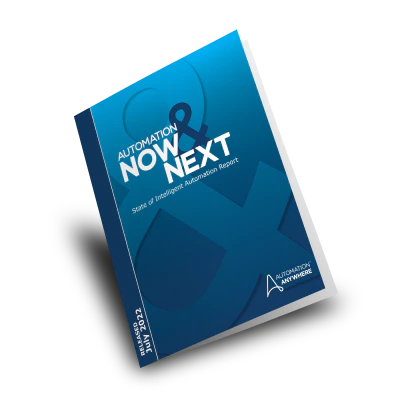 A must read, one-of-its-kind, industry report
Learn how top performers achieve 8.5x ROI on their automation programs and how industry leaders are transforming their businesses to overcome global challenges and thrive with intelligent automation.
What are some common OCR applications?
OCR technology has many practical, commercial use applications in almost any industry you can think of, especially those that have problems with inaccuracy and corrupted data.
Here are just a few examples:

Banking
Banks were one of the first places for automated technology and OCR, and the banking industry is still one of the largest users. Data capture makes banking processes simpler, faster and more efficient.

ATMs were one of the first examples of automation and OCR technology, with mobile check deposits as one of the latest. The quality of OCR technology has grown so far that the computer can now read and accurately recognize the difference between the account number, signature and dollar amount. In fact, the font for the account number at the bottom of the check is specifically made to be more machine-readable.

OCR also allows banks to accurately extract data from other areas, including mortgage applications, pay slips and loan applications.

Insurance
Insurance companies deal with tons of paperwork on a daily basis. Insurance proposals, new accounts, policy renewals and claims processing all require paperwork. To manually digitize all the necessary documents costs too much in terms of payroll and labor.

OCR software makes automated data extraction a fast part of the insurance industry's daily processes. Once new insurance papers have been filled out, they can be scanned and filed into the system. The new customer is now "in the system", and will be for the life of their policy. This means the insurance company can pull up their information at any time: when they have policy questions, when they want to change their policy, or when they need to process a claim.

Healthcare
Yearly, medical claims are processed in the millions. This creates a lot of paperwork, a lot of manual processing and - in an industry where accuracy is paramount - a lot of errors. Missed patient records are just one common issue that comes out of the high amount of paper documents in the healthcare industry. These errors are one of the largest reasons for the push towards digital records.

Enter OCR, which makes moving the plethora of records into electronic format much easier. It removes the manual aspect, which reduces errors, speeds up the process of filing medical records and claims, and increases accessibility to the information. Now, any number of medical forms, pharmacy records, clinical notes or other medical documentation can be available within 24 hours wherever they're needed.

Retail
OCR technology allows the retail industry to better handle shipping and receiving information, among others. It's often used to capture data from packing lists, scan purchase orders, digitize invoices, track inventory and more.

The OCR program can automatically produce thousands of invoice templates without user interactions. It can convert SKU, price and product name into digital format with the help of cameras.

For customers, the software increases the flexibility of reward programs and vouchers. With mobile OCR, all they have to do is scan in their serial codes to redeem them.

Human Resources
Human resources is an integral part of the company, and also one of the areas with the most time consuming tasks. Candidate pre-selection is an excellent example. It costs a recruiter an average of 3 days for a new hire.

How can OCR software help? OCR software allows recruiters to batch process applications. As they're processed, the relevant data is extracted and classified. Recruiters can then use this extracted data to match candidates with job requirements.

This provides several benefits to HR. One, it saves the recruiters precious time. Two, it assists with initiatives such as gender and racial equity, in that it removes everything from the equation except for the necessary qualifications. Unconscious bias and subjectivity are no longer an issue. Third, because the process is faster, candidates don't have to wait as long for an answer, creating a more positive impression at the start.

Real Estate
Commercial and residential real estate companies specialize in creating paperwork. Settlements, expenses, maintenance records, bills of sale and more all need to be signed and filed. Once filed, they need to be easily accessible.

No manual filing system is as efficient and fast as an electronic filing cabinet with the technology to automatically categorize, collate and create the necessary document packets. Integrated with your document management system, OCR makes every document searchable, whether it's an image or text document.
Frequently asked questions about OCR
How do I get started with OCR?
Getting started with OCR and automation takes a few steps, but not because of implementation. To reduce bottlenecks and confusion, you first want to asses how ready your organization is for automation. You want to make sure that you have at least the basic answers to these questions:
What is your vision and strategy?

What processes would you want to automation, and how do you measure them?

How is your company organized? What about your employee and management structure?

What technology are you currently using? How is your company architecture structured from a technical standpoint?
To be clear, these questions will involve more information for enterprise level organizations than for single operators, but that doesn't leave SMBs out of the picture. Robotic Process Automation (RPA) doesn't discriminate based on business size.
Once you have the basic answers to these questions, you want to look for a cloud-native OCR solution. Having a cloud-native solution is a top feature, because they easily integrate into your business processes, are scalable and can grow with your business. They work in any type of business setting, whether full cloud, hybrid cloud, or onsite.
Finally, try a demo. Find out what to really expect from your OCR software before implementing into your business. You'll be surprised by what integrated automation can do for your organization.
Explore

additional resources