What is Macro Recording?
Macro recording is an automation process that allows you to record mouse clicks and keystrokes from the screen to create a script.
When you mention a macro recorder, most people think of a Microsoft Word or Microsoft Excel macro (saved as .xlm or .xlsm files), but that's just one example of an automation script that speeds up repetitive tasks. You can start recording macros in all kinds of applications, including browsers, virtual desktops, Java programs, and more. After you store macro recordings in your organizational or personal macro workbook, you'll be able to complete hundreds of tasks with just a few keystrokes.
Macro recordings are so flexible and accurate that you can do almost anything with them. Create a macro that opens your email, opens a new email, and pastes in a template. Automate reports using a keyboard shortcut by recording macros that open programs, adjust formatting, save files, and export data into a worksheet. You can even record macro scripts that open web pages, input a text string, choose drop-downs, and submit forms.
You'll be able to speed up workflows and eliminate mistakes for virtually no cost. And because you don't need to know programming languages or automation engineering, almost anyone can create, save, and start using them in minutes.
What can a recorded macro do for me?
A universal macro recorder gives you endless options and possibilities to automate tasks such as opening software programs and web pages, capturing data from forms, and performing searches. Some people even use them at home to game, automate their homes, sync playlists, and maximize productivity.

Save Time
We lose hours every day to mundane tasks and data entry. Macro recording lets you automate all these simple, repetitive tasks, so you can focus on doing what you do best.

Reduce Errors
The more times information changes hands, the more likely you will make a mistake. And sometimes, even the simplest mistake can be costly and waste time trying to find them. Automation eliminates these errors, increasing efficiency and building trust in your data.

Better communication
It can be challenging for teams to work together if they aren't aware of the tasks others are doing. Recorded macros make sharing information with other groups and specific individuals more quickly and easily with just a few keystrokes.

Open More Opportunities
Sometimes, we avoid adopting new practices or using a system because they're too time-consuming. Macro recording can take the work out of these systems to make them viable and valuable systems within your organization.

Empowerment
Everyone within an organization who regularly completes repetitive tasks can find ways to increase their productivity and do things better. Macro recordings allow them to find efficiencies, better methods of doing things and even create entirely new systems to improve their workplaces.

Low Investment With High Returns
Recorded macros are an affordable automation solution requiring little to no technical skills. And the benefits are well worth the few minutes you'll spend to set them up. It's a quick ROI win.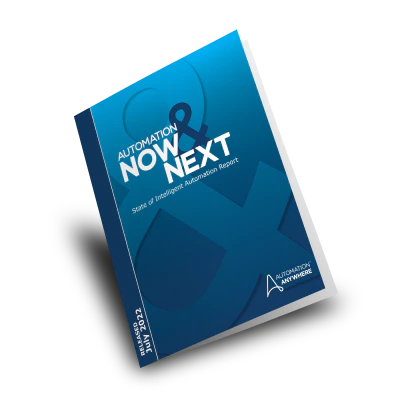 A must read, one-of-its-kind, industry report
Learn how top performers achieve 8.5x ROI on their automation programs and how industry leaders are transforming their businesses to overcome global challenges and thrive with intelligent automation.
Who uses a macro recorder?
Because universal macro recorders work with almost any program or website, everyone can benefit from automated macro recording scripts.

Retail and e-Commerce
Start recording macros to capture customer service inquiries and information and transfer it directly into CRM systems, tech support, or task management software. Share product sales information, improve onboarding, and much more.

Finance
You can automate many processes such as pulling stock or investment information, updating charts, notifications, and others with recorded macros. They're simple to set up, easy to adapt and change as your needs change, and a snap to execute with simple shortcut keys.

Healthcare Administration
Recorded macros can do all kinds of database checks, information transfers, move files, and complete hundreds of other data and software-related tasks in mere seconds. And they're more accurate, helping you to avoid costly and dangerous errors.

Marketing and Social Media
With multiple streams running 24/7 in addition to your website and your business, it can be easy to forget things and get overwhelmed. Use recorded macros to streamline the process, integrate these streams with other business processes, and track everything with a few keystrokes.

Industrial and Warehouses
Macro recordings can streamline everything from timesheets and messaging systems to data and warehouse details. Use these simple automation tools to fill out forms, capture info, and file it all in the right places. You'll wonder how you ever did the job without them.

Education
If you find yourself meticulously typing out the same documents or emails repeatedly, you'll love the ease and convenience of macro recordings. Use them with students, staff, personnel, and visitors, check on the status of items on your to-do list, schedules, and more.
Frequently asked questions about using a macro recorder
While there will be some differences depending on what you'd like to do with recorded macros, they usually follow the same process:
Start at the beginning of the process, open the macro program, and start recording the macro. (In Excel, this is usually located in the developer tab or added to the quick access toolbar located at the top of Word and Excel.)

Complete the task using the precise steps you'd like the script to follow. It will record the active window. (You may need to tell it to choose "this workbook" where it will start on the selected cell or active cell.)

Once you've finished, click "Stop Recording."

Assign the script to a keyboard shortcut like ctrl+shift+ a capital letter, for example.

In the record macro dialogue box, enter the macro name and save it.

Then, every time you want to use the macro, use the shortcut key you assigned to playback the recording.

If you need to edit the macro, you'll be able to do so at any time.
On rare occasions, you may need to work with code like Microsoft Excel VBA code (Visual Basic for Applications), which you can find in Excel's visual basic editor. Most adjustments will require nothing more than a right-click and a change of settings, however. Located in the developer tab in the code group, you can tell it to "use relative references" to help the Excel script navigate through the document, for example.
If you're unfamiliar with Excel's visual basics language, don't worry. There are lots of easy-to-understand resources and how-tos. Many macro recording automation tasks are done solely with a record and stop recording button, so a tutorial is likely all you'll need to learn the technology.
Yes, you can. First, you need to lay out the steps for your bot macro recording. Then, record the macro.
With universal macro recording software, you simply need to tell it to start recording and select the program you would like to begin with. Then, you can move through the various step, selecting text fields, drop-downs, desktop programs, databases, and whatever else you need. The universal recorder works with them all and can follow you regardless of how many programs or webpage changes you need to make.
If you need to make edits, you simply need to open the macro recorder settings. Here, you can edit information or steps and even input variables. If your process changes later, you can remove entire sections of the recording. Macro recordings with a universal recorder are quick, simple, and flexible.
If you use macro recording technology that uses a server or cloud service, you can use them from anywhere. So, any automation bots or macros you create with Automation Anywhere and Automation 360 work everywhere. And because of the simple scalability, you can run thousands of macros, so your entire organization can enjoy the advantages of recorded macros.
How do I get started with macro recording?
Macro recording is one of the most straightforward and low-tech automation solutions available. Simply sign up, download the software, go through the course, and get started. Recording macros is as simple as starting the program, walk through the process you'd like to automate, and click the stop recording button. From there, you can edit, adjust, and link recordings together to complete complex tasks in minutes.
Explore

additional resources