What Does No-Code Mean?
No-code is an approach to designing and using applications that doesn't require any coding or knowledge of programming languages.
This type of software is part of the self-service movement that empowers business users to create, manipulate, and employ data-driven applications to do their work better.
In reality, there is coding involved with any no-code automation tools. The best of them simply mask the required coding behind visual mechanisms that let users point-and-click, drag-and-drop, and create maps of processes that are part of their applications. The underlying software provides the coding. Low-code solutions are those in which users need IT to customize no-code development with minimal amounts of coding.
What are the benefits of no-code software?
There are many benefits of no-code development and applications. Some of these directly pertain to the automation advantages of the no-code process, including increased productivity, greater efficiency, and fewer human errors. Additionally, no-code allows IT teams to concentrate on more meaningful tasks that simplify building software for the business.
Business users, however, are the biggest winners of no-code programming. They're able to use these data-driven resources in a self-service manner to improve their job performance, spend less time waiting on IT, and devote more time to achieving business objectives. Specific benefits include:
Reduced costs
Empowering the business with self-service tools to be more efficient and effective decreases time to action and the costs for waiting on IT to create business applications with conventional programming approaches. No-code lets companies save time and money in both departments.

Increased agility
Organizations are much more agile when business users can devise their own programs with no-code and low-code tools. These equip them to react to emerging market conditions and business circumstances faster while better preparing themselves for the future.

Decreased training
The self-service nature of these software solutions decreases the amount of training business users need to perform their jobs. This lowers costs and accelerates time to value for business users, who can work at their own pace without learning technical skills.

Better applications
No-code programming ultimately supports better application building by giving the power to create apps to the end users who actually need them, know what's required of them, and can modify them as desired for iterative improvements.

Integration ability
No-code platforms have the distinct ability to integrate with a wide range of other platforms and systems. This makes it much easier to take complex steps, such as digitizing an organization's business processes, moving the business forward without much disruption. It also means that businesses are much more likely to be able to control application updates.

Faster development
One of the challenges of development for business is getting processes approved. No-code platforms synergize IT and business teams. This makes collaborative development an easier road to walk, allowing the company to be more responsive. It also paves the way for Citizen Developers to quickly create enterprise-grade applications according to their needs.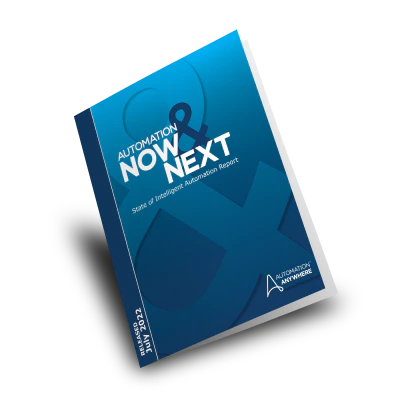 A must read, one-of-its-kind, industry report
Learn how top performers achieve 8.5x ROI on their automation programs and how industry leaders are transforming their businesses to overcome global challenges and thrive with intelligent automation.
Who is using no-code software?
No-code software is used by organizations in just about any industry you can find. It's mainly used in two ways: for front-end, customer-facing applications and backend internal applications. No-code and low-code solutions are frequently used for web applications. Although they're simple enough for business users, many developers use low-code approaches to build complex applications for cloud integrations and numerous other use cases.
Codeless application building is widely deployed by a variety of organizations in financial services. It's also leveraged by a number of horizontal business functions like accounting, human resources, sales and marketing, and customer support/service. No-code automation is key for solving common problems businesses face today, like employees transitioning back to physical offices, or even for implementing solutions in which they work remotely. Any company that's undergoing some form of digital transformation is likely using no-code to make its workforce more efficient. Specific use cases include:

IT
No-code development is critical for assisting IT users in two ways. It either helps them accelerate the time they spend building complicated apps for the business or enables them to add low-code implementations to fine-tune business applications for specific use cases. For example, some of the most complex serverless computing deployments rely on low-code to reduce cloud costs.

Insurance
Several insurance companies use low-code software to transform manual processes into digital ones. One of the most time-honored use cases is ingesting customer information to deliver quotes. By building applications automating this process, insurers can abandon manual, spreadsheet-based processes to give customers quotes much quicker.

Business analytics
The classic example of no-code software creating self-service value for the business is using this technology to create dashboards for analytics. With intuitive drag-and-drop capabilities, users can assemble data from their sources for Business Intelligence and reporting to get a comprehensive look at results for informed decision-making.

Healthcare
Low-code options are increasing in healthcare settings for building customer-facing applications. Some of these are for patients to access their own data and possibly share them with other providers. Regardless of the specific use case, low-code tools speed up the time required to make these apps.

Finance
In finance, low-code development is routinely used to connect external, customer-facing systems with internal ones for things like mobile banking or online banking. No-code options are perfect for API configurations and integrations between these systems so consumers can manage their finances, access their accounts, transfer funds between them, and more.

Retail
No-code software is perfect for the rapid transactional systems powering many e-commerce use cases for retailers. This approach simplifies the programming and integration of the various data types involved in this example. It's also helpful for creating user-friendly customer interfaces.
Frequently asked questions about no-code automation
How do I get started with no-code?
One of the quickest, painless, and easiest ways to get started with no-code automation is to use Robotic Process Automation (RPA). The Automation Anywhere cloud-native RPA platform, Automation 360, enables users to accelerate almost any type of process for any industry or use case. It's based on employing dynamic software agents, also known as bots, to implement the action required to automate steps for paying an invoice, for example. The best part is that the no-code user interface allows users to train bots to do any task required without knowing a programming language.
An Automation Anywhere RPA solution lets users reap the benefits of both automation and no-code. This combination not only results in less errors, greater productivity, and heightened efficiency, but also democratizes these capabilities across the organization. With RPA, everyone from C-Level executives to new hires can quickly learn the steps involved in automating a process and become a citizen developer.
No-code RPA software delivers these advantages in a couple of different ways, all of which are intuitive and swiftly learned. The first has already been discussed and involves point-and-click, drag-and-drop techniques for interfacing with RPA tools. Instead of writing lines of codes to indicate which sources to pull data from to integrate with HR systems to fulfill employee vacation requests, for example, end users can simply use their mouse to demonstrate this action. The underlying system will internalize it and mimic it upon request.
The second way no-code RPA lets workers maximize the gains from automation is by using machine learning and AI to watch everything users do when executing a process. Techniques like computer vision can observe everything a user does on the screen to provide timely information for a customer service request, for example. It can see what takes place from individual mouse clicks to which downstream systems are used to process this information.
All users have to do is complete the process manually, as they've done numerous times before, and the RPA system will watch and learn how to do it. Users simply indicate when the process starts and stops, then do everything required to complete it. With this ease of use they can train bots to accomplish the same goals, but do so tirelessly and without human error. With this no-code RPA approach you get the best of both worlds—no-code and automation—to help you do your job better.
Explore

additional resources