CRM systems are used throughout many B2B and B2C companies in order to organize business processes and make complex tasks easier to do. They help manage customer data, support marketing teams, integrate with sales to increase customer satisfaction, deliver actionable insights and help with customer support. That's a lot of areas, and for every place the CRM software delves into, there's a human who is, most likely, juggling important tasks mixed in with repetitive, mind-numbing cut/copy/paste work.
Integrating an automation platform takes out the drudgery: the time-consuming prospecting and customer management tasks that, although necessary, are redundant. Automating your customer relationship management system takes care of daily tasks such as calendar management, updating customer information and data entry, among many others.
CRM automation streamlines the entire marketing-to-sales process through a series of workflows. It includes:
Marketing automation tools, such as helping with the handling of email marketing campaigns, using beautiful templates, and data syncing

Sales automation tools, such as call scheduling, workflow automation, and automatic assignment of qualified leads

Software bots such as AI chatbots for customer service automation
CRM automation also facilitates the conversation between the various marketing and sales teams, which is a common business issue.
What are some of the benefits of CRM automation?
We've talked about how CRM automation works to empower your sales and marketing teams. But what does that mean in a less generalized sense? Here are a few of the many ways automating your CRM can make a difference to your business:

Increase Productivity
The ability to streamline tasks is a huge benefit. By taking the time (once!) to build workflows and triggers, redundant, monotonous tasks can be relegated to a single click. In turn, this allows marketers, sales reps and customer service reps to turn their minds to more important things than paperwork: like lead generation, lead nurturing and phone calls... to leads.

Improve Pipeline Performance
Because teams are able to follow up faster, automating your customer relationship management can help them generate more MQLs and SQLs with better qualification rates.

Shorter, Better Sales Cycle
Automation allows teams to make more out of your CRM data. It can handle customer research, quote creation, and even legal paperwork, making the sales process shorter. Because all the potential customer's data is at their fingertips, lead scoring is better. So, it's easier to match high-performing sales reps with high value leads.

Better Data, Bigger Picture
When you can pull in multi-source marketing data and have it at your fingertips, it means greater accuracy for marketing campaigns. The big data picture of metrics you use to focus your marketing efforts is much more filled in, providing powerful insight for complicated decisions.

Higher Customer Engagement
Greater data accuracy means more tailored sales interactions. Just like matching sales with leads, you can also match strong account managers with prize acquisitions for better customer retention.

Improve Customer Satisfaction
One functionality of many CRM automation tools is the integration of chatbots as part of the customer service process. These handy software bots can help quickly identify customer issues and address them promptly with the appropriate action, whether that means triggering a phone call request from a CSR or answering a question.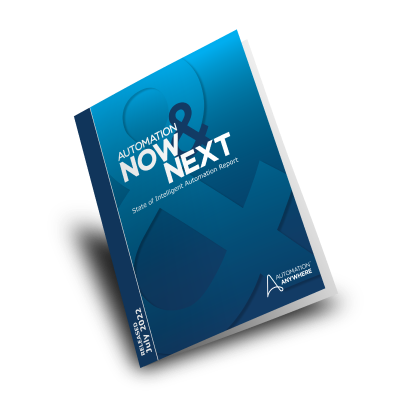 A must read, one-of-its-kind, industry report
Learn how top performers achieve 8.5x ROI on their automation programs and how industry leaders are transforming their businesses to overcome global challenges and thrive with intelligent automation.
Who is using CRM automation?
Customer relationship management systems used to be the secret of high-performance marketing and sales teams in large corporations. And we've focused heavily on this side of the business. However, thanks to technology like the cloud, artificial intelligence, and Robotic Process Automation, CRMs can fit almost any situation, industry or size of business.

Healthcare
Because of the 2010 Patient Protection and Affordable Care Act, or PPACA, digitization became a requirement. It became possible for medical facilities of any size—whether private practices, urgent care clinics or hospitals—to incorporate digital patient management and record keeping into their processes.
Now, the healthcare industry uses automated CRM to manage appointments, send patient reminders and handle insurance pre-authorizations. Some hospitals are even using AI-powered automation solutions to identify common health issues based on blood work results.
Reducing the amount of time taken for digitizing patient information including scheduling and insurance paperwork alone can reduce cost in man hours. However, automation technologies are also being used to revolutionize patient care.

Fitness
Globally, the fitness industry is worth almost $100 billion annually, and it's forecasted to keep growing as more and more people realize the impact their lifestyle has. Physical gyms aren't the only rage, however. Post-pandemic life has added a number of online and virtual training activities to mainstream fitness. Personal fitness apps now come pre-installed on phones, and individuals can get automation-powered fitness mirrors.
Fitness companies are notoriously minimal on staff, automated CRM software is a boon. For example, it allows companies to increase their customer retention efforts by freeing staff from backend administrative tasks. One-on-one care is a major factor of reducing membership cancellation.

Ecommerce
CRM automation software has obvious benefits for ecommerce. They might not be as upfront as the healthcare industry, but that's mainly due to ecommerce already being digitized. Rather than setting up digital systems, ecommerce only has to decide how best to manage and put data to use.
With a huge number of automation and third-party integration options, it's possible for a single business owner to run a fairly large ecommerce storefront with relatively low operating costs. A single CRM automation platform can pull data from a plethora of touch points and run complex customer segmentation models from that data. It can help nurture leads, update contact information for old and new customers, and handle customer re-engagement workflows. It's no surprise that CRM automation software is expected to become one of the most used operating models for the marketing industry.

Legal
When the American Bar Association studied why attorneys billed less than one-third of the hours they worked, they found that almost half of the missing time is spent in admin tasks. Another third is building new business.
Attorneys bill by the hour, so the time spent on administrative duties can be costly. Automation helps reduce that time by letting automation handle hour tracking and appointment scheduling, among other administrative tasks.
Chatbots and CRM automation have helped many attorneys reclaim their time. They allow the firms to focus on more profitable work by helping them 1) prioritize new client leads and 2) provide a responsive customer experience to current clients. Automated CRM systems also help law firms to respond more quickly to sales leads, which greatly increases the chance of qualifying those leads.

Retail
Many retail brands have a wide selection of products, each with a different branding package, marketing focus, and customer base. Keeping track of all this information - as well as putting it in a format that's actionable and easy to understand - can be a serious challenge.
Brands use CRMs to capture customer interactions in real time. They pull the data in from all the channels, creating targeted campaigns. This is where CRM automation comes into play.
CRM automation helps big brands with multiple products by making customer data integration, segmentation and marketing response easier. Among other benefits, automation reduces the chances of errors, such as merging customer data from two similar, but different customers, by comparing multiple data points. And all the processes are completed in a fraction of the time it would take to manual process this type of data.

Sales
Sales teams have found that expanding CRM software with automation allows them to better manage the sales cycle across all aspects. The main top goal of sales is always to convert leads into new customers, and CRM automation makes achieving this goal much easier.
Automation provides sales with the ability to track every customer interaction as they move down the pipeline: every call, email, download, etc. Because of this, team members can make sure that the lead isn't inundated with too many emails, phone calls, texts and so on; rather, leads get just the right amount of contact to help them convert.
CRM automation also works to streamline the sales process by locating gaps in efficiency. As well, manual tasks can be automated, leaving team members with the time to focus on what they do best: closing deals.
Frequently asked questions about CRM automation
How do I get started with CRM automation?
Your automation solution should depend on your business model. Although there's a "some sizes fit most", there's no "one size fits all" option. Look at your business operations now and where you want to be within the foreseeable future. Your chosen CRM automation should be a good fit for both.
For many businesses, automated CRM tools should include the following:
Contact management: This functionality should provide a clean, organized user interface that allows you to quickly access customer information.

Lead management: You need to keep track of your lead activities. Lead identification, pipeline and workflow management, as well as lead scoring should all be included in this functionality.

Documentation management: Your automated CRM solution should include easy workflows to handle the numerous documents in your sales processes. Whether those documents are paper files that need to be digitized or they're already digital, they need to be easily accessible within the organization.

Integration: It's almost unheard of to have a marketing or sales team that doesn't use third party applications. Email integration, calendar integrations, social media integrations - they all have a purpose in the business ecosystem. Your CRM integration needs to integrate seamlessly with all of your systems.
Explore

additional resources