What is SAP Automation?
SAP automation refers to the robotization of manual, repetitive business processes, specifically within the SAP ecosystem of products.
Every business has simple and complex processes, one-off and repetitive tasks. In today's mechanized business, SAP (and its broad ecosystem of products) is the difference between them.
Overall, SAP is used for ERP (Enterprise Resource Planning), with the purpose of streamlining and systemizing business processes and workflow. These processes can be within any area of the business – inventory management, finance, HR, procurement, and sales are just a few.
SAP automation helps businesses plan resources more efficiently.
What can SAP automation do for me?
SAP automation can do almost anything a user requires to leverage the software's toolset. Consequently, it results in a simplified user experience that's much easier than manually doing every SAP related task in a process or workflow. Automating functions also decreases the amount of human error involved in delegated business processes, which is another key benefit.
Specific benefits include:

Accelerated Access
SAP automation is critical for business leaders who need fast access to their data for reporting or analytics. Automation techniques can rapidly retrieve this information across ERP modules and clouds to reduce time to action.

Scalability
SAP automation is essential for scaling tasks across the enterprise. Using approaches like Robotic Process Automation (RPA) for jobs enables organizations to do more of them, with greater data amounts, quicker than before to easily scale to big data quantities.

Governance and Compliance
Automating SAP business processes reinforces adherence to data governance and regulatory compliance standards. Bots can ensure that tasks are carried out as they should be every time to meet these requirements, enabling organizations to avoid costly regulatory penalties.

Employee Productivity
By automating the basics for using the SAP ecosystem, SAP end users can dedicate more time and energy to actually performing their jobs—as opposed to simply using these resources. They can also concentrate on higher value activities.

Customer Satisfaction
The redoubled efficiency and speed at which SAP-related processes are completed resonates with clients for customer facing applications. Swifter results increase the satisfaction, happiness, and overall experience of users.

Process Improvement
Automating workflows and processes with SAP is a viable means for making both of these things better. Organizations won't have to focus so much on manually implementing these workflows. In turn, they can spend more time on determining how to make them more effective through customizations and optimization.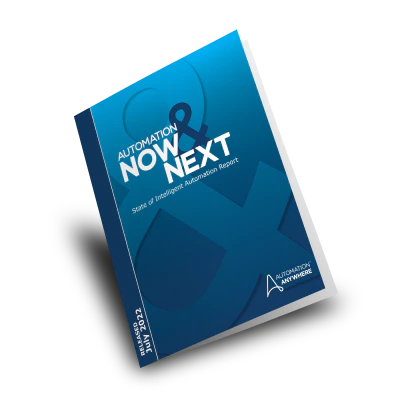 A must read, one-of-its-kind, industry report
Learn how top performers achieve 8.5x ROI on their automation programs and how industry leaders are transforming their businesses to overcome global challenges and thrive with intelligent automation.
Who uses SAP automation?
If there's at least one user in your organization, you can be sure there are scores of them. That's simply a testament to the utility of ERP and its cross-organizational value. These SAP solutions are so powerful because they combine data from all major enterprise functions, in almost every vertical.
Specific use cases include:

Telecommunications
SAP automation helps this industry by enabling customer service representatives to quickly access customer data when taking calls. SAP automation helps them bring up customer files about previous purchases, problems, and even resolutions for better customer experience.

Sales
It's important for sales and marketing teams to quickly access data from CRM systems. SAP automation allows them to do so while compiling additional data (like payment information) for customer scorecards. Other opportunities include entering orders.

Manufacturing
A SAP automation platform is extremely influential in manufacturing for warehouse management and procurement. For the former it can track stock movement, initiate stock transfers, and monitor warehouse stocks for materials. For the latter it's adept at requisitions, PO management, and vendor records management.

Healthcare
Healthcare personnel have numerous forms and data about patients, providers, diagnoses, and treatments they must process. SAP automation enables them to swiftly and accurately complete these tasks with what is mainly structured data.

Human Resources
SAP automation accelerates a number of different processes in human resources , including talent sourcing, onboarding, and offboarding employees. Other processes are specific to benefits and compensation packages, as well as tracking and managing employee performance.

Accounting
Numerous accounting activities are easy to perfect with SAP automation. Accountants can automate various invoice processing steps like receiving and registering invoices. This approach is invaluable for classifying data types, extracting information, and transferring it to downstream systems for issuing payments.
Frequently asked questions about SAP automation
How Do I Get Started with SAP Automation?
Organizations should start by selecting an automation platform that can handle both RPA and SAP test automation. A solution that's applicable across any industry or use case is also important.
The best RPA platforms let users simply model processes in SAP—or in any other framework—to teach intelligent bots to do them. Once users demonstrate the various steps in any process on-screen, RPA bots can begin automating whenever users want them to.
SAP Testing
Automated testing is an important part of any deployment. While RPA helps in automating SAP processes, SAP testing checks to make sure that those integrations and processes are working correctly. Automated test cases should be run not only while setting up processes, but also throughout the year and each time a new automated process is implemented.
Although performance testing should always be part of deployment, it's especially vital when a business is already using SAP systems and needs to upgrade to SAP S/4HANA, the latest version of their product. Migration won't be necessary until 2025, but SAP S/4HANA promises a better user interface, as well as the ability to handle more complex processes.
SAP TAO, the company's own automation testing tool, is going by the wayside, but that doesn't leave you without options. Specialized testers, as well as software that makes SAP testing easier throughout the lifecycle of each process, are both available.
Explore

additional resources