Business Process Management (BPM)
Disrupt inefficient enterprise operations with optimization-hungry business process management
What is business process management?
Business Process Management (BPM)—more recently referred to as deep Digital Process Automation (DPA-deep)—is both the technology and the practice of optimizing enterprise processes and workflows to be more efficient and adaptable. To that end, BPM typically involves business process automation (BPA).
The goal of BPM is to both optimize and automate business processes from start to finish, transforming processes by focusing on their strategic purpose and target outcome to reshape how people, systems, and data interact.
BPM is not new as a discipline, but today BPM technologies and solutions are evolving both how it's done and how it interacts with other digital transformation tools and objectives.
What are the benefits of BPM?
Efficiency
BPM puts efficiency at the top of the process design to-do list, benefiting processes in industries like Manufacturing and front-office customer service teams that rely on efficiencies to meet SLAs and profitability targets.

Reduce costs and errors
Similar to RPA, BPM delivers cost savings and eliminates errors. For complex processes in Accounting and Finance, BPM can create step-change in accuracy and boost the overall balance sheet.

Reduce cycle times
BPM focuses on improving and optimizing previously tangled operations—like the back and forth of invoicing between Sales and Accounts Receivables—to deliver a reimagined process that saves time and improves employee experience.

Improve customer experience
Reengineering processes with BPM is often triggered by increasing customer expectations. BPM is employed to redesign processes for optimal customer experience.

Reveal and streamline complex business processes
BPM involves investing the time to understand unwieldy processes which delivers transparency and enables the organization to take ownership of and optimize every part of the workflow.

Enhance compliance
BPM scrubs processes and maps out every step, resulting in processes that closely track every item along the process workflow, which is of critical value in compliance-driven industries such as Financial Services or Pharma.

Foster deep digital transformation
Strategic outcomes are at the heart of BPM efforts, which means BPM is applied with the goal of redesigning end-to-end processes to be adaptable and auto-adjust to change.

Increase productivity
BPM creates streamlined business operations and drives automation of digital tasks so that processes run more quickly and efficiently, and people can focus on higher-value work.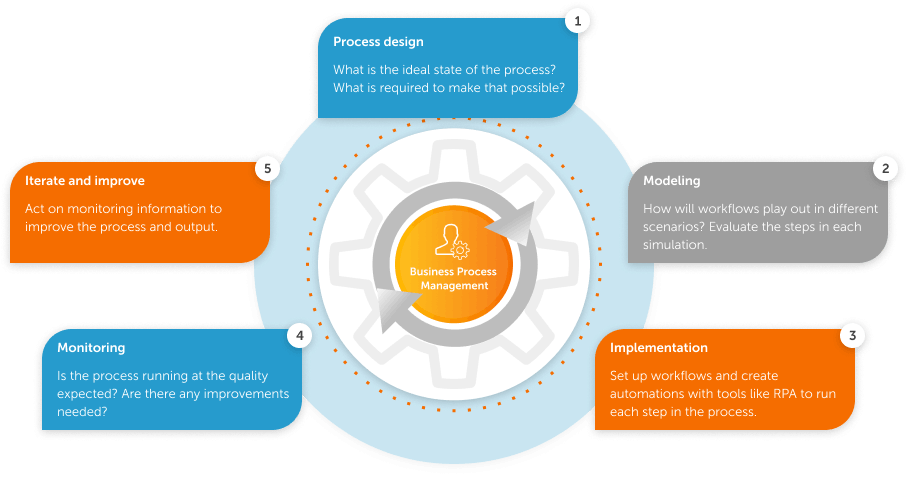 How does BPM work?
As an operations management framework, BPM works by reengineering business processes, end to end, often leveraging purpose-built software to analyze how people, systems, and data interact, with the goal to optimize and automate the entire process workflow.
Choosing processes for BPM redesign vs. automation as-is vs. outsourcing
Because BPM transforms the way things work in the longer term, it is often applied in tandem with immediate automation or outsourcing.
A rapid automation solution like RPA will lead in initial impact on execution attributes like speed, efficiency, and compliance; outsourcing can provide similar gains, with opportunity to benefit from BPO specialized expertise.

Prioritize for BPM
Complex processes that have high core and/or transformative value to the business like re-orienting service delivery processes around the customer experience

Consider outsourcing
Horizontal processes that are not core to the business, but where best-practice execution is valuable, such as payroll processing or IT.

Prioritize automating with RPA
Processes that need immediate error reduction and will free resources for higher-value work. Top process candidates will be highly structured and repetitive.

Digital transformation, intelligent automation, and the future of BPM
Business processes aren't just about getting things done, they embody competitive advantages and determine profitability. That's why the race is on to innovate and accelerate business processes toward digital transformation.
In response to the demands of digital transformation, both BPM and automation tools have evolved into intelligent solutions that increasingly work alongside each other to facilitate digital transformation.

Intelligent BPM solutions work on deep process transformation and innovation. Intelligent automation supports this work by helping automate the path to optimization with embedded process discovery and intelligent document processing, while also enabling rapid process automation right out of the gate without analyzing or redesigning the workflow first. 
How do BPM and automation work together?
Business process management (BPM) works hand-in-glove with automation tools like RPA to execute optimized processes.
Simply put, business process automation is the key to implementing processes that have been optimized through BPM. BPM as a practice, as well as the software designed to support it, is focused on the desired business result, or output, rather than the process itself, which means existing processes are likely to be completely reengineered—disrupted—to redesign them for efficiency and optimization.
Once a process is redesigned, automation technologies are applied to achieve optimal efficiencies in execution of the new process workflow. Automation doesn't need BPM to make a major impact on process performance. But BPM needs automation to bring transformed processes to life.