Blog
RPA: A Tool or a Strategy?
May 29, 2020
3 Minute Read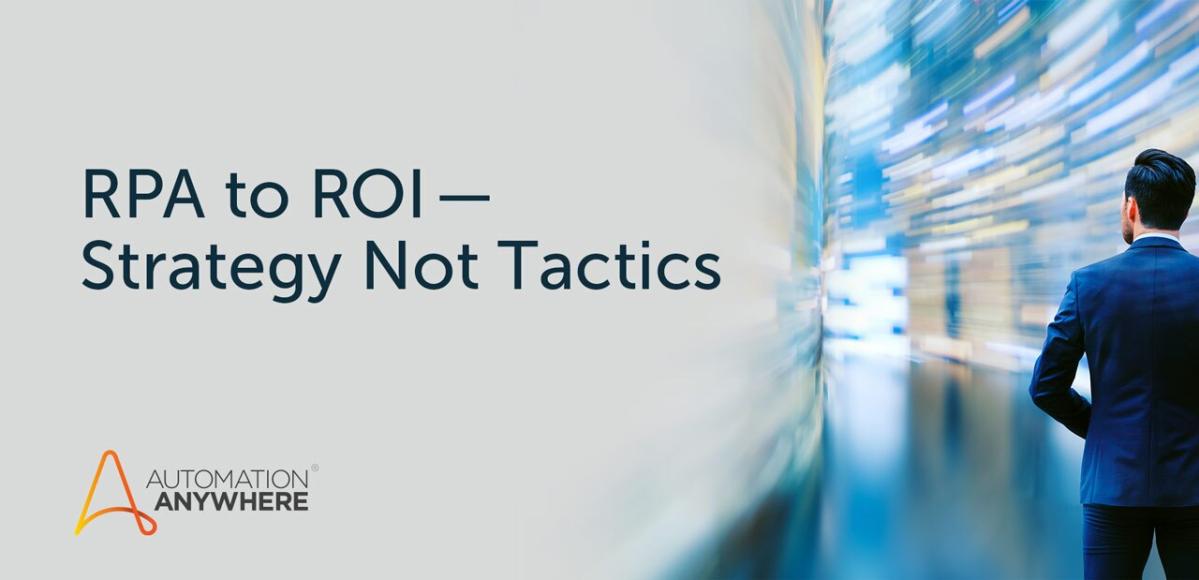 Robotic Process Automation (RPA) is now a mainstream technology. Over 85% of major enterprises are using it in some way, and we are on the cusp of it scaling dramatically as more and more pilots and proofs of concepts (POCs) grow into enterprise-wide automation programs.

The proof is in the numbers
The benefits of automation are myriad. Decreased labor costs, increased accuracy, and faster throughput are just some advantages businesses experience. RPA can dramatically change the bottom line of a business. To do that, however, you need an automation program that spans your entire enterprise. If you only have a few pockets here or there, you will simply not realize the benefits that automating across multiple facets of your business will bring.
This wide-ranging deployment approach brings exponential benefits around cost and accuracy. But, importantly, it's also an indicator that RPA is a strategic technology that brings significant benefits at the corporate level when used as such.

It's a digital world
Digital transformation is another strategic program for many businesses, especially legacy ones, who are facing competition from native digital challengers. These digital-first organizations are disrupting existing enterprises with their ability to operate without the overhead of legacy processes rather than the lower cost and increased accuracy of automation.
Go into any of these businesses, and you will see a different attitude to technology. Whatever they want to do, their first thought is, "How can we do this with technology?" Extend that across an entire business, and you have a significantly leaner, more robust enterprise. This means that they are not competing on a level playing field. That's another driver behind many companies — especially older ones — needing to promote a robust digital transformation agenda or die trying.
RPA offers the opportunity to match that native digital approach across an entire business, automating across the myriad technologies and applications — on average, over 100 different ones for any large enterprise. This is another strategic role for RPA.

The hidden value of automation
But for me, as an ex-Amazonian, my first thought around any business initiative, and especially something that spans across our whole operation, is, "How can we use this to benefit our customers?" I subscribe wholeheartedly to the belief that if you do the right thing for your customers, you drive long term success for your business.
Taking a view on where RPA and the associated artificial intelligence (AI) and machine learning (ML) technologies can bring benefit to your customers is another strategic approach. Look at your existing customer success metrics. How can automation increase the speed of service? Can you pass on some of that reduced cost or increased accuracy to your customers?
If you're a bank, doing loan assessment, and automation can speed up the processing time; even if there is no decrease in cost, the improved customer experience still delivers valuable business benefits. Prioritizing short term, tactical gains around cost without the bigger, strategic picture around pleasing customers is missing the point. The holy grail, of course, is to do both — and that's not at all uncommon. Speed and accuracy often go hand in hand with providing a better customer outcome.
RPA is a strategic element that should be part of any company's toolset. To extract the maximum benefits, you need to approach it in that manner. The most successful implementations are strategic. They span entire enterprises, drive digital transformation, and maximize customer benefits. Is Robotic Process Automation part of your strategy?
Discover How Industry Leaders Leverage Automation.
About James Dening