MEET the a-lister from Walgreens Boots Alliance - Alexander Park

RPA bots has helped in various ways during the ongoing COVID-19 pandemic. It helped increase employee productivity and morale by reducing workload and allowing our teams to focus on key tasks to support the business.
- Alexander Park Head of Smart Automation (RPA)



Tell us about your career journey to date and what sparked your interest in Intelligent Automation?

I started my career at a software engineering company where we developed products for professional chess players. I then worked for a large consulting firm and have since joined Walgreens Boots Alliance (WBA). Within WBA, I have had multiple roles and delivered projects across five different countries in Europe. Prior to my current role as Head of Smart Automation, my focus was on systems integration and data management, which helped me gain great experience with business processes and delivering solutions at scale.
I have always been passionate about delivering innovative technologies to address real business challenges. Today, I have the unique opportunity to learn more about new technologies and apply them in a proper way to add value to WBA as we look to be the first choice for pharmacy, well-being and beauty across the world.

What was behind the need to change/implement the AAI automation solution?

There were many uncoordinated projects using various automation products, distributed infrastructure and independent support teams. It was not cost efficient and not ready for scale. We decided to build a stronger foundation and selected Automation Anywhere to be our strategic partner to help achieve our goal of centralizing and scaling our function across the company.

How does it feel to be named an A-Lister and what does it mean to you?

We have made good progress over a short period of time and I feel proud to be a part of the A-Lister program. But this is really a result of our team working together and providing great support for internal colleagues and external partners.

Intelligent Automation is one of the fastest growing technologies. What do you think about it and how do you feel it will affect how people will work in the future?

I agree that it is a very fast-growing technology. There are so many new products, releases and companies announced almost weekly. Some are great, while others just seem like "noise" or "hype" that we need to filter out. Eventually, everything that can be automated, will be automated. It's just a matter of time.

What excites you about Intelligent Automation, ML, AI in the future?

There are still a lot of unknowns in this realm, and we haven't discovered all the opportunities just yet. Nowadays, companies try to automate existing processes or just adapt them slightly for automation. In the future, people will be able to design their company and business processes keeping technology in mind. I'm sure when the entire ecosystem is ready and not constrained by legacy applications and processes, we'll see the real power of modern technologies come to fruition.
MEET MORE A-LISTERS
Global customers who exemplify exceptional leadership and vision in progressing the Intelligent Automation initiatives at their organizations
Russell Olsen SVP of Innovation and Product Management
I'm the type of person whose creativity knows no bounds. I look forward to seeing how intelligent automation...

Read more

Russell Olsen SVP of Innovation and Product Management
Lee Patsel Manager, Robotic Process Automation Global Technology Team
I believe process automation technology will be so mainstream that it will be in every process. Compressing the...

Read more

Lee Patsel Manager, Robotic Process Automation Global Technology Team
Yasmine Rodriguez SVP, GM Tax & Compliance
The future is now, just look around you. If you have not joined the AI revolution, you will be left behind.

Read more

Yasmine Rodriguez SVP, GM Tax & Compliance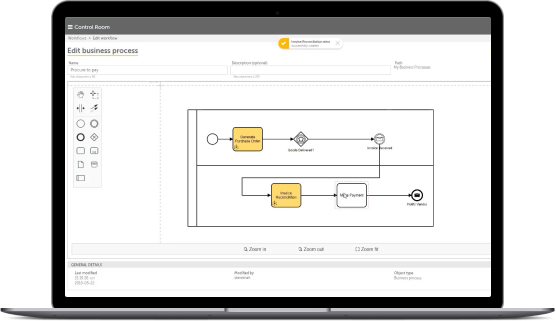 WHAT CAN RPA DO FOR YOU?
Get a personalized demo of the world's most-deployed RPA platform. Consult with our team of RPA experts on your specific automation needs. During your live demo, ask all your RPA software and intelligent automation questions and we can help you accelerate your RPA journey.