Intelligent Document Processing (IDP)
Extract information from any business document automatically to enable end-to-end business process automation
How does Intelligent Document Processing work?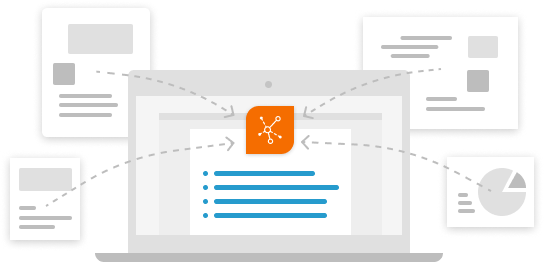 Extract and organize information from complex content in any document format
Intelligent Document Processing (IDP) solutions transform unstructured and semi-structured information into usable data. Business data is at the heart of digital transformation; unfortunately, 80% of all business data is embedded in unstructured formats like business documents, emails, images and PDF documents.
Intelligent document processing is the next generation of automation, able to capture, extract, and process data from a variety of document formats. It uses AI technologies such as natural language processing (NLP), Computer Vision, deep learning and machine learning (ML) to classify, categorize, and extract relevant information, and validate the extracted data.

Pre-Processing
Binarization • Noise Reduction • Deskewing • and more

Intelligent Document Classification
NLP • Unsupervised Learning • Supervised Learning • OCR • Google Vision

Data Extraction
NLP • Deep Learning • ML • OCR • Google Vision • Handwriting

Domain Specific Validation
Fuzzy Logic • RegEx • Rules • Scripts

Enhanced Validation
RPA

Human-in-the-Loop Validation
Supervised Learning
Your data is a goldmine
IDP makes any and all data accessible for business processing


The amount of data found in enterprises is growing.
By 2025, IDC predicts worldwide data to exceed 175 zettabytes. With most of this information locked in emails, text, PDFs, and scanned documents—think for a moment of the volume of data in email alone—it poses a real barrier to automation and digital transformation.


Intelligent Document Processing (IDP) converts unstructured data
Both unstructured and semi-structured data can be converted into structured, usable information, providing end-to-end automation to document-centric business processes.
Without IDP-like solutions, RPA-automation processes will require knowledge workers to read documents and extract data. IDP is key to unlocking the value of RPA.


RPA needs intelligence, and AI needs automation to scale.
Together, IDP and RPA provide a simple yet effective tool to automate enterprise business processes. Like RPA, IDP tools are completely non-invasive, integration-friendly, and are widely applicable across industries and business functions.
Intelligent Document Processing (IDP) provides:
Direct cost savings. Reduces expenses by dramatically cutting costs to process large volumes of data

Higher straight through processing (STP). Minimize the need for knowledge workers to manually process documents

Ease of use. Allows businesses to get set up faster and automate more processes

Process efficiency. Enables end-to-end automation of document-centric processes

Accuracy uplift. See immediate significant increases in data accuracy with the use of AI

Strategic goal boost. Automated data processing supports business goals like improving customer experience
What are the benefits of combining IDP with RPA?
Empower business users to automate any business process that involves documents, by themselves
IDP is an essential ingredient of intelligent automation. Automation can reach only so far as data is available to work with. With standard RPA systems, setting up data extraction to run automations is often a separate 3rd party project, which adds ongoing costs as well as fragile integration points.
Effectively extracting data and structuring information is the gateway to automating the lion's share of business processes that today rely on manual inputs and intervention. Embedding Intelligent Document Processing within the RPA platform is what enables business users to automate processes end-to-end. When IDP and RPA live together in the same platform, you have the biggest pieces of the automation puzzle working in sync, effortlessly.


Start processing data. Fast.
Integrated, RPA-native IDP tools are easy to set up, often 5-10x faster than other approaches


Lower your processing costs
AI-driven IDP + RPA improves straight-through processing (STP) by continuously learning from human feedback


Business user friendly
Built-in IDP makes it easy to get started with pre-packaged use cases to choose from for the most common document processing scenarios


Enterprise-level automation
Tie your IDP software into other areas of the business to realize a fully integrated RPA system without the need for expensive upgrades


Powerful for developers
Enhance document extraction by modifying your AI workflows with the ability to add custom logic (Python scripting)


Process any document
Accelerate digital transformation by combining the power of IDP that can handle structured and unstructured documents in almost any format with automation


Secure and reliable document handling
Quickly scale document processing operations and regulatize data capture to extract data needed to get the job done


Self-improving document processing
Built-in AI allows for increased return on investment over time as IDP bots continuously learn and improve


Plug-and-play data capture tools
Access a larger toolset such as specialized OCR technology to support unique use cases


Extraction use case library
Embedded IDP within enterprise RPA software can come ready with preset extraction packages to apply right away to the most common document processing scenarios
Where Can You Apply IDP?
Intelligent Document Processing software is ready to extract and organize data across industries and business functions, right out of the box.
Decipher scribbles / difficult content
Intelligent Character Recognition (ICR) is the next level of OCR, applying AI to better identify glyphs and other textual elements that are difficult to read.
Streamline supply chain
Use IDP to process barcodes, manifests, invoices, and more, for rapid supply chain operations from orders through accounts payable processes.
Digitize paper documents
Use IDP document scanning to convert paper-based documents into machine-readable file formats (PDF, Microsoft Word, etc.) with searchable text for optimal performance.
Assemble documents and reports
Automate document creation by pulling from different data sources and using document templates to produce in-depth reports, complex legal documents, and much more.
Extract the right information
Intelligent capture solutions seamlessly pull the information you want from documents for further processing, storage, and use in other applications.
Manage documents and data
Store and organize documents for easy retrieval or archiving and automate record retention requirements compliance.
Additional Resources
See how IQ Bot processes mortgage applications, end to end
Watch how IQ Bot works to automate extremely document-heavy mortgage application processing. See how IQ Bot learns what to do to eliminate tedious and error-prone manual work to process mortgage applications.