Blog
See the Future: Join Us for the RPA Industry's First Tech Field Day
June 13, 2019
3 Minute Read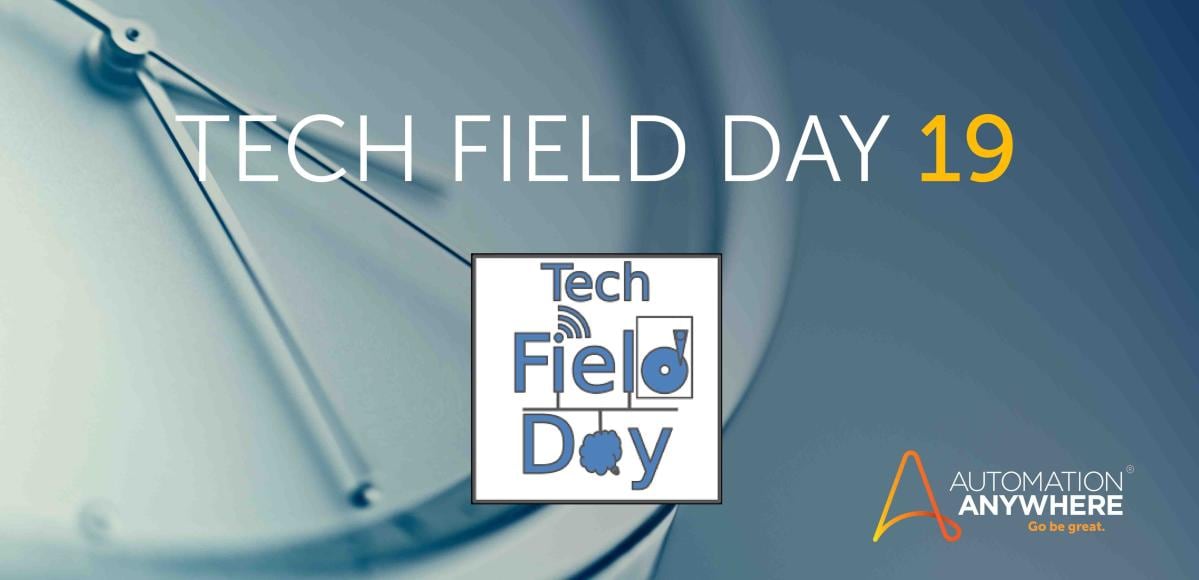 If you were raised on a steady diet of science fiction, you may appreciate the imaginative glimpse into the world set in the future. While stories from our childhoods were filled with far-fetched elements such as robots doing automated work, we know this is now becoming reality in present day.
Robotic Process Automation (RPA) and artificial intelligence (AI) are fast-growing technologies with an estimated $100 billion market opportunity. In the Automation Anywhere Bot Store, software developers have untethered opportunities to create and generate recurring revenue from bots and Digital Workers.
RPA is the de facto platform enabling delivery of AI
Whether you're a business owner wanting to use out-of-the-box RPA toolkit functionality or a technologist passionate about building the coolest RPA application using Python, Java coding or third-party systems using APIs, our industry's first RPA Tech Field Day is the perfect opportunity for you to learn and participate.
The world's leading intelligent RPA platform vendor, Automation Anywhere, will share how it's becoming a delivery vehicle for artificial intelligence. At this live, on-site event you'll learn:
How to create sophisticated automation with a vast array of third-party systems and tools using APIs and integration

How the latest advances from leading RPA professionals will shape the future of work
Join us for insightful conversations at Tech Field Day on Thursday, June 27, 2019, starting at 9 am PDT. At this three-hour session, a panel of technical influencers will discuss the latest in automation technology with experts from Automation Anywhere and how the technology they offer can change the way we live.
This event generates real, honest discussion and is a must for all developer fans of RPA.
Featured Tech Field Day sessions to look forward to
9:00–9:15 am — Introduction to RPA by Mihir Shukla, CEO and Co-founder. Mihir will welcome the developer community as an integral component to the RPA evolution and illustrate the business imperative in adopting the RPA platform to building a Digital Workforce.
9:15–9:45 am — Portfolio and Roadmap by Abhijit Kakhandiki, SVP and Head of Product and Engineering. Abhijit will share the latest advancements in Automation Anywhere Digital Workers as they pertain to ready-to-deploy digital personas with higher cognitive/analytical abilities than contemporary bots, plus how to implement in the cloud.
9:45–11:00 am — Product Deep Dive by Steve Shah, VP Product. Steve will cover the technical aspects for using RPA in combination with AI to reengineer the future with the industry's most sophisticated architecture and secure RPA platform.
11:00–11:30 am — The new AI-augmented RPA by Steve Van Lare, VP Engineering. Steve will underline how RPA is the top delivery vehicle for AI and how you can leverage this technology into everyday business processes, especially with the cognitive aspects of RPA.
11:30 am – 12 pm — Bot Marketplace and Monetization by Max Macini, EVP Bot Store. Max will showcase Community Edition to developers for building bots in the most advanced bot development environment known so far, and the Bot Store where you can monetize your efforts.
Automation Anywhere Tech Field Day brings together IT vendors and technical influencers (bloggers, podcasters, freelance writers, and social media enthusiasts) to share information and opinions in a presentation and discussion format. These sessions will be livestreamed as well as recorded.
About Gautam Roy