Blog
Imagine 2022: Announcing New Products to Help You Win in the Automation Economy
November 9, 2022
1 Minute Read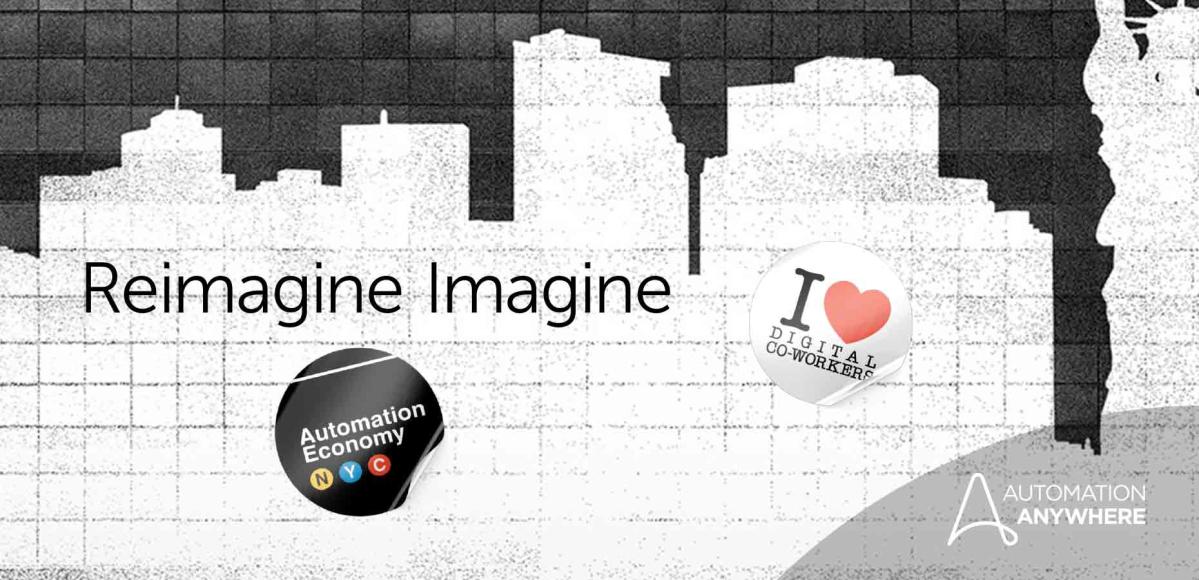 Imagine, our global customer conference, is my favorite moment of the year. It's the time when we have the special opportunity to bring together automation leaders, business leaders, and developers from around the world to celebrate success and get the first view of our latest innovations. And was no exception.
This year, I was proud to share our top innovations of the year as part of the 400 new features we have rolled out over the past 12 months, preview upcoming innovations that we'll be offering customers in the coming months, and bring all of this to life through the lens of our customers and their success. It's an honor to lead a team that delivers new products and features that support our customers' success, whether they're building their first bot or transforming their entire organization.
I want to recap our top announcements and how they are part of our overarching strategy focused on supporting the unique and evolving needs of our customers as they turn to automation to navigate a constantly shifting economic and operating environment. Whether you are managing an automation center of excellence (CoE) or you're a C-level executive looking to transform an entire division, Automation Anywhere is thinking about how to support your endeavors with every product we bring to market.
First and foremost, we unveiled the Automation Success Platform—your complete, connected, and cloud-native collection of intelligent applications, business user and developer tools, service, and support—all built on a trusted cloud-native architecture designed for scale, security and agility across the entire enterprise.
We've built the Automation Success Platform for everyone, including: 
·      Sales reps managing opportunities in Salesforce
·      Contact center agents resolving customer issues in Genesys
·      Finance teams processing payments in SAP
·      Citizen and professional automators who build the automation that supports these teams,
·      IT teams who balance providing access to the latest innovation with ensuring compliance, security, and trust every step of the way
But it's not just a platform that you need. You also need a guide map on how to use that platform to win in the Automation Economy. We have packaged this up into the Automation Pathfinder Program that includes your customized blueprint for successes, best practices, and expert guidance, as well as support from a community and partner ecosystem waiting to help. The Automation Pathfinder program is divided into a series of seven "missions" that you can embark upon at your own pace—based on wherever you are in your automation journey.
To see everything in action, including product demos, you can watch the keynote here.  In this recap, I'll walk you through the top innovations announced at Imagine and share how they can help you transform your business.
For citizen and professional developers
New! iPaaS Integrations with Workato and Google's Apigee—Your developers can now automate using existing application programming interfaces (APIs), thanks to integration with leading API management platforms such as Boomi, Apigee, Workato, and Mulesoft. APIs can unlock automations that may not have been possible before because of their ability to automate high-scale, real-time, mission-critical business processes.
Coming Soon! API Tasks. Now your citizen developers can harness the power of APIs with the ability to package up APIs from top iPaaS vendors as well as APIs you have built for your customer applications. This new automation building block can be leveraged in our low-code process composer.
Expanded—Process Composer. We've updated our built-in process composer, simplifying the interface so that citizen and professional developers can collaborate to build end-to-end process automations. This low-code process orchestrator features drag-and-drop functionality to build long-running processes that combine bots, forms, document processing, and soon API Tasks. If you're already using Automation 360™, you have access to this solution today.
For business users
Expanded—AARI. In 2020, we launched the Automation Anywhere Robotic Interface (AARI) to enable your teams to engage with digital workers to get work done faster. Today, we've made AARI even better. Brand new is the ability to embed AARI into any web application to meet your teams where they work every day. Whether they are in Salesforce, Workday, SAP, or somewhere else, they can engage with AARI, their helpful automation co-pilot, right within their existing workflows. AARI helps drive automation adoption, frees up your employees' time to innovate, increases productivity, and drives business growth.
For IT leaders 
New! Document Automation is our next-generation intelligent document processing (IDP) solution that uses the power of artificial intelligence (AI) to extract, analyze, and process document data. It's built on the Automation Success platform, so unlike other IDP solutions, it's connected to RPA and workflow orchestration. It also allows humans to validate document data in real time without having to log into a separate application. We've built Document Automation to be the most open and extensible IDP solution by integrating with a growing portfolio of best-of-breed AI platforms, including Google Document AI, Microsoft Azure Form Recognizer, and Skilja. And our customers can use a set of pre-trained models in a simple user interface, making it faster and easier to use than any other IDP solution.
New! Seamless Updates provide governance with controls in place to determine when to adopt new innovations and for which teams and users.
Coming Soon! Resilient Automation is a new feature that uses AI to detect any changes across systems mapped to your bots, alerts your professional developers, and even tells you how to tweak the bots so that they keep running without any hiccups.
For automation leaders
Process Discovery. To help automation teams know what to automate so they can scale their programs, we launched Process Discovery. With Process Discovery, process analysts can set aside the manual research projects that are usually required to understand what's happening in an organization. Instead, they can use the power of AI to map, aggregate, and analyze every process happening across an entire organization and subsequently identify the best candidates for automation. By understanding your automation ROI before you build it, you can move faster with a higher level of confidence that your teams are making the right investments.
Those are just a few of the many innovations presented during two action-packed days at Imagine 2022. You can explore all of this, as well as customer stories and case studies, executive keynotes, and thought leadership from business leaders who are driving business transformation in the Automation Economy. Relive the experience by viewing Imagine on-demand and catch the top sessions from the comfort of your home.