Blog
Automation Anywhere Named a Leader by Everest Group Again
November 10, 2022
4 Minute Read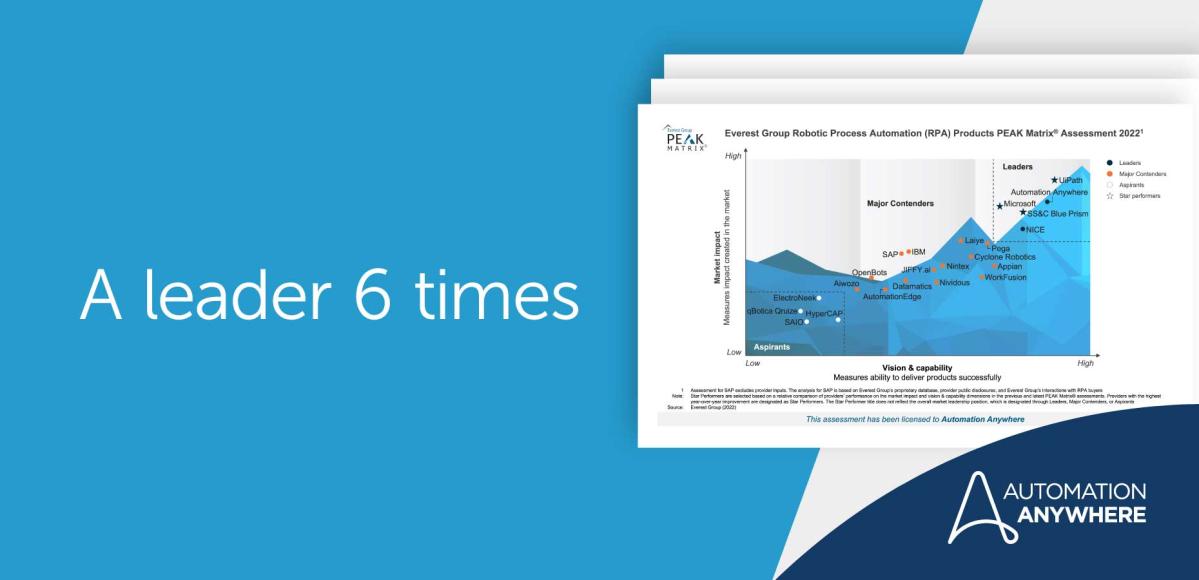 Automation Anywhere has been named a Leader in Everest Group's Robotic Process Automation (RPA) Products PEAK Matrix® Assessment 2022. This is the sixth year in a row that we have held that position.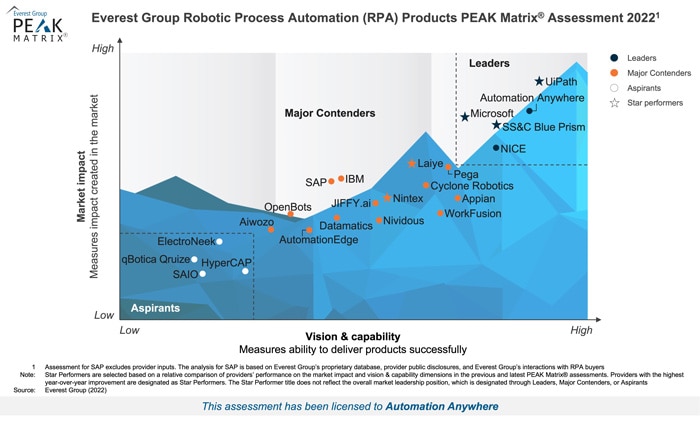 We're honored to be recognized in the RPA segment that plays such a significant role in organizations' strategy for business continuity and transformation.
From our Automation Now & Next global survey of more than 1,000 automation leaders worldwide, almost all (95%) of respondents now consider RPA to be essential for business success. And Everest Group agrees. "Evolving into a digital-first business is becoming increasingly important for organizations to remain resilient and competitive, especially after the COVID-19 pandemic." The company continues, "RPA has played a key role in helping organizations reduce costs, achieve greater operational efficiencies and quality, increase workforce productivity, enhance customer and employee experience, and realize quick time-to-value." 
So, what makes a Leader in this critical segment?
Everest Group considered many factors, with two umbrella categories:
Market impact—including the number of clients; breadth of the portfolio in terms of industries covered, processes, and use cases; value delivered to clients
Vision and capability—including the vision for clients and the company; flexibility and ease of bot development and integration with enterprise applications; deployment and maintenance in areas such as monitoring and analytics, security and governance, product architecture; product training and support; the company's sales model
"Leaders have experienced a decent growth momentum in the RPA market driven by both acquisition of new clients and scaling existing deployments in enterprises," says Everest Group. "Leaders have a strong vision for their intelligent automation platform and are investing in complementary capabilities such as process orchestration, API automation, IDP, task mining, and custom AI/ML-based solutions." And Everest Group adds, "Leaders are overhauling their commercial model to make it modular, scalable, and easier for customers to understand."
Automation Anywhere fits the role
As highlighted by Everest Group, we have an ongoing vision to help our customers build efficient, productive digital workforces and transform their processes. That's accomplished with our cloud-native, low-code/no-code intelligent automation platform Automation 360™ and embedded tools.
Everest Group sees a variety of strengths in Automation 360—and, of course, we agree—including the platform's low-code/no-code browser-based architecture to facilitate and accelerate automations and its ability to support containerized deployments for easy implementation, upgrading, and scaling. The platform is flexible with hosting options (on-premises, cloud, or hybrid). It also has security features such as credential vaults, role-based access control, ISO 27001, SOC 2, Veracode level-5, HITRUST, and more for safe operation.
Tools for success
Regarding the embedded tools available to users, the platform offers Document Automation (formerly IQBot) for intelligent document processing, Bot Insight for analytics, and Process Discovery (formerly FortressIQ) for, yes, process discovery or task mining.
Our Automation Anywhere Robotic Interface (AARI), which we call an automation co-pilot, gives employees access to intelligent automation on demand in their favorite applications to regain a significant amount of productivity immediately and streamline human-software bot collaboration. AARI works across applications while the user can stay within one and removes or mitigates most of the process complexity while engaging the user only when needed.
Everest Group also mentions our customer service as a strength. "Clients have been highly appreciative of its [Automation Anywhere] openness to feedback and incorporating customer requests in the product roadmap." We couldn't be a Leader without the full support of our "clients," or customers, which is why we place so much focus on providing high-quality support and user training.
And those are just some of the Automation Anywhere strengths from the assessment! Get your copy of Everest Group's Robotic Process Automation (RPA) Products PEAK Matrix® Assessment. Read more about what makes an RPA Leader and how that leadership can benefit your business.
About Prince Kohli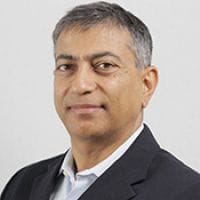 Prince Kohli serves as chief technology officer with experience building products and teams spanning cloud computing, enterprise software, network transport, systems, and security.
Subscribe via Email
View All Posts
LinkedIn