Blog
A Leader for our Process Discovery
August 29, 2022
4 Minute Read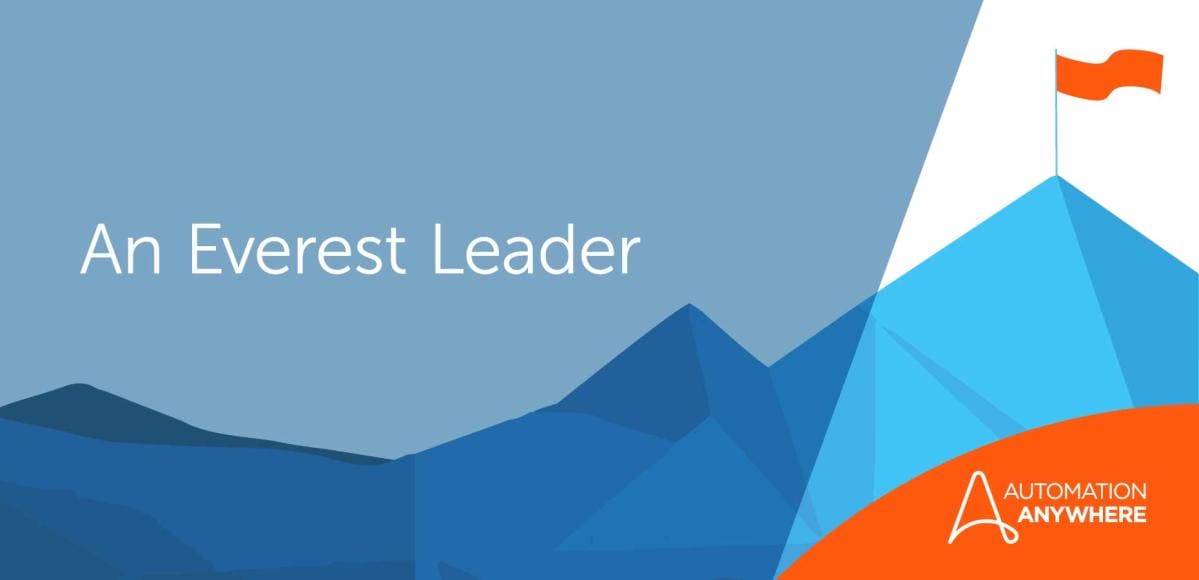 Automation Anywhere has been named a Leader in the Everest Group® Task Mining Products PEAK Matrix® Assessment 2022. Created by Everest Group, a top research and consulting firm, this first-ever assessment looks at the task mining capabilities of more than 17 technology providers.
We were named a Leader for our cloud-native, AI-powered process intelligence solution Process Discovery that makes it easier and faster for users to identify business tasks for automation. The solution incorporates the offering of FortressIQ, a process intelligence company that we acquired this year.
"The Automation Anywhere task mining product strategy is focused on empowering enterprises with fact-based process insights to accelerate their intelligent automation and digital transformation journeys," said Amardeep Modi, Vice President at Everest Group.
Everest Group defines task mining as "a type of software product that can capture user actions and metadata, such as keystrokes, mouse clicks, activity screenshots, and potentially other system-level activities performed together on multiple desktops to virtually reconstruct the processes and provide insights into the tasks and activities involved in executing a process."
The assessment notes our strengths in that area, including:
A strong vision for "end-to-end process visualization and optimization"
Continued investments in enhancing the technology
A depth and breadth of product functionalities
Delivering high value to our clients
An essential part of today's business
Task mining has become one of the fastest-growing markets in the intelligent automation space, and FortressIQ, now part of Automation Anywhere, was instrumental in the market's development.
"Since the time when FortressIQ pioneered the market, there has been tremendous interest and growth in recognizing the issue that task mining, or process intelligence, solves: How does one quickly and easily identify, map, mine, and analyze processes across all the applications and employees in an organization?" says Steve Tsuchiyama, formerly of FortessIQ and now Vice President and General Manager, Process Discovery, at Automation Anywhere.
"We're excited to be named a Leader," says Steve. "We appreciate that more and more firms like Everest Group, in their role as market influencers, are recognizing the importance of this challenge and solutions to meet the challenge."
According to Everest Group, "Adoption of task mining solutions can not only help enterprises achieve cost savings and operational efficiencies by optimizing/automating tasks but also enhances employee experience through better resource allocation."

Task mining trends
In its assessment, the research and consulting firm identifies task mining trends related to evolving capabilities and enhancements offered by technology providers. The trends are grouped into three categories: Data collection and preparation; task discovery and analysis; monitoring, insights, and enhancements.
"In my opinion, three of the most important trends or capabilities from that list are 'Automation identifier,' 'Data protection and privacy,' and 'Cloud-native architecture,'" says Steve. "And that's not just because Automation Anywhere excels in those three areas, which we do, but because those three capabilities are part of the foundation to help an organization stay productive and secure."
Identification
"Automation identifier" is what task mining/progress intelligence is all about, as discussed earlier in this article. In terms of our offering, Process Discovery, users get an out-of-the-box, embedded solution in our cloud-native platform for identifying automation candidates.
Security
Cyberattacks and breaches have risen dramatically. For example, in 2021 alone, there were 4,145 publicly disclosed breaches. And the average breach cost rose 10%—the largest increase in the last seven years, to $4.24 million.
So, "Data protection and privacy" are top of mind for organizations. In the words of Everest Group, "Task mining solutions provide the ability to automatically mask Personal Identifiable Information (PII) data or sensitive information about enterprises' products/services, customers, and employees." At Automation Anywhere, we offer a wide variety of security features with our Automation 360™ platform to protect data, users, and an organization's reputation and bottom line.
Cloud
As for "Cloud-native architecture," Everest Group sees the benefits as reducing "the total cost of ownership for enterprises and [enabling] great scale." We can add to that. Our cloud-native Automation 360 platform, with Process Discovery, eliminates the capital and maintenance expenses of on-premises solutions. With a cloud configuration and no on-site infrastructure, the solution is easy to scale. It can be accessed 24/7 from any location with an Internet connection. And it provides data protection with a host of security measures, avoiding on-premises vulnerability to local disasters and other disruptions, to name a few benefits.
Learn more about what makes us a Leader in the Everest Group Task Mining Products PEAK Matrix® Assessment 2022.
Download Your Complimentary Copy.
About Gabriel Carrejo