Blog
Imagine London 2019 — Seeing Is Believing
March 29, 2019
3 Minute Read

It's early. The gray London sky has just begun to let morning light shine through. Hushed awe. Bated breath. It's beautiful. Arrive and see the arcing A, and watch it glide smoothly. It even feels like the future — a future that every attendee is part of.
More than 1,000 people from industries as varied as public healthcare delivery to global architecture and construction take their seats at the forefront of the innovation curve for Robotic Process Automation (RPA) and cognitive automation.
It's during the morning keynote when the awe turns to pride and a sense of mission. This force of change is going to happen with each and every person in the room in the driver's seat. And, with announcements to democratize automation with Community Edition, the power of change is suddenly a torch handed to everyone, anywhere: free automation tools to entrepreneurs and developers and students. They will change the future state of work — they are the agile front line of innovation.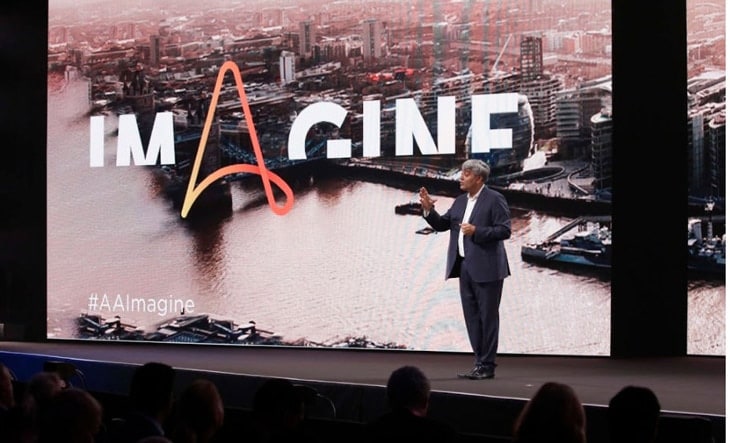 Have you ever seen the future? At Imagine London, Mihir Shukla, founder and chief executive officer of Automation Anywhere, shared how we can expect the world and human experience to change working alongside the intelligence Digital Workforce. Everyone today sees computers as normal — if not essential — tools for work and life.
What will work be like with digital helpers that are efficient and always on, ready to do any repeatable task or process? This is not a dream; it's available today. Download a Digital Worker — say, an accounting specialist — and see how it's performed for other organizations it's worked for.
It's not true that nothing can prepare us for the future. Vision can — and giving everyone access to the knowledge and tools to make change.
Like waking from a dream, the atmosphere following the keynote comes alive. Suddenly, everyone is talking. Excitement and realization — we are part of this. And this is big.
Each attendee arrived with hopes, vision, ambition, and real-world experiences of automation, RPA, and bots. Imagine is their platform to turn ideas and experiments into a movement by connecting with peers and other organizations along this RPA implementation journey, finding partners best suited to help guide their journey, and gaining the knowledge and confidence to move the ball forward within their organizations.
The first barrier to accelerating automation is largely how we think about it, and how organizations perceive it. Imagine is the space — creating the environment and providing the tools and connections — to change mindsets. It is the fuel and concrete support for what the future looks like.
So, how can you make people believe? Examples like one shared by an attendee — the company switched from an old automation tool that was successful 50% of the time to Automation Anywhere and saw success go up to more than 90%, which made everyone at the organization realize they can achieve 100%. It's intoxicating. And inspiring.
This is the cusp of change.
It's really no surprise customers love working with Automation Anywhere. Our Net Promoter Score (NPS) of 67 is validated by the experience we're delivering for attendees at Imagine: the feeling of arriving at a rock concert but taking place in the future, where you're about to join the band. This is the future made real. What future will you choose?
See the difference RPA can make
for your organization.
About James Dening