Blog
How to transform your business fast with automation and generative AI
September 22, 2023
5 Minute Read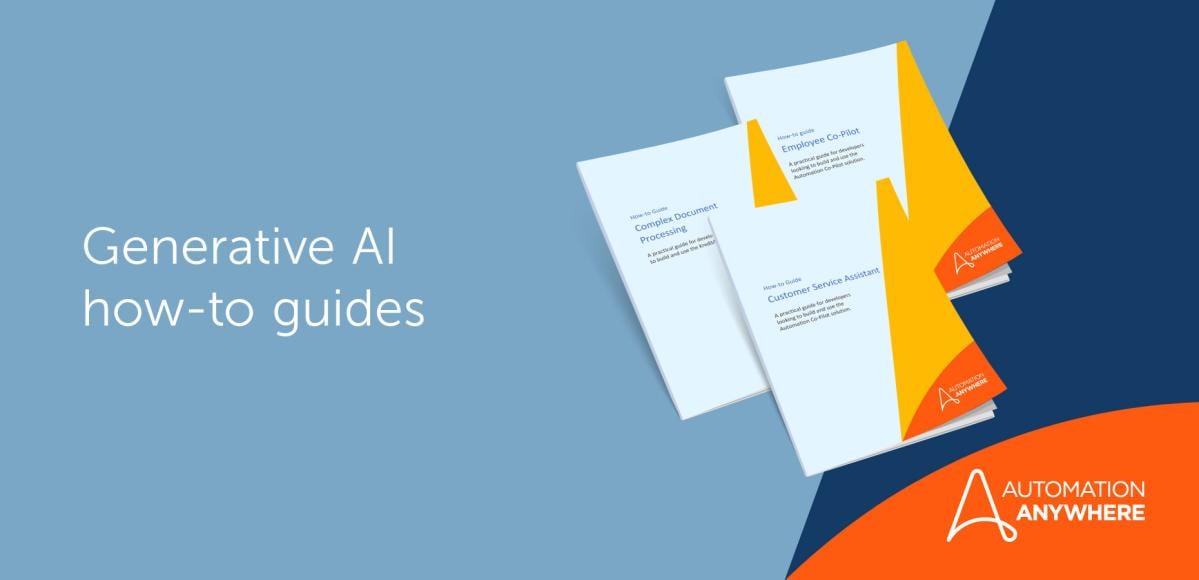 While many of us have been working with AI for some time, especially in business intelligence, analytics, and predictive analysis, there are no other technologies today that can match the speed and scale of generative AI when it comes to content processing.
As a partner with many leading enterprises on their Intelligent Automation journey, Automation Anywhere immediately recognized the value of integrating generative AI into the core capabilities of the automation architecture. Just a few months after OpenAI's ChatGPT became available, Automation Anywhere swiftly launched a series of generative AI-powered innovations on the Automation Success Platform. These innovations include Automation Co-Pilot for Business Users, Document Automation, and Automation Co-Pilot for Automators, with the first two now accessible to businesses worldwide.
Automation Co-Pilot for business users stands as the industry's first on-demand, Intelligent Automation assistant powered by generative AI. Embedded in any business application, Co-Pilot helps knowledge workers and customer service agents accelerate routine business tasks, such as processing emails, summarizing applications, and generating reports.
Document Automation has been a leading technology for processing critical business information. Now, with the power of generative AI, it can ingest, comprehend, and extract data from any unstructured document type in the flow of work. This opens up a whole new universe of data that was historically challenging and costly to extract for process automation. But our innovation journey doesn't stop here! These innovations sparked a wave of new business solutions for the future of work.
To further expedite our customers' journey in automation and generative AI, we have carefully curated three sets of next-gen automation solutions to drive business impact more rapidly:
Each solution package comes with essential resources to support enterprises' automation success, including solution templates, step-by-step guidance, and access to Automation Anywhere's Generative AI Pathfinder Community.
Employee Co-Pilot Solution Package
The productivity gap that employees face today is largely due to the duplication of applications and the complexity of often siloed processes. According to a Harvard Business Review report, employees surveyed spend 9% of their annual time at work switching between applications to complete routine tasks.
Employee Co-Pilot solutions are designed to simplify operational complexity with automation and generative AI. Instead of navigating through various applications and processes, employees can effortlessly launch the Automation Co-Pilot embedded in their primary application of choice and express their needs in plain text. The helpful Automation Co-Pilot orchestrates across systems and follows standard operating procedures to complete the tasks.
While the current release of Employee Co-Pilot solution provides examples of Intelligent Automation experiences embedded in MS Teams, Salesforce, ServiceNow, and Genesys, the same solution template can be applied to any business process and any business application to unlock employee productivity.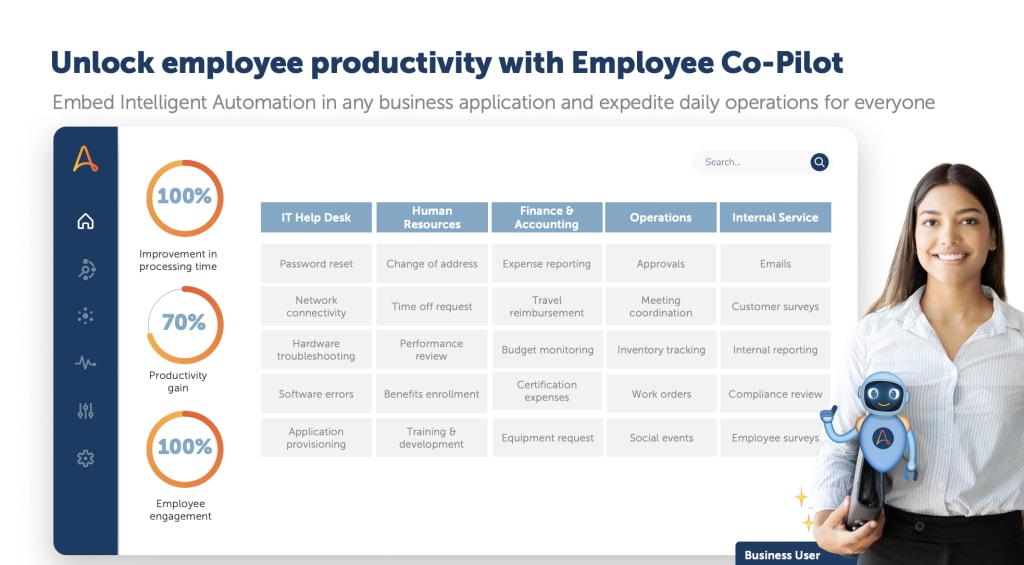 Download the how-to guide for building Employee Co-Pilot.
Customer Service Co-Pilot Solution Package
Customer service is at the heart of customer experience and success. However, according to the latest Customer Management Practice report, agents often have to deal with multiple applications, resulting in slow turnaround time, inconsistent case resolution, and customer dissatisfaction. For example, during a typical ticket triage process, agents spend nearly 70% of the case time gathering information from multiple systems before resolving the tickets, resulting in a dissatisfying average handle time (AHT).
The Customer Service Co-Pilot solution package aims to significantly accelerate agent productivity by surfacing critical customer information in real time and supporting personalized resolution. This is achieved via the Automation Co-Pilot in the agents' core application, so the complexity of understanding and categorizing customer tickets can be handled seamlessly behind the scenes, allowing the agent to swiftly review and approve resolutions.
See below a short list of customer service operations you can quickly transform with the Customer Service Co-Pilot solution package.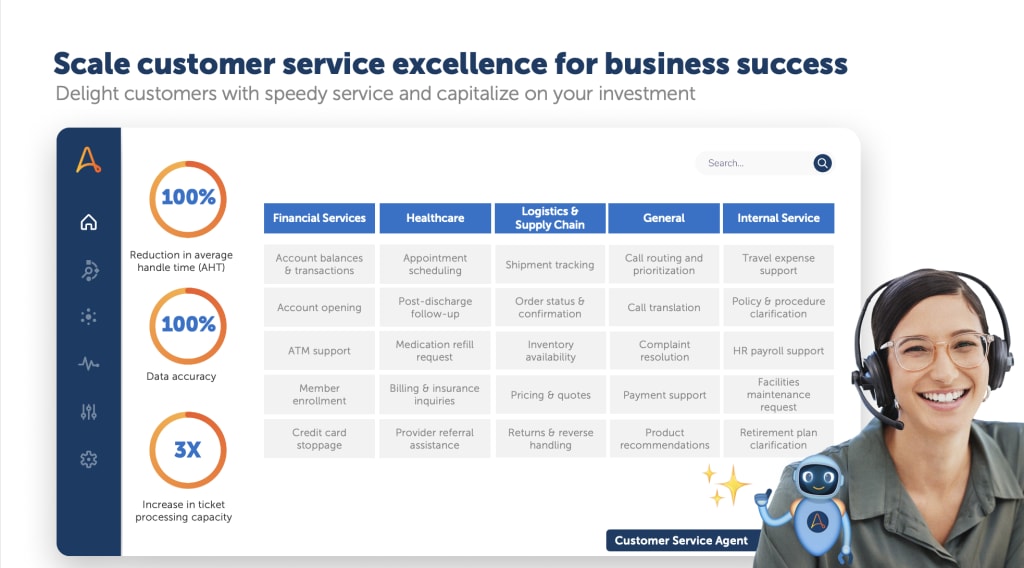 Download the how-to guide for building Customer Service Co-Pilot.
Complex Document Automation Solution Package
Many process automations are limited in scope and speed, largely due to unstructured documents. For example, loan application processing takes 3-7 business days to turn around because of labor-intensive reading, uploading, and reviewing of various documents such as driver's licenses, bank statements, pay stubs, and application forms for loan packets.
With Document Automation powered by generative AI, analysts can effortlessly process documents in minutes rather than days, opening up new possibilities for faster operations. Built on an open platform, Document Automation offers out-of-the-box intelligent document extraction capabilities and custom intelligent document processing (IDP) solutions while supporting the option to bring your own 3rd party large language models (LLMs) for processing proprietary document types.
Explore the potential for processing a wide range of documents, unlocking unlimited possibilities!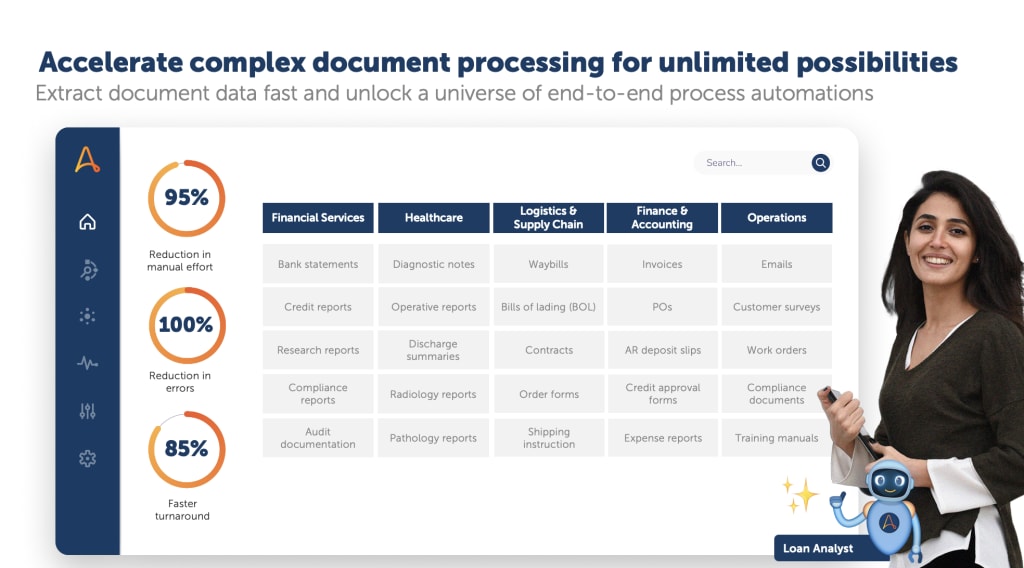 Download the how-to guide for building Complex Document Automation.
In this fast-changing world of work, the future is limited only by our imagination. With Automation Anywhere's generative AI-powered solutions, your business can transform, automate, and innovate like never before.
About Linda Ding