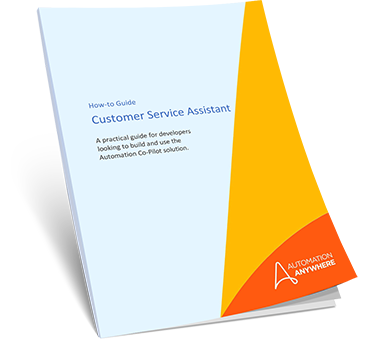 Use Automation Co-Pilot with generative AI to support customer service agents with real-time information retrieval to quickly resolve cases.
The future of customer service is personalized engagement at the point of interaction, and businesses must be able to deliver this at scale in order to maintain their competitive edge. However, the sustained challenge of customer service staff shortage and rising customer demand continue to exacerbate the experiences of both customers and employees.
Intelligent Automation, infused with generative AI, offers an intuitive and efficient way to augment agent's daily operation directly in their primary application of choice. It provides synthesized information, prioritizes tasks, and provides resolution recommendations adhering to the company's knowledge base, allowing agents to focus on delivering the best customer experience.
At Automation Anywhere, we are putting generative AI to work on the Automation Success Platform. Built on a connected, open, and trusted architecture, this empowers enterprises to achieve faster ROIs for their automation investments, elevating agent productivity and driving sustainable growth.
We have created this How-To Guide for an array of customer service solutions, where customer service agents can leverage Intelligent Automation directly from their application of choice, such as MS Teams, Salesforce, and ServiceNow.
The Customer Service Assistant How-To Guide serves as your gateway to crafting and deploying next-generation automation solutions infused with generative AI.