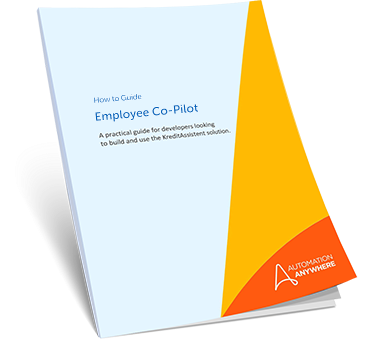 Optimize employee productivity with a digital assistant to streamline tasks and facilitate uninterrupted work.
A recent study from Harvard Business Review shows that today's employees spend nearly 9% of their work time navigating between business applications, sifting through information, and connecting systems to get the job done. This translates to a loss of 9% in productivity and missed opportunities for innovation.
Intelligent Automation, infused with generative AI, offers a solution to recapture that 9% for your workforce. It assists your users in navigating through systems while adhering to the current standard operating procedures, allowing your human experts to focus on what they do best—solving complex problems and helping grow the business.
At Automation Anywhere, we are putting generative AI to work on the Automation Success Platform. Built on a connected, open, and trusted architecture, this empowers enterprises to achieve faster ROIs for their automation investments, elevating employee productivity and driving sustainable growth.
We have created this How-To Guide for an array of employee assistant solutions, where average business users can leverage the benefits of Intelligent Automation directly from their application of choice, such as MS Teams, Salesforce, and ServiceNow.
The How-To Guide is your gateway to crafting and deploying next-generation automation solutions infused with generative AI.