Accelerate business users, accelerate automators, and responsibly scale with our new generative AI-powered automation tools
Blog
Accelerate business users, accelerate automators, and responsibly scale with our new generative AI-powered automation tools
September 19, 2023
6 Minute Read
Featured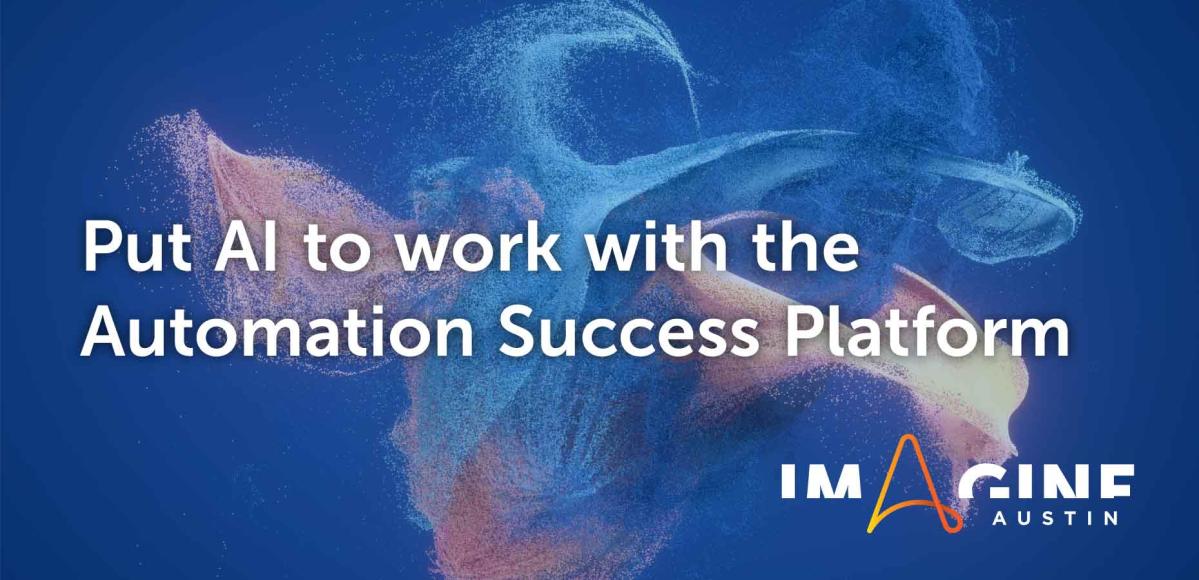 Today, we delivered a series of keynotes announcing a wave of new generative AI-powered innovation to help companies put automation and AI to work across the enterprise. Our CEO, Mihir Shukla, kicked off the day sharing his vision and affirmed the promise of AI, particularly generative AI and how it's quickly becoming the key ally in solving the productivity crisis happening across every industry. In fact, McKinsey predicts that generative AI is going to help you automate up to 70% of the work that's done today so teams can drive more high-value impact.
While generative AI promises productivity gains, Mihir underlined the need for governance and security controls to ensure safe and responsible use by all teams across the business. The combination of automation and AI is the new system of work for the enterprise, driving this business transformation.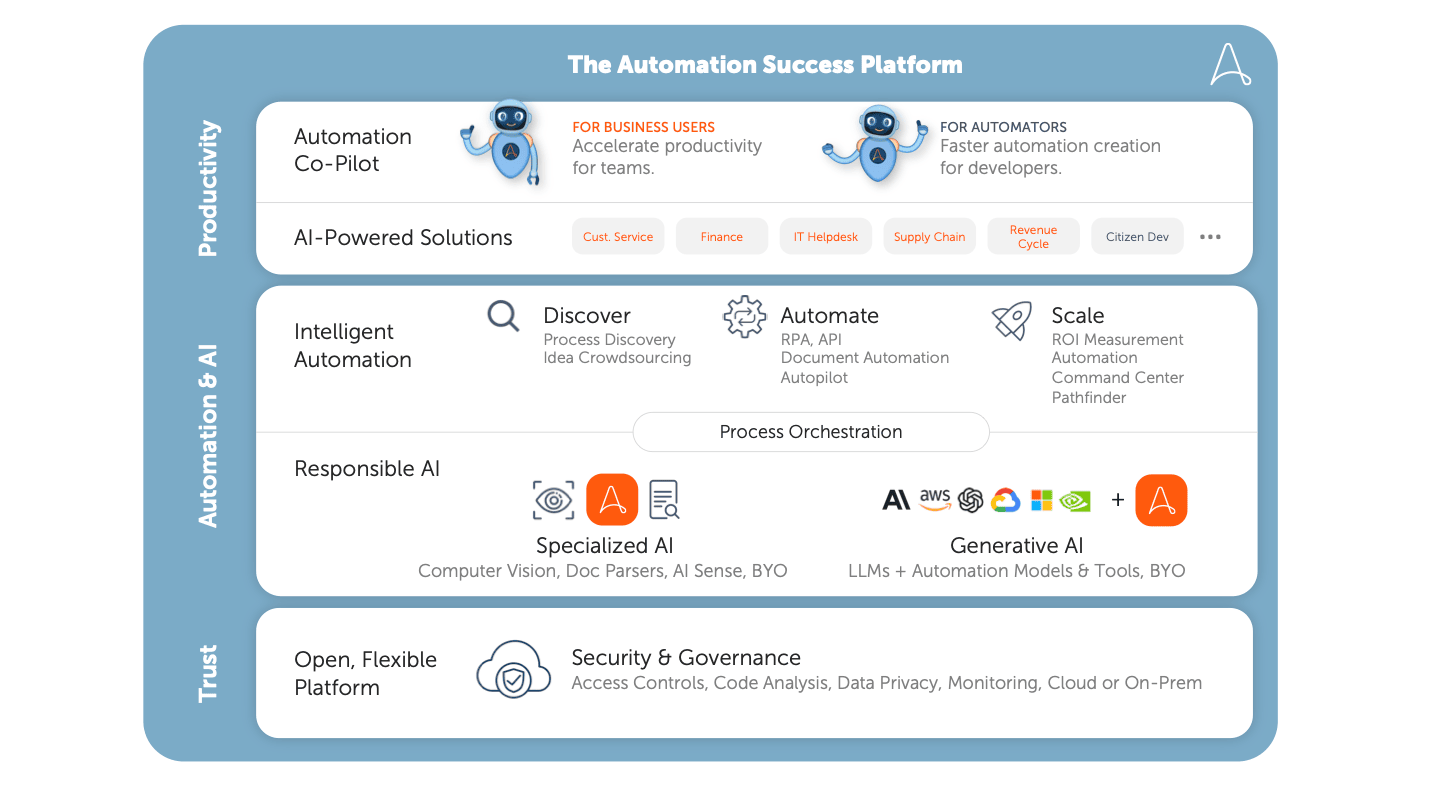 As Automation Anywhere's Chief Product Officer, I had the privilege of taking the stage to deliver our product keynote with my team, where we unpacked the new innovations across the Automation Success Platform. Before diving into the announcements, we highlighted a variety of significant adoption milestones from the past year, including 150 million automations completed in the cloud, 410% year-over-year growth in Automation Co-Pilot users, and over 10 million documents processed using Document Automation. That puts Automation Anywhere in a leadership position in AI-powered Intelligent Automation no matter how you measure it.
Responsible AI
We continued on to share a variety of new announcements, heralding in a new area for Automation Anywhere, including a new Responsible AI layer infused across the entire Automation Success Platform, and the underlying set of AI-powered capabilities supporting new advanced Intelligent Automation products and features. These models not only enable generative AI to be embedded into automations to accelerate your business teams, but we have integrated generative AI into the automation creation experience, accelerating automation development. Together, these create a flywheel of productivity for business transformation.
The announcements supporting the delivery of this flywheel were unpacked across three chapters, including live product demos and interviews with top customers and our partners at AWS.
Chapter 1: Accelerate business teams and unlock team productivity
Generative AI Automation Models
Our Responsible AI Layer features the first-ever Generative AI Automation models we developed using rich, anonymized metadata from over 150 million automations run on the Automation Success Platform. Because our platform is open, this gives businesses the maximum flexibility to use different generative AI models from different vendors for your different use cases. We're already seeing customers create custom models on Amazon, Google, and other platforms.
Automation Co-Pilot for Business Users
Last year at Imagine we announced Automation Co-Pilot for Business Users, which lets business teams embed automation in their favorite applications like Salesforce, SAP, Genesys, and Microsoft Teams. Earlier this year we added generative AI. This makes our Automation Co-Pilot the only co-pilot that works across application boundaries, handles complex workflows, and adheres to your governance rules.
Document Automation
We've also enhanced Document Automation with a boost of generative AI so it can quickly understand, extract, and summarize data for the 70% or more of automations that involve a document. Document Automation now supports the quick processing of semi-structured and unstructured document types, including contracts, waybills, packing lists, and loan applications.
See how Automation Co-Pilot for Business Users and Document Automation unlocks productivity for your teams.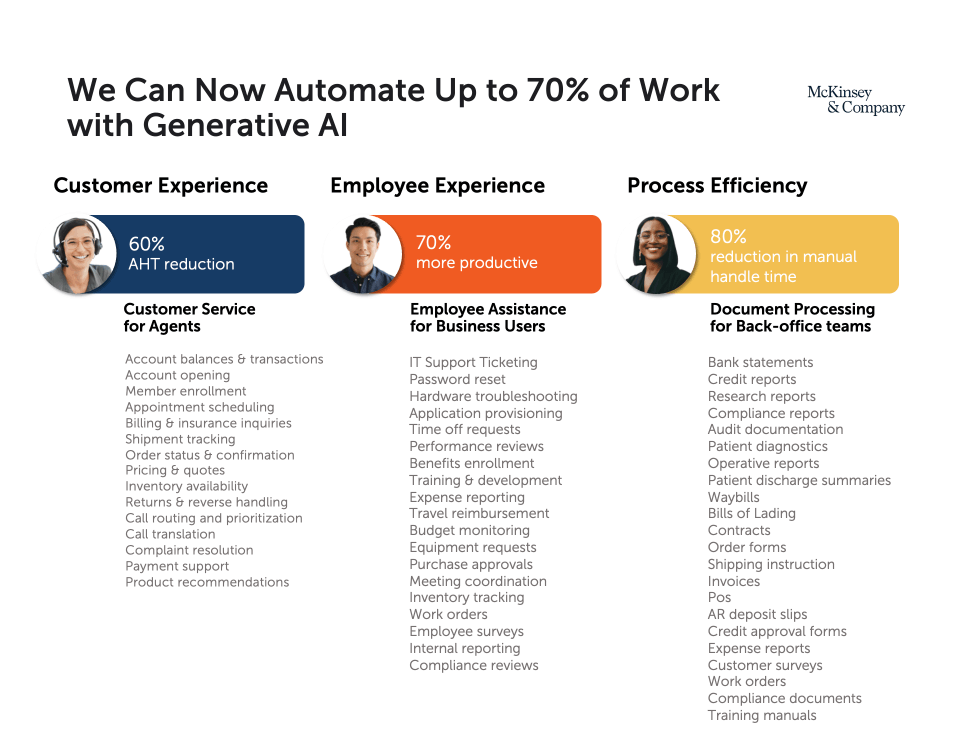 Chapter 2: Accelerate automators and speed development
Automation Co-pilot for Automators
Automation Co-Pilot is helping accelerate teams by unlocking even more automation use cases, but we also want to accelerate the development of automations using generative AI.
Today we've expanded Automation Co-Pilot for Automators with new capabilities that empower citizen and professional developers to rapidly create powerful, customized automations using natural language prompts, lowering the barrier to automation creation across the enterprise.
Autopilot
We also announced Autopilot, an all-new offering that fulfills one of the top requests from our customers: the ability to streamline automation development from process understanding to automation deployment, oftentimes a months-long process across multiple teams. With human validation along the way, Autopilot rapidly generates end-to-end automations based on enterprise process mapping, using the power of generative AI. It brings together Process Discovery, CoE Manager, and Automation Co-Pilot for Automators to help you go from process discovery to automation creation in minutes, even using process documents from third-party vendors.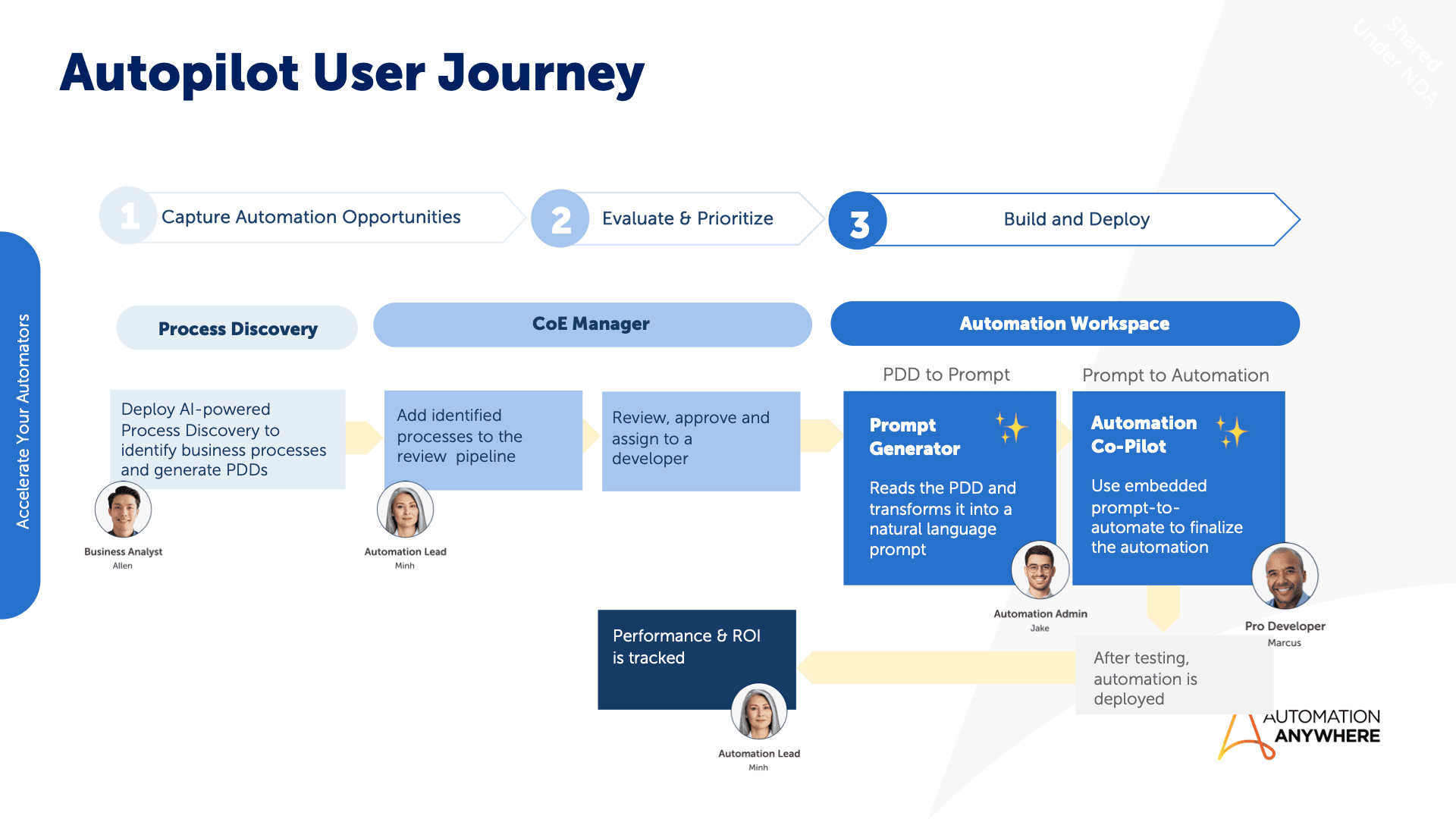 Chapter 3: Responsibly scale AI across the enterprise
Responsible AI Tools and Governance
With our new and enhanced solutions empowering you to automate more work and accelerate automation development, you're going to want to scale this transformation across the enterprise, but in a secure, confident manner. That's becoming crucial as enterprises weigh the potential benefits and risks of generative AI. Topics like data security, privacy, and misuse enter the conversation, but guardrails and controls can be inserted to help you mitigate those risks without slowing your transformation.
To help, we're launching a new set of capabilities and best practices critical to the next generation of automation development. Teams will be able to select and manage generative AI models, test and optimize those models, create and manage reusable templates, mask sensitive data, audit automation performance, and more. It's all designed to give you the capacity to bring your generative AI aspirations to life.
To give you a jump start and boost your generative AI deployment speed, we're also introducing enhanced integrations with Google Cloud, AWS, and others, and expanding our Pathfinder Community to include a new generative AI community group, a generative AI skills booster series, and expert-led guidance on hyperscaling with AI.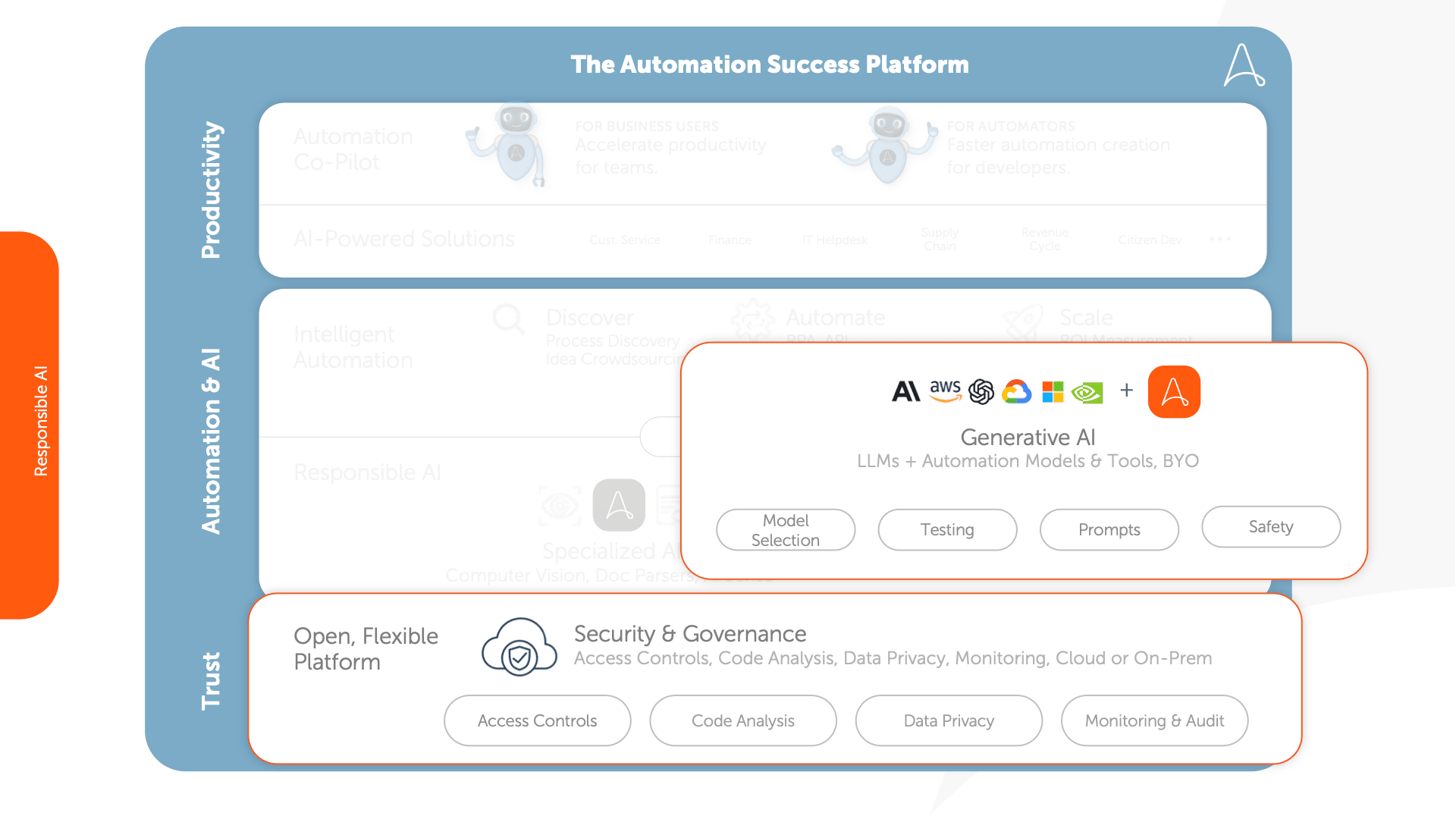 Pathfinder
Last year at Imagine, we launched the Pathfinder program and have received a tremendous response from our customers and partners. Today, we announced even more resources to help you go further with Pathfinder. Pathfinder Mission Control lets teams benchmark current automation programs and create action plans for growth. Our all-new Pathfinder Academy offers 40 new digital courses, all free, to help teams upskill quickly. Pathfinder Community also continues to provide always-on peer guidance and insights. And we've launched Bot Games, co-hosted by Google Vertex, to provide hands-on experience building automations powered by generative AI.
So much innovation
That's a ton of innovation announced in just a single day! Automation Co-Pilot and Document Automation will help your business teams automate more processes. Automation Co-Pilot for Automators and Autopilot will speed up automation development. AI Governance & Tools will empower you to responsibly scale your transformation.
Learn more about these and other product introductions, enhancements, and revelations announced today at Imagine 2023!