What Is Banking Automation?
When banks, credit unions, and other financial institutions use automation to enhance core business processes, it's referred to as banking automation.
Banking and financial business processes involve an overabundance of repetitive tasks, making them ideal for banking automation technology. And while some of this digital transition has included the development of complex automation tools for investment and fraud detection systems, some of the most significant benefits have come from automating smaller, more menial tasks found more widely within these institutions. The automation transition has also enabled banks to expand current product and service offerings by leveraging data. What could you do if you got to know your customer better?
The banking industry has particularly embraced low-code and no-code technologies such as Robotic Process Automation (RPA) and document AI (Artificial Intelligence). Why? These technologies require little investment, are adopted with minimal disruption, require no human intervention once deployed, and are beneficial throughout the organization from the C-suite to customer service. And with technology fundamentally changing the financial and consumer ecosystems, there has never been a better time to take the next step in digital acceleration.
What can banking automation do for me?
Most of the products and services banking and financial institutions offer involve or have benefited from automation. Banking automation technologies have drastically shortened response times while increasing the value of each work hour. Other banking automation benefits include:

Increased Trust
Customers want to get more done in less time and benefit from interactions with their financial institutions. Faster front-end consumer applications such as online banking services and AI-assisted budgeting tools have met these needs nicely. Banking automation behind the scenes has improved anti-money laundering efforts while freeing staff to spend more time attracting new business. The result is a more personal touch and increased trust levels.

Greater Accuracy
Banking automation reduces human errors and the time needed to complete these tasks to maximize cost savings. The result is better business outcomes and lower operational costs.

Efficiency
Banking automation has become one of the most accessible and affordable ways to simplify backend processes such as document processing. These automation solutions streamline time-consuming tasks and integrate with downstream IT systems to maximize operational efficiency. Additionally, banking automation provides financial institutions with more control and a more thorough, comprehensive analysis of their data to identify new opportunities for efficiency.

Scalability
Traditional software programs often include several limitations, making it difficult to scale and adapt as the business grows. For example, professionals once spent hours sourcing and scanning documents necessary to spot market trends. As a result, the number of available employee hours limited their growth. Today, multiple use cases have demonstrated how banking automation and document AI remove these barriers.

Better Investments
Banks and the financial services industry can now maintain large databases with varying structures, data models, and sources. As a result, they're better able to identify investment opportunities, spot poor investments earlier, and match investments to specific clients much more quickly than ever before.

Service Flexibility
The banking sector once focused solely on providing financial services. Today, many of these same organizations have leveraged their newfound abilities to offer financial literacy, economic education, and fiscal well-being. These new banking processes often include budgeting applications that assist the public with savings, investment software, and retirement information.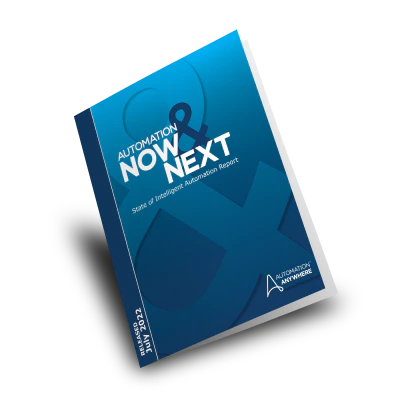 A must read, one-of-its-kind, industry report
Learn how top performers achieve 8.5x ROI on their automation programs and how industry leaders are transforming their businesses to overcome global challenges and thrive with intelligent automation.
Who uses banking automation?
The finance and banking industries rely on a variety of business processes ideal for automation. Many professionals have already incorporated RPA and other automation to reduce the workload and increase accuracy. However, banking automation can extend well beyond these processes, improving compliance, security, and relationships with customers and employees throughout the organization.

Lending Processes
Lenders rely on banking automation to increase efficiency throughout the process, including loan origination and task assignment.

Regulatory Compliance
Banking automation helps devise customized, reliable workflows to satisfy regulatory needs. Employees can also use audit trails to track various procedures and requests.

Client Services
Digital transformation and banking automation have been vital to improving the customer experience. Some of the most significant advantages have come from automating customer onboarding, opening accounts, and transfers, to name a few. Chatbots and other intelligent communications are also gaining in popularity.

Information Security
InfoSec professionals regularly adopt banking automation to manage security issues with minimal manual processing. These time-sensitive applications are greatly enhanced by the speed at which the automated processes occur for heightened detection and responsiveness to threats.

Human Resources
Timesheets, vacation requests, training, new employee onboarding, and many HR processes are now commonly automated with banking scripts, algorithms, and applications.

Supplementary Services
Banking automation has facilitated financial institutions in their desire to offer more real-time, human-free services. These additional services include travel insurance, foreign cash orders, prepaid credit cards, gold and silver purchases, and global money transfers.
Frequently asked questions about banking automation
How do I get started with banking automation?
Digital transformations don't have to be complex and overwhelming. To get the most from your banking automation, start with a detailed plan, adopt simple-but-adequate user-friendly technology, and take the time to assess the results. In the right hands, automation technology can be the most affordable but beneficial investment you ever make.
Explore

additional resources