IBM Automation VS Document AI
IBM automation and Document Artificial Intelligence are powerful, low-code tools for processing word documents, PDFs, and even digital images of paper documents.
Documentation used to be almost impossible to incorporate into workflows because it is unstructured. When you can't access the information you need, you can't include it in your decision-making. Therefore, it biases decisions and leads to mistakes.Document AI is a powerful, no-code data extraction automation solution vital to digital transformation that eliminates that problem.
When the stakes are high and the company's success depends on a decision, you can't afford to leave information undiscovered and hidden. IBM automation tools and document AI use document classification, information extraction, and information validation in documents while making them accessible. It can make all the difference when communicating with customers, producing products, or making million-dollar investment decisions.
What can tools like IBM Automation and Document AI do for me?
How you utilize document AI will depend on your role within the organization and its industry. However, everyone can benefit from more complete workflows. Document management via AI makes it possible for organizations to scale without reducing effectiveness or efficiency. Skilled employees can spend less time on administrative tasks and focus on decision-making and other roles to grow and improve business. Some specific benefits of document automation include:

Reduced Costs
Automated document processing dramatically decreases the expense generally associated with extracting information and filing documents. Combined with its flawless processing, companies can spend less time managing overwhelming amounts of messy papers.

Improved Accuracy
Once document AI is trained and ready to go, it's far more accurate than humans at specific document understanding tasks. This higher accuracy is critical to increasing productivity, reducing costs, and avoiding devastating mistakes that could cost customers, opportunities, or your business.

Higher Customer Satisfaction
Whether you're processing customer requests, insurance claims, or providing information, document AI allows companies to give responses faster and with higher accuracy. Accelerating these processes makes customers happier, reduces complaints, builds reputation, increases trust, and reduces the risk that they'll turn to competitors.

Regulatory Compliance
Higher document processing accuracy improves the capacity for regulatory compliance. This detailed audit trail can also be helpful for employees to find errors, identify efficiencies, and problem-solve.

Scalability
Because document AI eliminates the need to process and manage data manually, it's easy to scale with little to no added cost.

User-Friendly Workflows
Document processing technology turns large numbers of documents into a usable resource accessible through a user-friendly UI. And because it doesn't require advanced technical skills, anyone with access can use the information to increase productivity and improve their work.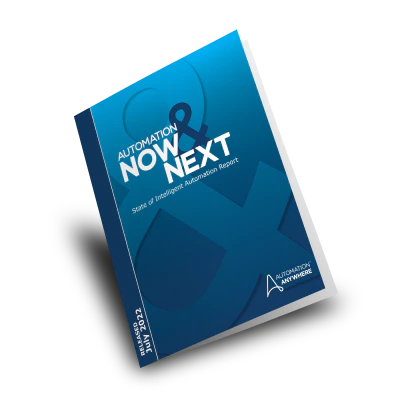 A must read, one-of-its-kind, industry report
Learn how top performers achieve 8.5x ROI on their automation programs and how industry leaders are transforming their businesses to overcome global challenges and thrive with intelligent automation.
Who uses IBM Automation and Document AI?
Document AI is highly beneficial for business users in any industry because it organizes unstructured documents with wildly different structures using a custom template you can use for almost anything. Just a few of the use cases for document AI include:

Financial Services
Customer documentation and language vary unless you're working with a hyper-local target market. Document AI allows you to process supporting documentation and communications worldwide with minimal human interaction during the process.

Healthcare
Organizations in healthcare often find themselves drowning in high amounts of documentation and strict compliance regulations. This problem becomes so prominent that it can eat up a large portion of a company's labor. Knowledge Process Outsourcing (KPO) and Robotic Process Automation (RPA) can help, but documentation processing AI makes this automation intelligent.

Human Resources
The use of document AI has exploded in the human resource industry. Machine Learning (ML), Natural Language Processing (NLP), and AI can instantly deal with many documents associated with recruitment, training, employee requests, and other HR functions.

Accounting
Many use cases for document artificial intelligence focus on accounting processes, including payroll, taxation, invoicing, and cash management. As a result, accounting departments were among the early adopters for this technology and the first to find ways to integrate these processes with other departments such as sales and the C-suite.

Sales and Marketing
Documentation can contain a wealth of priceless information about customers, the products and services they use, their purchases, and how they engage with the company. Documentation AI can process this information and generate custom reports that can help identify profitable marketing ideas, profitable target markets, and more.

Insurance
Almost every process in the insurance industry requires companies to process documentation, share it, or analyze it somehow. Documentation AI management tools can cut the labor associated with quotes, claims, and adjudication down to mere minutes or even seconds in some instances.
Frequently asked questions about IBM Automation and Document AI
How do I get started with Document AI?
Document AI seems complicated, complex, and appears to require a high amount of technical skill, but that isn't true. Robotic Process Automation combined with Document Automation makes this technology accessible and easy to use for any industry. In fact, you can start benefiting from RPA in a matter of hours.
Explore

additional resources