Cloud RPA
Automating is meant to be possible anytime–anywhere. Cloud gets you there.
What is

Cloud RPA?

Cloud automation refers to business process automation using cloud-native, web-based, Robotic Process Automation and Artificial Intelligence (RPA+AI) software.
In a word, it means RPA-as-a-service: automation software that's simple to access and use for anyone with an internet connection, on any device, that executes and orchestrates processes and workflows across the organization.
Cloud-based automation is also designed for automation self-service, with intuitive drag-and-drop actions and visual flow charts empowering non-technical teams to automate on their own. Cloud RPA enables users to automate any process via a web-based interface accessed in their browser.
Frequently asked questions

about cloud RPA

There's nothing fluffy about the impact automating with cloud RPA offers enterprises, but the hype around all things cloud can make it hard to get a clear view of the lay of the land. Here are some no-nonsense answers to frequently asked cloud RPA questions to give you clarity. Want to see what RPA is like? Let's Build-a-Bot™ together.
Get hands-on experience where we'll show you how to build, edit, and run your own automation, step by step.
How

does Cloud RPA work?

Unlike on-premise RPA software, a cloud-native RPA platform is architected and built to make optimal use of the cloud's capabilities.
Technology that's created for the cloud is built with different building blocks. You can think of it like the difference between communicating by email versus sending a letter by post.
To respond to the demand for cloud solutions, RPA vendors have taken on-premises software and moved it into the cloud—what's referred to as "cloud-washed" software. In these cases, while you can access the software in the cloud, everything else follows the deployment and maintenance model of traditional software and infrastructure. So it's a bit like writing an email only to print it, package it, add stamps, and send it in the mail.

In more specific terms, cloud-native architecture is built and delivered using technologies and methods that are optimal for cloud environments. For example, cloud-native applications are packaged in complete units of functionality (containers for these functions have special names, such as Kubernetes), and run via microservices (collections of loosely coupled, independent services), on elastic cloud infrastructure.
In short, cloud-native RPA is much more than virtualizing an on-premises automation application and delivering it via the cloud. A real cloud-native RPA platform means engineering the design, implementation, deployment, and operation of the application as a cloud technology.
What

are the benefits of Cloud RPA?

Automate any business process, end-to-end
Save time and money by reducing human interaction, increasing processing speed, and regularizing outputs.

Reduce operational obstacles
RPA + AI can navigate legacy systems and other functional barriers and connect front- and back-office operations.

Organize and process complex data
Intelligent automation tools capture, store, manipulate, and retrieve records from unstructured sources, ensuring processes run successfully.

Ease of use
RPA is powerful in its ability to automate nearly any business process. Cloud RPA makes that power available to everyone instantly, and in an environment that is familiar—PC, Mac, or tablet—to minimize onboarding friction for new users as well as simplify the path for developers and technical users to leverage the full range of automation functionality to create bots faster.

Near-infinite scalability
Cloud-based architecture gives cloud RPA a unique ability to scale a Digital Workforce of RPA bots on demand. Via any cloud platform, it is possible to scale up or down as the needs of the organization change.

Enhanced security
Cloud software security is constantly monitored as part of the service. Cloud RPA platforms are further designed for security—data is kept isolated, with strict adherence to global privacy laws.

Faster time to value
Cloud automation offers speed from adoption to automation. Instant web-based deployment enables bot development to start at any time, while intuitive, consumer-like interfaces enable users with varying skill levels to learn quickly and automate on their own.

Zero implementation time
RPA in the cloud does not require any setup or startup time at all, which stands in stark contrast to standard multi-month implementations for on-premises solutions.

IT hands-free
As a 100% browser-based deployment (zero IT infrastructure requirements/footprint) with instant license provisioning, cloud RPA does not require support from IT.
From an IT perspective, cloud automation software is always up to date, so there is no need to upgrade client machines every time new functionality or fixes are released.
How

secure is Cloud RPA?

While RPA security spans a wide range of topics, RPA in the cloud can provide superior security and privacy than on-premises, across the spectrum of requirements.

GDPR
Cloud RPA can specify that personally identifiable information (PII) never goes to the cloud unless you tell it to, and operational data is only kept to bolster privacy and ensure compliance.

Data encryption
Cloud RPA must ensure data is always protected, in motion and at rest, and provide for stringent authentication protocols for compliance.

Control with privacy
Granular role-based access control is essential to set restrictions and segregation of data, while providing full audit trails on every action with strict privacy compliance

Secure cloud services
From hosting to data protection to segregating tenants, cloud automation should be built with DevSecOps and adhere to best-in-class security practices.
How

does cloud automation compare to hybrid or on-premises deployment models?

Deploy on the Automation 360, or your own cloud, such as AWS, GCP, or Azure.

Given regulatory constraints for some industries, an ideal cloud RPA platform provides the option of native deployment in the cloud, on-premises, or in a hybrid mode where the data is on-premises while orchestration is in the cloud.

Hybrid deployment is advantageous for developers since the same software stack is running both in the cloud and on-premises. That means bots replicate seamlessly from on-premises to the cloud avoiding the need to re-create automations and add management cost and complexity.

From an infrastructure standpoint, cloud RPA should be able to be run on-premises, on a private cloud, or on a public cloud, such as Azure, AWS, IBM, Google Cloud, and others.

SaaS
Fully hosted and managed in the cloud, this deployment model provides full SaaS experience with instant access to the up-to-date platform.​

Hybrid
Offering a SaaS experience while data is hosted on-premises with lower TCO, this deployment model addresses situations where data sovereignty is mandatory.​​

On-prem with updates via cloud
This is a complete on-premises deployment with control over receiving updates and new capabilities from the cloud.​
With a complete and intelligent platform.
The Automation Success Platform accelerates transformation with flexible cloud-native automation supported by a global member community and partner ecosystem.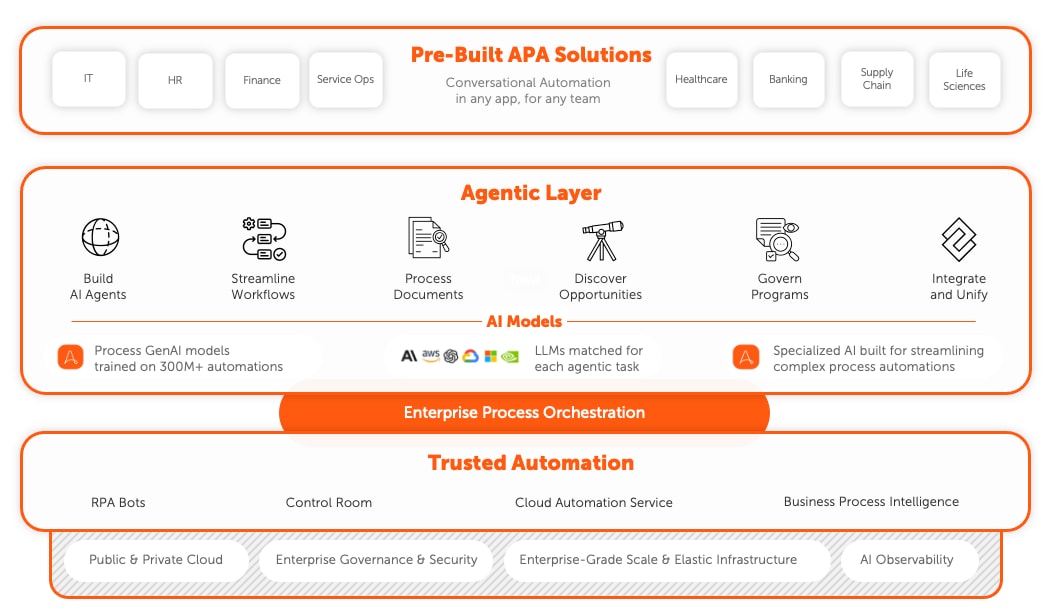 Ready to try building a bot?
Join a free Build-a-Bot™ session to get hands-on experience building, editing, and running your own automation.