What is GSuite Automation?
GSuite users already love Google Workspace programs. Now, you can use these programs to get even more work done with automation.
Entrepreneurs, small businesses, and enterprises love Google Suite (you may also know it as Google Suite, Google Apps, or Google Workspace). These programs work together seamlessly. You can access them from anywhere, and they take little-to-no training to use them. However, this simplicity and consistency also make them the ideal candidate for automation.
Like GSuite itself, Google apps script code requires very little money or time upfront to get started. You can automate your first GSuite task within a few hours of signing up. Import information into Google Sheets, create templates in Google Docs, or automate Gmail and improve communication with customers and other people across the organization. There are endless possibilities.
What can GSuite automation do for me?
GSuite automation presents organizations and business owners with endless options and opportunities for improving their business processes. So, no matter which of the Google Workspace programs you choose to automate, you'll benefit in a multitude of ways every time.
Google Docs automation can expedite the secure sharing of documents between team members. For example, Google Sheets automation lets you orchestrate and automatically leverage macros to create charts for quarterly reports. Best of all, no matter what form of GSuite automation you choose, you don't need any coding or special skills to harness the power of these capabilities. Specific Google Workspace automation benefits include:

Quick Deployment
GSuite makes it simple to deploy and standardize business processes throughout the organization. And once they're in place, they require no human intervention to trigger. Depending on the procedure you decide to automate, the automated processes could start with opening an email or invoice, extracting data, or filling out a form.

More Collaboration
Google Workspace automated business process tools take a lot of the administrative and manual data tasks out of tasks completed in-house, with contractors, and across your organization. You can automatically update databases and documents within minutes, assign tasks, send notifications, and get up-to-the-minute updates. Everyone can be updated the moment data changes, making it easier than ever to work together, help each other, and do great things.

Fewer Errors
An error might not have catastrophic effects on your business or organization, but it can eat up time and resources until it's fixed. This waste means your team has less time to spend on problem-solving, products, services, and customers. It keeps your company or organization from being as productive as it could be, and that limits your bottom line. GSuite and RPA automation doesn't make human errors, never forgets, and works 24/7.

Efficiency
What used to take you or someone in your organization hours to complete each day will happen automatically behind the scenes. You'll free up tons of work hours for other tasks and get so much more done overall. You'll love the flexibility and new opportunities. We suggest starting your automation journey with the most time-consuming tasks for the best results and maximum ROI on your bot automation.

Find New Opportunities
How often have you thought about trying something new or generating specific reports but didn't because it would take more time than it would be worth? GSuite automation and Robotic Process Automation take workload out of the ROI equation to do more in less time and gain new insights into your business.

Compliance
When working with sensitive information, data vital to a business's function, financial systems, and other high-level tasks, compliance can feel like a necessary evil. RPA and Google Workspace automation create audit trails to remove this work and worry off your daily to-do list.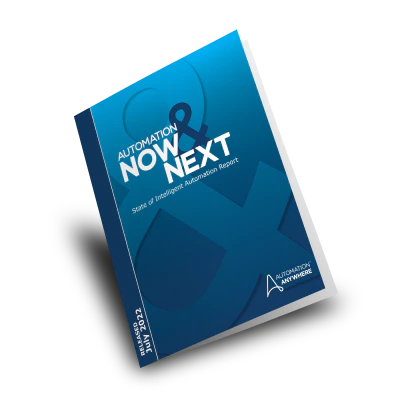 A must read, one-of-its-kind, industry report
Learn how top performers achieve 8.5x ROI on their automation programs and how industry leaders are transforming their businesses to overcome global challenges and thrive with intelligent automation.
Who uses GSuite automation?
You might think automated GSuite programs mainly benefit IT departments. And while this is partly true, Google Workspace automation is straightforward and convenient enough to help anyone in any business or organization that loses time to repetitive, manual tasks.

Human Resources
Imagine what your HR department could do if it weren't spending hours each day helping to hire and find recruits, onboarding, filing, and approving requests, updating databases, providing information, and completing other repetitive tasks. GSuite automation can take care of all these manual tasks and more, freeing up your HR team so they can focus more on people and less on paperwork.

Customer Service
Every time a customer has to leave a message, sit on hold, or have an email go unanswered, the more frustrated and dissatisfied they become with the service they receive. CRM and Google Forms automation can add real-time customer service functionality. They can also prevent customers from falling through the cracks, issue gifts, send follow-up emails, and more. Lastly, GSuite automation tools can free up more time to address these issues because they save employees time.

Financial Services
GSuite automated tools take a lot of the monotonous workflows financial professionals often must manage in addition to their other responsibilities. GSuite automated tools can automatically calculate interest, taxes, and costs, pull information to update databases and user interfaces, and more, all while aiding with compliance.

Public Sector
Government entities can automate tools like Google Sheets to populate custom databases. GSuite automation can also generate alerts, help provide the public with information, and do other tasks that keep them from more skilled jobs.

Marketing Departments
Google Sheets and Google Analytics automation is vital for cleaning up results, creating visualizations, updating pricing, and sharing information with relevant team members. GSuite automation can also gather and speed up target market data, email marketing signup, monitor campaigns, and other tasks that their success depends on. Then, they can share their findings with others in the organization without having to lift a finger.

Manufacturing
OH&S documentation, MSDS, compliance, managing vendors, serving customers, and many of the items on your daily task list may not seem all that time-intensive, but every minute adds up. The good news is that RPA and automated GSuite tools can take care of many of these tasks. Start by automating the most time-consuming and monotonous, and work your way through. You'll be saving hours of work each day before you know it.
Frequently asked questions about GSuite automation
How do I get started with GSuite automation?
Companies often start by using the built-in macros that are part of most of the GSuite toolset. These are an excellent way to get used to automated tools, but they can be highly limiting. That's where Google Workspace business process automation tools can help.
Explore

additional resources