Blog
Now There's a Better Way to Process Documents
September 27, 2022
4 Minute Read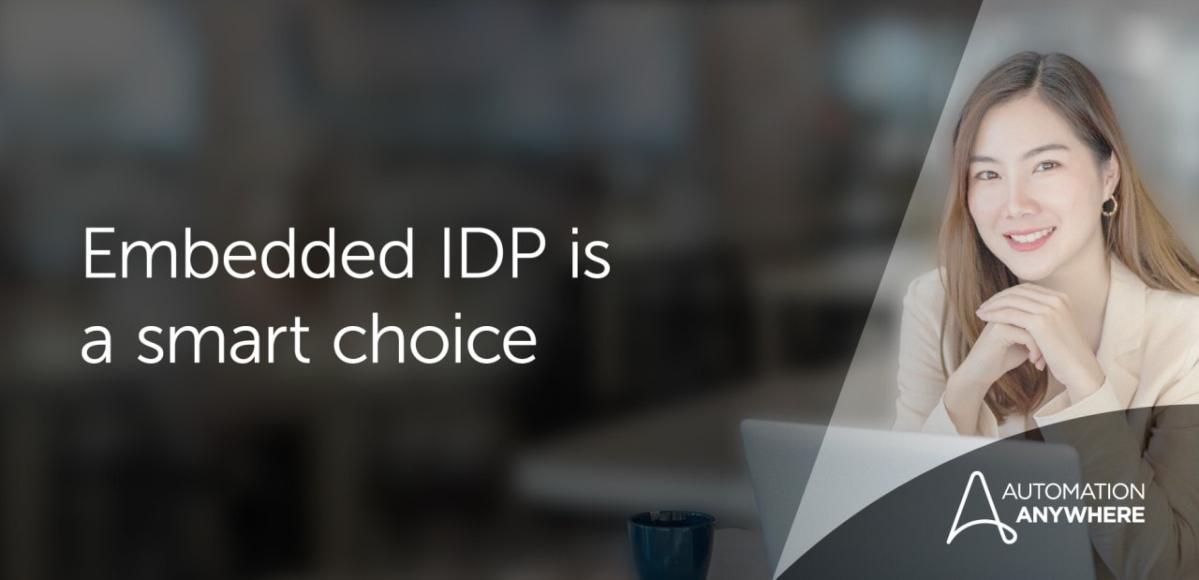 Automation Anywhere is excited to announce the launch of its next-generation intelligent document processing (IDP) solution: Document Automation. With Document Automation, organizations can automate, accelerate, and streamline operations like never before, particularly when it comes to processing finance and accounting (F&A) documents such as invoices, expense receipts, and utility bills.

Say goodbye to yesterday's methods
According to Gartner, "by 2025, 50% of business-to-business invoices worldwide will be processed and paid without manual intervention."
Many organizations still employ manual solutions. It's estimated that manually processing each invoice can cost between $15 and $40, taking into account labor, time, errors related to processing by hand, and other factors, as well as can require up to 17 days to complete. Multiply that cost and time by the thousands and thousands of invoices the average organization handles each year and it's easy to understand why an increasing number of organizations are considering moving from manual to automated solutions that can improve their operation.
So, what about optical character recognition (OCR) engines and batch document processing? Can they come to the rescue? To put it simply, optical character recognition (OCR) engines convert images to searchable text, which often falls short of customer expectations. Extracting the relevant data points from the OCR text usually involves a lot of custom coding.
In addition, traditional standalone batch document processing solutions are disconnected from the critical business processes they need to support, causing delays and not meeting the response times of today's fast-paced business world.
 
The future is real-time, embedded intelligent document processing
Today, many organizations are seeing increased demands to capture information as soon as it arrives and integrate it into critical business processes. This is what we call real-time intelligent document processing (IDP).

Real-time IDP allows you to directly embed advanced automated document process capabilities such as computer vision, natural language processing (NLP), and machine learning (ML) in a business process and reduce friction. It can help lower your total cost of ownership (TCO), reduce processing costs, increase productivity, and improve data accuracy.

Intelligent document processing embedded in processes
Document Automation is a real-time IDP solution. Its native integration with Automation 360™ makes it possible to harness the power of IDP, Robotic Process Automation (RPA), workflow orchestration, human-in-the-loop interfaces, and artificial intelligence (AI) on a single cloud platform. The solution can extract and embed document data into any business process instead of being a separate workflow stream, as is the case with standalone IDP solutions. And it's all accomplished in a single, seamless user experience, so it's faster and easier to use than other solutions.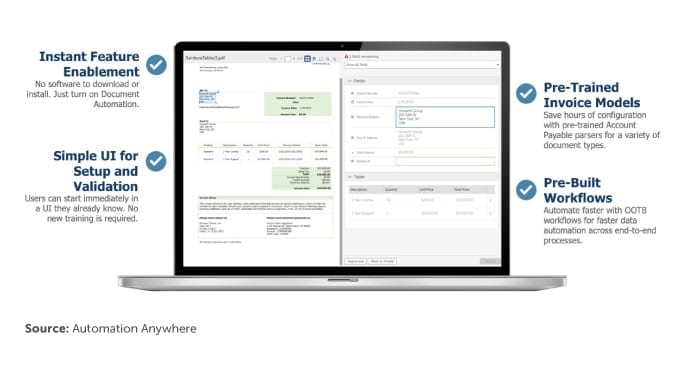 Document Automation comes with preconfigured document parsers for invoices, utility bills, and expense receipts, with a combined 100+ preconfigured fields along with advanced machine learning technologies. Those features make it simple to inject document data directly into finance processes at scale.
With the solution's pre-built workflows, human-in-the-loop interfaces, and pre-trained document models, setting up and configuring document processing can be done quickly with little effort. The solution can also be easily managed and updated within a single interface—one that a user is already familiar with. So, no new training is required. A user can get up and running and realize value fast.
Native AI technologies make Document Automation smarter whenever used, increasing accuracy every time. In addition, the solution's native integration with Google Document AI allows users to leverage its pre-trained document parsers to address a wide variety of use cases.

Giving time back
With all its automated capabilities and features, Document Automation can significantly reduce the manual effort required to enter documents into an ERP system and help users be more productive. That can free them from the mundane, repetitive work for projects that require human ingenuity and improve job satisfaction.

Take the next step and explore all the advantages of real-time, embedded intelligent document processing. Request a demo.
See What Document Automation Can Do for You.
About Michael Guidry