Blog
From BPM to RPA to IPA – Progressing in the Value Chain
July 3, 2020
4 Minute Read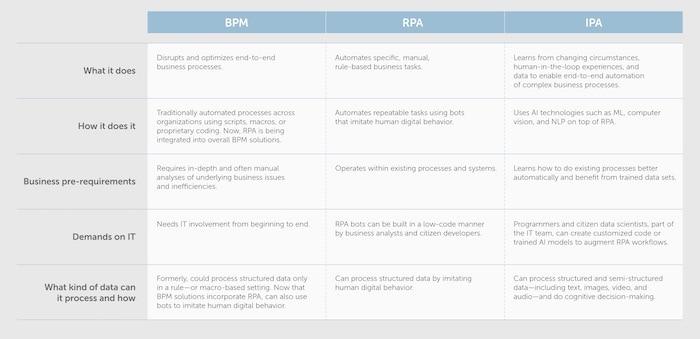 You've heard the terms business process management (BPM) and Robotic Process Automation (RPA). More recently, intelligent process automation (IPA) or intelligent automation (IA) have been discussed. But although these terms are sometimes used interchangeably, there are distinct differences between the technologies that support each of them.

First, some definitions
Business process management: BPM is an operations management framework focused on re-engineering and, thus, disrupting end-to-end business processes. In most cases, it uses proprietary technology to optimize those processes through automation.
 
Robotic Process Automation: RPA accelerates business processes by automating repetitive tasks with software-based robots ("bots") that mimic human digital behavior.
 
Intelligent process automation: IPA builds on top of RPA and uses machine learning (ML), natural language processing (NLP), and other artificial intelligence (AI) technologies to automate tasks and processes, learning how to do them better over time. The combination of RPA and AI can automate business processes that require cognition and human-like intelligence.

What's the difference?


 
The evolutionary trail
BPM came first.
Probably the most important thing to note is that BPM was in the past generally a standalone solution that required deploying proprietary software as well as extensive business and IT consulting services. It still requires major time and money commitment, but increasingly it is incorporating standards-based RPA capabilities as well. The global BPM market was $3.38 billion in 2019 and is predicted to reach just under $5 billion by 2025 at a compound annual growth rate (CAGR) of 6.26%. 

After early BPM solutions came RPA.
RPA is more advanced and easier to implement than earlier BPM tools. It can do things such as transfer data from customer emails and update systems with new service or product requests or address changes without requiring human workers. RPA does not require IT involvement and does not affect existing systems. It allows business users to overlay what is already in place. The RPA market was only $1.5 billion in 2019 but is expected to reach 7.1 billion by 2025, at an impressive CAGR of 27.7%. 

The adoption of IPA is accelerating.
IPA has not caught up with the speed of RPA adoption, but as the technology matures, it is expected to open up the possibility of automating more business processes, which were thought impossible a few years ago. The global IPA market is expecting a CAGR of 11.91% through 2024, at which point it is expected to reach $14.3 billion.

There is no logical point for RPA to end and IPA to take over. IPA complements RPA, making RPA more intelligent to solve complex business problems. IPA with AI needs a set of data to get started. The dataset does not have to be huge but the more the better.

Leading vendors are making it easy for business users to incorporate AI as part of their process without requiring them to be data scientists. This democratization will lead to faster adoption of IPA.
 
What IPA makes possible today
In essence, IPA "takes the robot out of the human," according to McKinsey. Traditional, rule-based RPA is augmented with innovations in ML, deep learning, and cognitive technologies so that bots can mimic human-like decision-making as much as possible. Below are some business benefits of using intelligent process automation:
Automatic discovery of processes: By using artificial intelligence, bots can follow human behavior to identify and recommend the highest ROI processes to automate. Business processes can be documented and processed with 5X the speeds.
 
Real-time processing of business data: Business processes in all industries are inundated with millions of documents. These documents have valuable information that has to be extracted and processed. Humans spend countless hours reading the documents — time that could be used for more valuable tasks. For example, with intelligent document processing (IDP) health care workers, fighting patient surges, would spend less time on processing patient forms and more time on patient care – a vital component of their job.
 
Satisfying customers: Providing the highest quality customer experience is a top goal of every organization. Today's digital-first customers use many avenues to connect with an organization such as digital assistants and chatbots. By using natural language processing and sentiment analysis, bots understand the meaning and context of the conversation and quickly respond to requests. Think about a customer asking about the status of their insurance claim and getting a response in seconds.
 
Get started on your IPA journey
It's possible to have RPA or IPA systems up and running — and delivering real value — in as little as two weeks. And you won't have to make significant investments in infrastructure as RPA and IPA only interact with the presentation layer of your existing systems. So, get started now.
Go for the Most Advanced Intelligent Automation Solution.
About Avi Bhagtani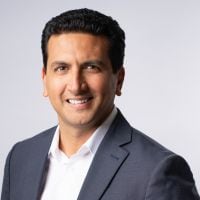 Avi Bhagtani is senior director of product marketing, focused on artificial intelligence and cognitive automation. He has multiple years of industry experience managing global software product portfolios in software, the Internet of Things, AI, and cloud organizations.
Subscribe via Email
View All Posts
LinkedIn