Blog
Top 5 Back-Office Functions That Should Be Automated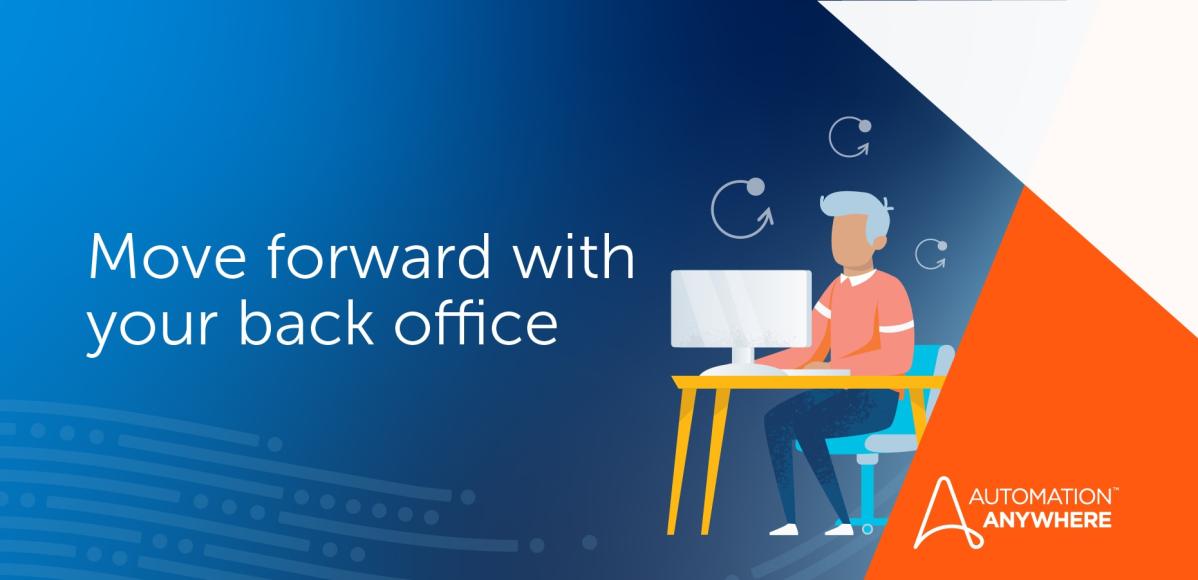 The old ways of managing and supporting business processes are undergoing a paradigm shift. Disruptive technologies – like intelligent automation (RPA+AI) – are helping chief experience officers (CXOs) re-invent their business operations by bringing in optimizations.
The back office provides vital support and administration to the business and can help create service differentiation with business functions such as IT, HR, and finance. Digital-savvy CFOs and CIOs across the globe realize that efforts to transform customer-facing systems and processes are limited without equally effective and integrated back-office operations. According to EY estimates, automation of back-office work could provide companies with savings of about 20% to 60% of baseline full-time employee (FTE) costs.

Overcoming barriers to transformation
A survey found that 60% of customer dissatisfaction sources originated in the back office. It is also estimated that 10-20% of all transaction volumes in a contact center are the result of execution issues in the back office.
Efforts to digitize core business processes are not new. Over the last two decades, companies have invested in enterprise resource planning (ERP) implementations, large-scale custom systems, and business process management to transform their core operations. Some have tangible benefits, but most created unintended side effects such as subpar user experiences, disparate applications, and IT systems, and more.
Enterprises today have an average of 1500+ applications alone, and in large organizations, this can run into tens of thousands. And inefficiencies that arise from the back office — legacy systems, siloed data sources, and manual and disconnected paper-based processes — can have a significant impact on productivity and poor customer experience.

The foundation of the back office of the future: intelligent automation
As organizations are gearing up to be future-ready, technologies such as RPA and AI are becoming increasingly the tools that boost transformation efforts. They can have a significant impact on back-office functions to bring about operational efficiencies: reduced cost, faster turnaround times, and increased productivity.
Intelligent automation (IA) empowers rapid end-to-end business process automation and accelerates digital transformation. It combines the rule-based, 24/7 task execution of RPA with artificial intelligence (AI) and cognitive capabilities —such as computer vision, natural language processing, and fuzzy logic — with processes and performance analytics.
Augmenting RPA with AI technologies expands the possibilities of back-office automation to include nearly any scenario, including a Digital Workforce that can reason and make decisions and learn on the job to become valuable resources in your human workforce.
 

Kick-start transformation at the core: top 5 use cases ripe for change
#1 Finance and accounting: accounts payable
AP departments rarely have enough resources and are pressed to do more with less. This is especially challenging since the flow of incoming invoices decreases processing efficiency, measured by the number of invoices per full-time equivalent (FTE), which is equivalent to an AP clerk working eight hours a day.
In organizations that have adopted accounts payable automation — where at least 70% of invoices are received electronically and then processed via automated workflow — a single AP clerk can process more than 22,500 invoices per year. In a similar organization that still processes invoices manually, the performance of a single AP clerk could be at one-tenth of the output.
Automation improves AP process performance and reduces costs by eliminating invoice data entry, manual invoice handling, and routing required in a manual or semi-automated environment. Artificial intelligence (AI)-powered bots automatically extract and validate invoice data, match invoices with purchase orders and proof-of-delivery receipts, and posts approved invoices directly into an ERP platform.
#2 Finance and accounting: accounts receivables
Accounts receivable, although critical to running the business, is filled with time-consuming, cumbersome, and manual tasks. In many cases, employees must manually key in data from incoming purchase orders and then from one system into another. All this results in a painful, slow process that is prone to error.
Although this function varies from company to company, there are four main process areas: order processing, order fulfillment, invoicing, and cash allocation. Intelligent automation can automate the entire process, taking human error out of the equation. By automatically capturing incoming order information, automating tasks such as generating downstream documents, and keying in order information into the ERP solution, organizations can reduce their long days-to-pay times, speeding up the collections process and improving cash flow.
#3 Human resources (HR): employee onboarding
Millennials make up more than one-third of the workforce. They bring high expectations of flexibility, accommodation, and openness to the companies that employ them. And they are a force to be reckoned with as you recruit and hire and attempt to retain them. Gallup estimates Millennial turnover costs global businesses $30.5 billion annually.
Tasks such as filling out standard forms, sending out notifications, and populating various database records can be successfully handled by automation. AI-powered bots will save time and deliver error-free work in minutes while avoiding massive email trails of communication.
As a result, HR can focus on other strategic initiatives instead of paperwork, improving the overall employee experience. Employers and employees get a hassle-free onboarding experience across all the different HR platforms that your firm uses.
#4 HR: employee data management
Employee data management is one of the highest volume, transaction-heavy processes within HR. Data changes and requests come from multiple systems, and it includes hand-offs between several stakeholders across departments.
Deloitte's 2017 Global Human Capital Trends study found 22% of the highest-performing HR organizations are currently implementing or have implemented automation, compared with just 6% of the lowest-performing organizations. Almost half of HR global shared services executives believe RPA will deliver 10 to 20% savings to their businesses, the Deloitte survey found, with 9% expecting a savings of 40% or more.
Automation can help bridge the gap between these different systems and trigger notifications or additional workflows to include necessary teams and departments. All these can be achieved with minimum cycle time and no errors.
This leaves HR to focus on building a holistic and enriching employee experience right from onboarding to engaging them as a pivotal contributor to the organization's success.
#5 IT: service desk
The IT service desk typically addresses issues such as service requests, incident management, problem management, change management, asset management, and reporting. Many of these requests are highly transactional and repeatable. Addressing them manually often results in a less than ideal employee experience and wastes valuable resources on laborious, transactional, and routine tasks.
IT service desk needs to evolve to be able to resolve issues proactively, with the use of analytics and intelligent automation to foresee problems or trigger fixes as soon as problems arise. Moving from a reactive stance to a proactive stance can be achieved through automation.
Intelligent automation can help IT ensure business continuity by automatically triaging incoming tickets and routing them to the right queue. Cases such as password resets and other common issues can trigger specific bots that automatically resolve these issues using an IT-approved workflow. This hands-free resolution of tickets will give IT the time to focus on strategic priorities that progress innovation.

Continuing to transform the back office
With automation, many mundane, repetitive, and labor-intensive tasks in back-office areas such as procurement, finance and accounting, payroll, reporting, supply chain, and business services center can get done quickly, accurately, cost-effectively, and more efficiently.
Organizations will continue to adopt more automation as they redefine the way tasks are being allocated and performed in the back office. IA will be applied across functions and boards, profoundly impacting and transforming the way we work today. Automation can handle business processes end-to-end, tackling even complex tasks. This enables human resources to engage in delivering insights to provide a qualitatively higher-value addition to decision-makers.
 
Discover All the Ways to Automate Your Back Office.
About Automation Anywhere Staff