Blog
Take a Platform Approach to IDP
December 29, 2020
3 Minute Read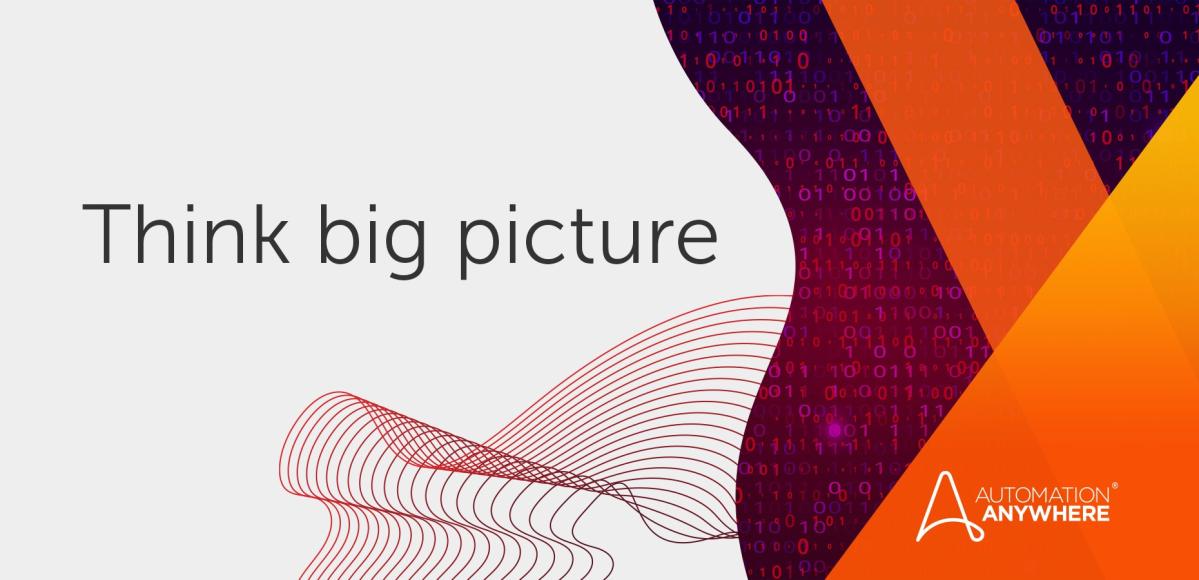 If you're looking for an automation solution to process many documents digitally, you might focus on a way to just extract the data you need. Yet, document extraction solutions such as ABBYY, Kofax, and Hyperscience, to name a few, or traditional optical character recognition (OCRs) will only solve a small part of the processing challenge.
In other words, you need to think about the big picture. Consider everything that's involved in processing a document to ensure smooth, fast operation with no errors and to get the highest return on your investment.
There are pre-extraction tasks, for example, you might have to improve the quality of the document to ensure higher extraction accuracy, which can mean eliminating digital noise. And there are post-extraction tasks to keep in mind such as putting the data into a system of record or sending it to someone for decision-making.
Without an end-to-end automated solution, those pre- and post-extraction tasks will need to be handled manually, slowing down processing and opening the door to errors. That's why a platform approach to intelligent document processing (IDP), powered by Robotic Process Automation (RPA) and artificial intelligence (AI), makes sense.

A platform with natively integrated IDP
IDP is an essential part of intelligent automation. Effectively extracting data and structuring information is the gateway to automating the lion's share of business processes that today rely on manual inputs and intervention. Embedding IDP within the RPA platform is what enables business users to automate processes end-to-end. When IDP and RPA live together on the same platform, you have the biggest pieces of the automation puzzle working in sync, effortlessly.
As you can see below, while IDP is a major component of the automation workflow, RPA brings everything together, starting with downloading a document from a digital source such as an email and sending it for processing. After structured and unstructured data is successfully extracted, the platform enables validation and business decision-making. Successfully extracted data is entered into a system of record, completing the workflow.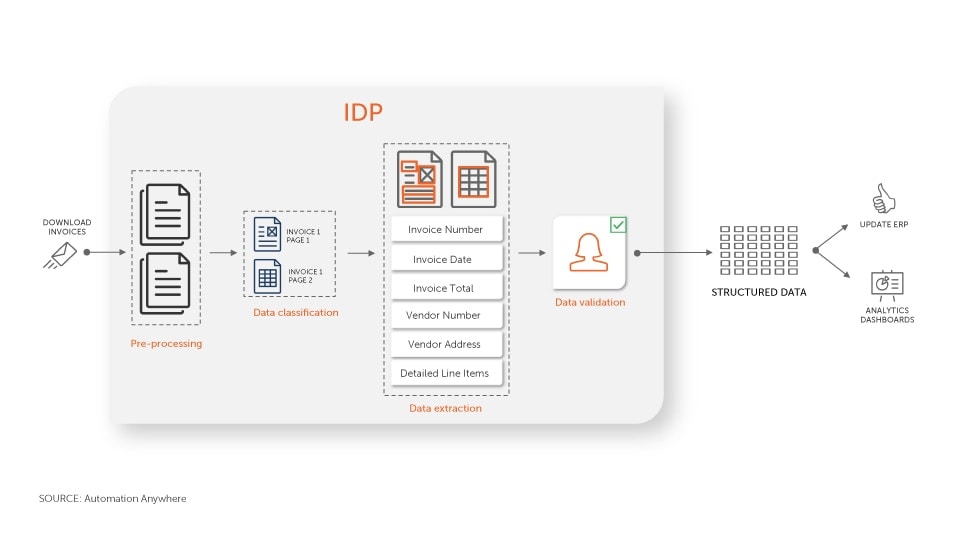 RPA provides the flexibility of integrating any content-driven platform easily. Commands for SAP, Oracle, Salesforce, and other apps are readily available as part of the library to ensure continuity in building automation workflow post-extraction.   

A use case for financial services
The graphic below shows how RPA and IDP come together to enable automation of an incoming mortgage packet encompassing multiple documents in different formats. A single platform makes it possible for business users to set up the process and customize workflows. Each document that is classified can be treated differently and routed through different workflows.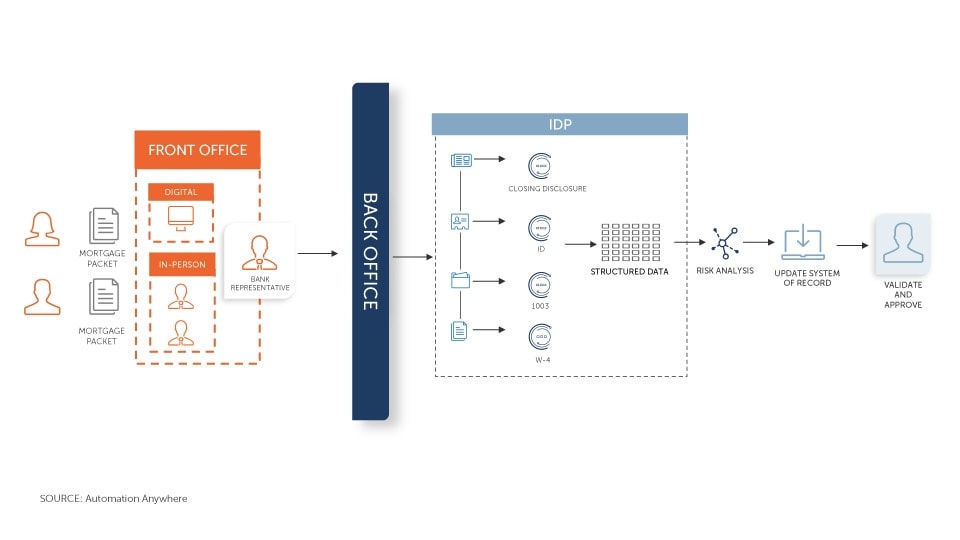 The advantages of thinking big
A single intelligent platform provides numerous benefits for a business user:
Fast processing: Integrated, RPA-native IDP tools are easy to set up, often 5-10x faster than other approaches
Business user-friendly: Built-in IDP makes it easy to get started with pre-packaged use cases to choose from for the most common document processing scenarios
Enterprise-level automation: IDP software can be tied into other areas of the business to realize a fully integrated RPA system without the need for expensive upgrades
Continuous learning with human feedback: Built-in AI allows for increased return on investment over time as IDP software bots continuously learn and improve
Customizable IDP workflows: With IDP being part of a larger workflow, the platform approach allows users to compose the workflow they want. For example, ID documents may require different pre- and post-processing steps from a bank statement.
Look at your entire document processing end-to-end and picture the possibilities of implementing a platform with natively integrated IDP.
Experience Automation Anywhere IDP.