Blog
The CxO Series: Proving automation value with LinkedIn
April 14, 2023
9 Minute Read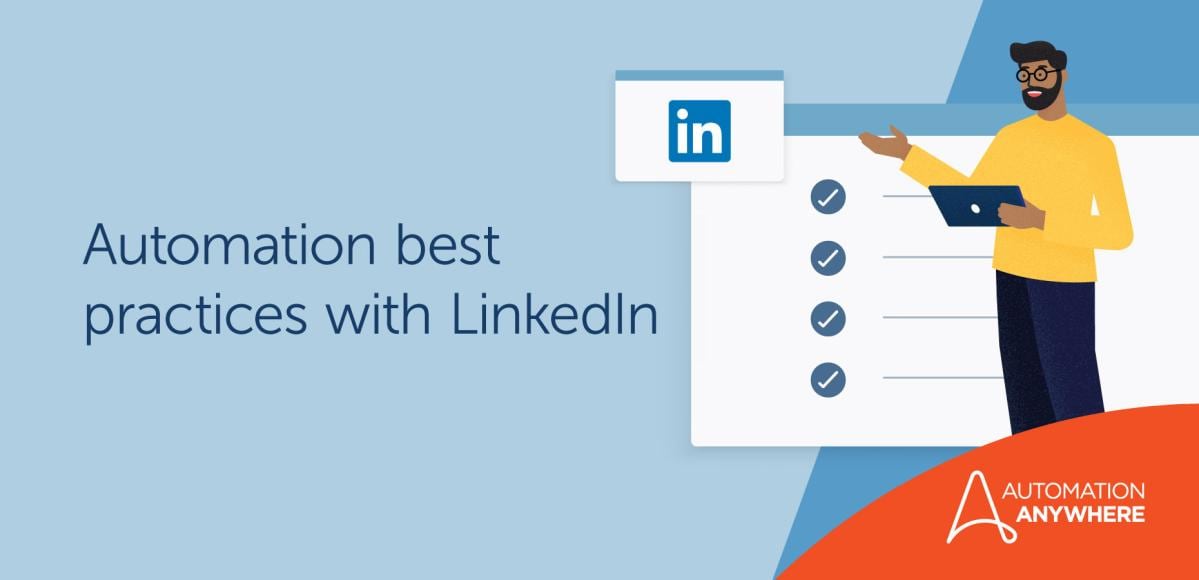 For the first installment of our CxO Series, I spoke with Ben Crist and Nischal from LinkedIn about how they have mapped, tracked, and measured value in their automation program from day one. They dove into the importance of showcasing (and owning) both tangible and intangible benefits, as well as provided some valuable insights from what they've learned when things haven't worked.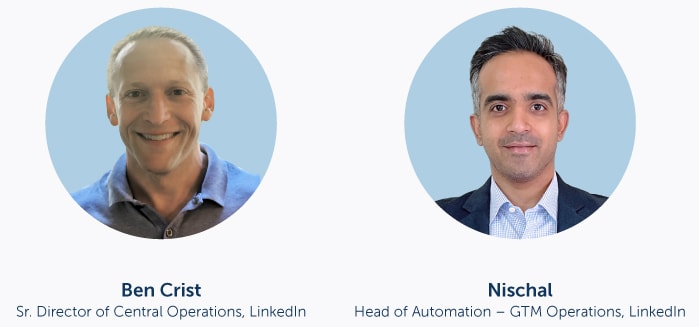 Let's start with a quick introduction from each of you. Could you tell us a little bit about your background and your current role at LinkedIn?
Nischal: I lead automation initiatives within go-to-market operations and am part of the Ops Strategy and Innovation team. I started at LinkedIn three years ago, and prior to joining LinkedIn, I was with Automation Anywhere for one year, managing automation engagements in the Middle East. I have close to seven years of automation experience. Here at LinkedIn, we initially started our RPA journey with one bot running on a laptop trying to do some media operations. Since then, we've grown to over 70 automations and have been able to save close to 70,000 hours—that's just in terms of tangible benefits, and there are additional qualitative benefits that we've been able to realize as well.
Crist: I've been with LinkedIn for almost eight years. I started at the company managing a number of operational teams for our sales process. Over the last three years, I've moved away from the management of those operations and into process improvement as part of the Ops Strategy and Innovation team, where we handle a combination of process improvement, automation, decision science, BI, and AI, as well as some strategic initiatives and vendor programs for our global business organization.
Where have your ideas come from for additional automations? How has that view expanded—are you looking for broader end-to-end processes, or what has been the shift you've seen in your tenure?
Crist: We started the team because we had a lot of legacy processes and legacy systems that needed to be optimized for where the business was going. We were basically in a cycle where all the engineering resources were focused on improving our systems and processes for revenue generation instead of efficiency and productivity initiatives. This left us in a place where we were dealing with numerous manual processes across the organization, so we formed a small team that started learning about automation and looking at what they could do to automate tasks. Then, they began researching what was possible beyond the tools we already had at our disposal. We ultimately reached a point where we realized we needed to bring in experts, which led to hiring Nischal to build a team solely focused on automation. Since then, he and his team have built out our program to 70+ automations.
Nischal: For any project we start with, we first ask, "How do we measure value?" This is vital to determine upfront. So, when we embarked on our automation journey, we built a dashboard in parallel with the first automations we developed in order to measure results. We initially targeted processes that were fairly standardized and able to easily demonstrate compliance, velocity, and soft benefits to LinkedIn stakeholders. Every task completed via automation was tracked in Tableau along with the tangible benefits it was contributing: which business units were involved, which CRMs, how many hours it was saving, etc. Over the years, as our automations have accumulated, the Tableau dashboard has become massive, and we can see close to 1.7 million tasks have been completed. Once we had our proof of concept, we started doing roadshows, and as the saying goes, "If you build it, they will come." If you build something that's generating long-term business impact, the teams looking for value will reach out. As a result, we've now expanded throughout the organization, and there's a lot of pipeline we are looking forward to automating in the next couple of years.
What were some key learnings from things that didn't work and you now know not to do moving forward?
Nischal: We've definitely had a lot of learnings along the way. Because we're a professional networking platform, we had to ensure we had all the compliance sorted from day one. For us, that took a lot of time. We didn't get the full-fledged IT infrastructure built on day one, so we had to build something that would sustain us for six months, then keep innovating and redesigning the infra using the knowledge from what we had built up to that point and help them understand the value of what we'd done. From there, we expanded our infrastructure to be able to scale up our automation program. We started with automation 0.0 with an infrastructure running on a laptop, and now we're running completely on the cloud and automation 3.0. That was definitely one of our biggest learnings and part of our ongoing efforts to build a more sustainable infrastructure.
What do you see as the vision or function shift in the next year or so for the group?
Crist: We've started moving toward more intelligent automation where we're combining Automation Anywhere capabilities together with AI and hardcoded applications to provide more brains behind the process. We're starting to see some good progress there, and it's opening up opportunities to develop even more end-to-end automations of very complex processes. So I think that's the future where we see this going over the next 12-18 months—combining the different tools and capabilities we have across our team to more fully automate complex processes and move up the value chain from where we started with just transactional processes.
Anything else you think people should know when embarking on these journeys around automation and moving toward more complicated processes from a change management perspective? Any best practices that you think are helpful?
Crist: We've embedded our automation team within our operational team, and I think it's been beneficial to us because automation remains top-of-mind when operational leaders are looking at a complex process. We've identified more opportunities this way because it comes to them naturally to ask, "Can we use automation to help solve this?" when we're talking about new things that we're trying to roll out or tackle complex processes.
Nischal: Another challenge you hear about often in the industry is that people find it difficult to track value and leave it to a much later time in their lifecycle when they have to try to scramble and track value. That's been one of our core learnings, and one of the biggest value-adds we started from day zero, let's call it, is determining how we track value for automation. Any automation requests require a forecast of all the potential benefits of the automation. Then, after we actually automate, we track the post-automation benefits and extract where the gaps are between the two. As long as it's within a 75-80% range of the forecasted value, then we are in a good position. This is how we've been able to communicate the value of automation to different stakeholders we've been working with as well. The next step in the journey is asking how we track the soft benefits. It's difficult, and it's a work in progress to get there, but it can be done.
Crist: Another thing to add regarding tracking benefits is that the easy metrics are related to time saved, but what we're pushing more for now is how we directly tie automation efforts to incremental revenue that we're generating. So, when we talk about processes that we can automate or accelerate to save time for our sales team, we want to know how to translate that into increased bookings or increased quota that can be directly applied based on the activities that we're automating. I think we're at the point where we can feel confident in our ability to say this process we automated is having a direct impact on top-line revenue, and that will continue to bolster the case for this type of automation program throughout the organization and continue to get us the resources we need to expand and grow what we're doing.
How is that being received by leadership when you're able to show that kind of impact?
Crist: That's what we're here to do, so it's very well received, and it's what allows us to continue to expand and hire people to grow the capabilities and accelerate the roadmap we have in front of us. When we talk about hours saved, sometimes that's hard for people to translate into what that really means for the business. So when we can apply it to roles that we've fully automated or to actual dollars that were directly attributed to the automation, that feels more tangible and helps build the business case for continued investment in automation across the organization.
Any parting thoughts or words of wisdom that you want to share with us?
Nischal: Ensure your foundations are really, really strong for the scale-up journey. One of the things we often talk about is how to do more with less. To do more with less, your foundations have to be really strong in terms of your infrastructure, software engineering best practices, reusable assets, etc. It's like building a skyscraper—if the foundations aren't strong, you definitely won't be able to scale up. And know that there is always room for improvement. We continually go back to check if there's room for improvement with the changing conditions, guidelines, or compliance-related things. As Ben mentioned, this has enabled us to scale up faster and tackle more complex processes integrated with AI.
Crist: I think you have to start somewhere. Once you get going, you'll realize the potential automation could offer and the real capabilities that are out there. The technology is probably moving faster than we can even keep up with, so there are certain things that we only expected to automate partially, and now new tech is coming into the fold that allows us to fully automate those processes and really take advantage of a combination of technologies. I think automation will be here with us for the long run, and I'm looking forward to seeing what we can accomplish with these tools in the next few years.