Blog
The CxO Series: Why automation is a strategic business initiative
May 26, 2023
7 Minute Read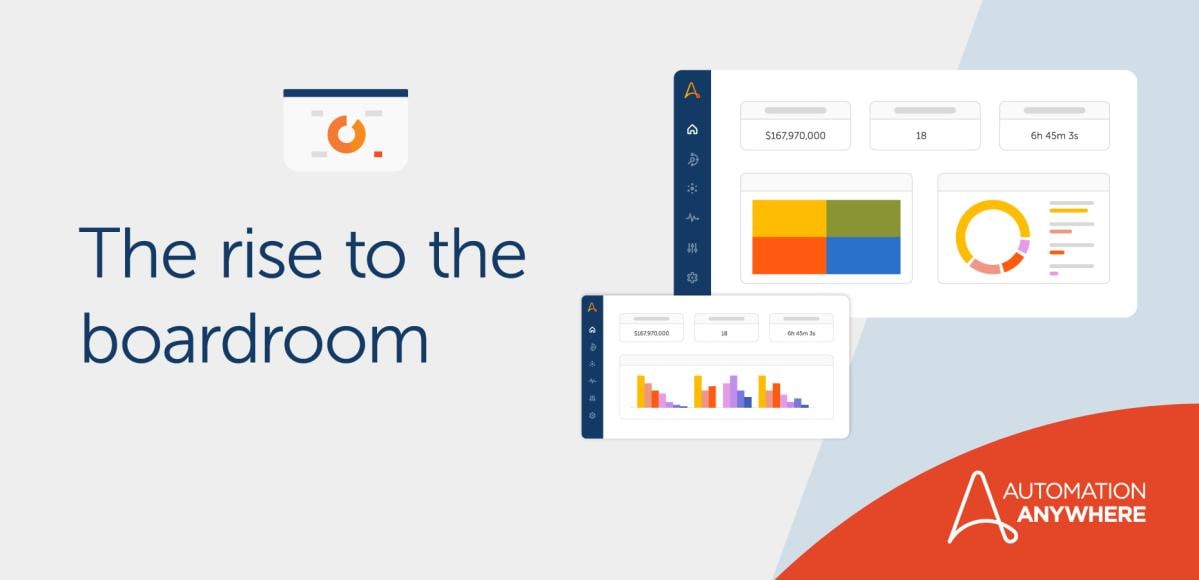 I had the opportunity to speak with Anish Sharan from Pritzker Private Capital. I walked away with many valuable insights around how digital transformation—and automation in particular—currently fits into businesses' strategic initiatives and how the C-suite is a critical partner in these efforts.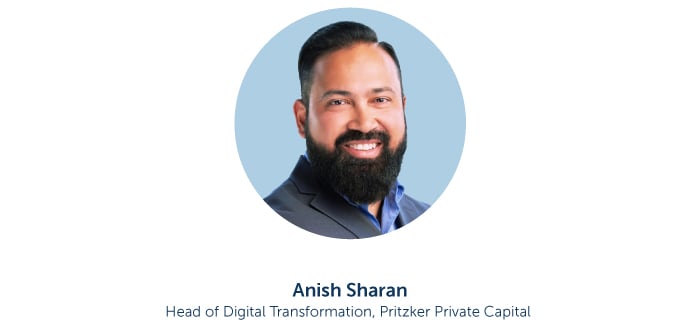 Can you tell us about your current role, as well as provide some background on your career?
Sharan: In my role as the Head of Digital Transformation at the family investment firm Pritzker Private Capital (PPC), I am helping our family of middle-market companies embrace digital transformation to enhance customer experience, drive operational efficiency, and deepen data utilization.
Having successfully spearheaded strategic growth initiatives as a digital and operational excellence leader at the Chicago Mercantile Exchange, The Nielsen Company, Leo Burnett, Motorola, and Toyota, I have learned that digital transformation starts with the mindset.
In your current role, what has changed over the course of the past 12-18 months in terms of strategic direction around how automation is becoming this essential piece of digital transformation?
Sharan: The past 12 months have seen a dramatic turnaround in the business environment. After a long period of stability and growth, businesses are facing headwinds—issues with the supply chain, labor shortage, inflation, demand fluctuation, and just general uncertainty—all these things have come together to push companies to reevaluate what they can do to mitigate these forces. From my perspective, digital is an available resource that executives can readily leverage to drive value rapidly. Automation and AI, especially consumer-grade AI such as the now ubiquitous large language models, are critical levers for the C-suite, that will deliver meaningful results in a remarkably short timeframe.
Are you seeing a common theme that's bringing this all together?
Sharan: I see that automation is becoming more business-driven, with IT playing the enabler, which makes a lot of sense since IT alone cannot assess actual business needs. I also see CEOs, CFOs, and COOs taking the lead to drive automation. They recognize the need to be more digital in mindset and to take actions to successfully navigate and drive growth during this challenging business environment. This top-level support is the common theme across successful transformation initiatives. Automation relies heavily on change management—and the best change management starts from the top. You can't have one team driving change from the side, and it must be driven from the C-suite as a strategic priority for the business.
You mentioned inflation, supply chain issues, and labor shortage. Are there other qualitative themes you're observing that business leaders are trying to drive toward that digital or automation can help with?
Sharan: An excellent benefit of automation is its ability to unlock human capital. I look at how automation improves employees' productivity and their lives in terms of job satisfaction. One CFO whom I respect tremendously said his heart goes out to employees who are trapped in transactions. I've now taken and used that phrase many times because it's so true. There's a way that, by leveraging automation, you free employees from the mind-numbing, manual aspect of work and give them time to tap into their creativity and analytical skills to do more, not only for the organization but also for themselves.
As a lean practitioner, I believe in the Gemba walk to see how work is performed. This helps me develop a holistic view of the problem. By taking this approach, I've learned that people welcome any help to remove their work's mundane or repetitive aspects because they are literally trapped in transactions.
Having a background working with people in manufactured products, have you seen where there might be low-hanging fruit for next-level automation opportunities in those kinds of industries?
Sharan: Without compromising safety, manufacturers must continue to drive down costs and operate more efficiently to remain competitive. Manufacturing 4.0, or Smart Manufacturing, is revolutionizing how companies manufacture, improve, and distribute their products. Manufacturers are integrating new technologies, including Internet of Things (IoT), cloud computing and analytics, and AI and machine learning into their production facilities and throughout their operations. For example, automating and combining data from production operations and operational data from ERP, supply chain, customer service, and other enterprise systems will create greater visibility and insight from previously siloed information and unlock new levels of efficiencies and responsiveness to customers not previously possible.
Do you come across any resistance to change or to adopt this type of technology?
Sharan: Resistance is fundamental to change initiatives whenever you want people to do things differently. There's an element of resistance to doing things differently, and then there's an element of resistance to technology. People are suspicious not only of tech but also of what it will do to their job security. It's imperative to put things in context so employees recognize the opportunity to migrate to higher-value work and leave their job's manual and repetitive aspects to machines. I believe we will arrive at a balance of augmented intelligence rather than machines taking over jobs.
Do you lead with the idea that you cannot deliver a good customer experience without providing a good employee experience first, or do you focus primarily on consistently improving the overall customer experience?
Sharan: I think it's two parts of the same equation. In my experience, everything starts with the customer, and when you do things better for the customer, the entire value stream benefits. For instance, consider a situation where employees manually enter orders received via email or phone. Suppose we now deploy automated self-service capabilities such as customer portals. In that case, customers will have a better experience as now they have a 360 view of their orders. However, it will also now liberate employees from mind-numbing data entry and transition them into customer advocates or, better still, an inside sales team. So, by focusing on customer experience, you have also delivered downstream benefits.
In your experience, what is the best practice for articulating the value of these types of initiatives to get executive buy-in?
Sharan: I am always asked, "Why should we be doing this? Will it really move the needle for us at a macro level?" And to that, I respond with the mantra of "crawl-walk-run."
Let's think big, start small, then go fast. Why? Because it doesn't involve much effort on the business to undertake a small pilot, and when they see the results, they have the cold, hard proof of how automation benefited customers, employees, and productivity. That value speaks for itself. The key is to focus on the big picture first, then trim that vision down to start small and see how it feels. Then, you start to see progress, and from there, you can quickly scale up.
Any advice on how to drive internal PR and illustrate how the metrics are moving the needle for the business?
Sharan: It helps to showcase successes. Building a peer network is a great way to foster a community of companies engaging in automation. When firms see their peers deriving success from automation, they are more likely to emulate. It's particularly impactful to hear from the Executive/CEO level. They want to hear a CEO say, "This is what automation has done for my team, and these are the changes we've seen." Then inevitably, another CEO picks up the phone to say they want to launch a similar initiative.
Fundamental processes are not materially different across companies. In finance, for example, you don't do reconciliation any differently because you're a manufactured products company versus a CPG company. So why wouldn't you learn from others? I even contacted Automation Anywhere's network to see if I could speak to a company that has accomplished a specific automation process and bring nuggets back to my ecosystem or connect the two companies.
Where do you see intelligent automation going in 12-18 months?
Sharan: I expect that in 12-18 months, AI will become a ubiquitous enabler for businesses seeking to improve business decisions and harness the power of data to become future-ready. The tech landscape is shifting rapidly, and digital transformation efforts continue to increase in momentum and urgency. Modern, global businesses require evolved, technologically advanced solutions. Artificial intelligence is the next frontier of intelligent automation, with more significant applications of machine learning and predictive or prescriptive analytics.