Blog
Unveiling the 2023 Automation Now & Next Report
August 8, 2023
4 Minute Read
Featured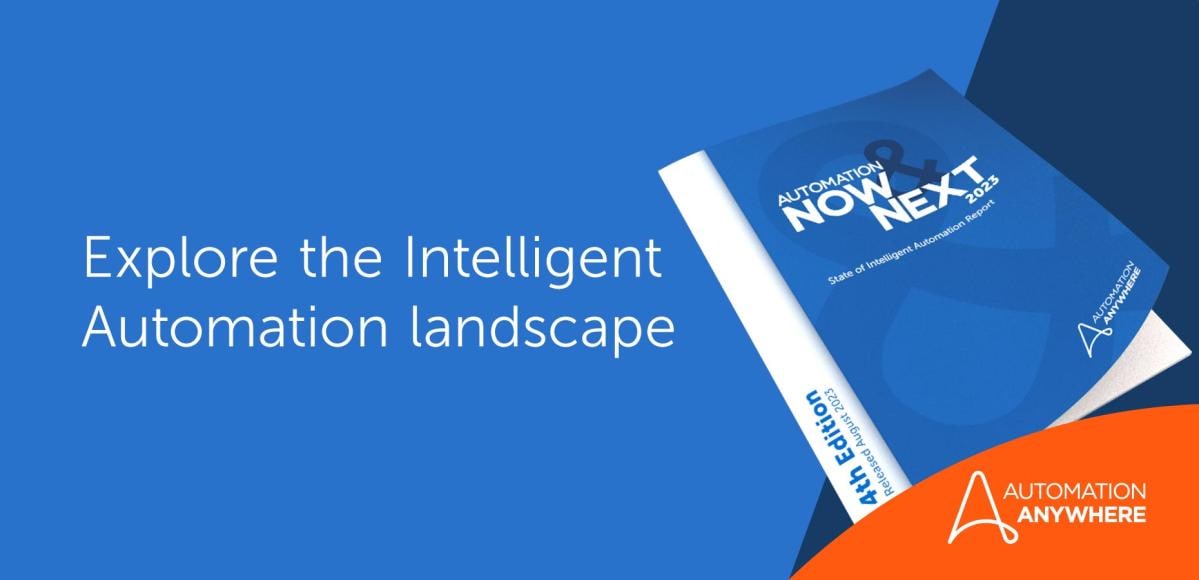 How work is accomplished has changed substantially for organizations in the past year. Artificial intelligence (AI), and generative AI in particular, has risen to the top of executive and boardroom priorities. For good reason: Companies are feeling immense pressure to increase growth and profitability levels across the enterprise, even as the workforce dwindles. To achieve greater productivity in the face of a decreasing population, many forward-looking organizations are tapping process automation, AI, and generative AI—a critical combination of technologies that we refer to as Intelligent Automation.
Intelligent Automation is proving crucial to solving the massive productivity crisis unfolding before us. The findings of the fourth annual Automation Now & Next: State of Intelligent Automation Report echo our long-held belief that Intelligent Automation is the only true solution to the workforce challenges currently facing organizations in all industries across the globe.
About the report
This year's Automation Now & Next report was developed in collaboration with Foundry. It analyzes survey responses from more than 1,000 decision-makers across industries and regions, including C-level executives, business leaders, and automation leaders and practitioners, to reflect the global state of automation today. Unmatched in its breadth, the report provides unique and comprehensive visibility into current thinking, ongoing trends, and how enterprises are deploying, using, and planning automation efforts today and into the future.
What is happening now
The survey found that investments in Intelligent Automation are increasing, with the average hitting $5.6 million in 2023, a 17% increase over 2022. Nearly half (45%) of respondents say their organization will invest in generative AI-powered automations over the next 12 months, signaling that businesses will rely upon generative AI to help drive much-needed productivity gains. Doing so quickly, effectively, and securely will require that they scale automation efforts by enabling employees to build automations that support organizational goals.
AI is essential for automation success
Most business leaders (88%) see AI/ML and generative AI as key technologies for successful process automation. In fact, we're seeing that generative AI is driving increasing interest in automation and vice versa. Organizations are, and plan to continue, putting money behind these technologies. In fact, 63% of those surveyed have already deployed AI/ML, and 40% have deployed generative AI. Seventy-two percent say their organizations will be investing in AI/ML automation technologies in the next 12 months.
Automation is the best path to closing the productivity gap
Organizations are feeling the effects of slowed productivity and growth. Boosting productivity growth to the historic average will require a 50% increase over the current growth trend, but it could add $10 trillion in output to the U.S. economy alone by 2023, according to McKinsey. Based on our survey, 78% of respondents say that productivity gains are a desired impact of automation, and 86% realize the need to move to more complex end-to-end process automation to reach productivity goals.
Intelligent Automation must scale enterprise-wide
To scale enterprise-wide productivity gains, 84% on average say that a single, complete, and connected automation platform is required. This will heavily involve focusing on citizen development to accelerate automation efforts, which 82% of respondents actively support and 41% broadly encourage, while another 40% encourage it in select areas. By boosting citizen development, organizations can drive automation at scale in alignment with business goals—a priority of the 85% of survey respondents who say that automations must be developed with business objectives in mind.
What is coming next
Based on the findings of this year's survey, we expect that:
AI investments will continue accelerating as organizations adopt purpose-built AI and overcome internal resistance. With most respondents already investing in AI/ML, we also expect Intelligent Automation investments to accelerate.
Given 72% of respondents are already planning to invest in AI/ML over the next 12 months, we should see more AI-driven innovations and automation use cases, especially as generative AI deployments increase. We also expect organizations to standardize on a unified automation platform to coordinate, govern, and scale these efforts.
We see generative AI as the catalyst of automation scalability as automations move from routine tasks to supporting strategic business objectives. IT has been, and likely will continue, taking the lead.
For more information
Full survey findings and Automation Anywhere predictions on AI and automation investments, preferred Intelligent Automation platforms, and automation scalability are available in the Automation Now & Next: State of Intelligent Automation Report.
For survey data and actionable insights to start, accelerate, and scale your automation initiatives, watch our on-demand webinar, Intelligent Automation: A C-Level Imperative.
About Ankur Kothari