Blog
Major predictions for automation and AI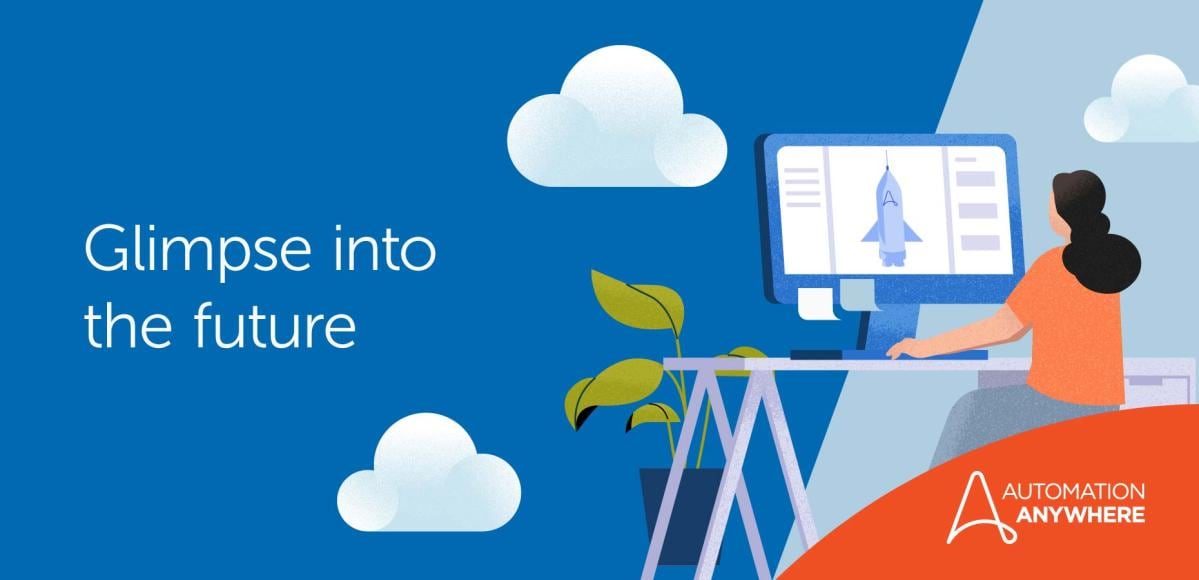 As you work to remain resilient against constantly changing conditions yet still find time to focus on enterprise initiatives across security, compliance, efficiency, cost containment, and more, it's easy to turn pessimistic about the future. But if you look at how automation has advanced in just the past few years, you can easily find ways to tackle those challenges, and more, by empowering your human workers (and yourself!) to do more, do it faster, and do it more accurately.
The current change, uncertainty, and volatility everyone talks about has always been present. It's just now we have more insights (i.e., data) to recognize it—all of it—in real-time. And, while the past few years have been a bit more frothy than usual, enterprises that can capture, understand, and act on those insights will be the winners.
Automation works, and it's getting smarter
What's been proven is that automation frees-up up your human colleagues to focus on more valuable work. It takes repetitive manual tasks off their plates and gives them more time to consider the outcomes, make informed decisions, and see through the turmoil. Intelligent automation goes further by adding artificial intelligence technologies like computer vision, natural language processing, and fuzzy logic to illuminate more possibilities because you have more time to think.
But the pace of change is unrelenting. While that's always posed a challenge for enterprises, it brings more and faster advancements to automation technologies you can use today and in the near future. Recently, automation experts at Automation Anywhere and Cognizant made several predictions on how automation might change this year, and we've captured these prognostications in a new infographic.
Download 5 Major Automation Predictions for 2023 to read their predictions.

Major predictions for 2023
Here's a quick glimpse of who weighed in and what they had to say:
Mihir Shukla, Chief Executive Officer and Co-Founder at Automation Anywhere, pointed to automation's ability to boost enterprise innovation and productivity.
Adi Kuruganti, Chief Product Officer at Automation Anywhere, sees speed to value as a key benefit of modern automation.
Peter White, SVP of Emerging Products at Automation Anywhere, expects AI to expand the potential of automation use cases, helping workers perform their roles even better.
Sumit Johar, Chief Information Officer at Automation Anywhere, points to intelligent automation scalability as a key accelerant of enterprise value.
Girish Pai, Global Head of Cognizant Automation, envisions a more integrated and connected workforce with a continued focus on optimization.
Yan Chow, MD, MBA, Global Healthcare Leader at Automation Anywhere, sees intelligent automation as essential to healthcare resiliency.
Automation is already helping enterprises across all industries, regions, and sizes save time, increase productivity, and drive innovation. Traditional automation has become foundational to enterprise success in 2023. Organizations need to realize more value from automation, scale automation impacts across the enterprise, and work to bring AI-powered end-to-end automation to the business. And here's a prediction no one can argue with: intelligent automation is how leading enterprises will get there.
Don't predict your outcomes, make them happen
Tomorrow is right around the corner. Intelligent automation is poised to dramatically enhance the processes of those that take advantage of its capabilities. So don't delay; start building for your future workforce today.
Download 5 Major Automation Predictions for 2023 to hear more from our automation experts.
About Automation Anywhere Staff