Blog
RPA Can Streamline Hospital Capacity Monitoring for COVID-19
April 27, 2020
3 Minute Read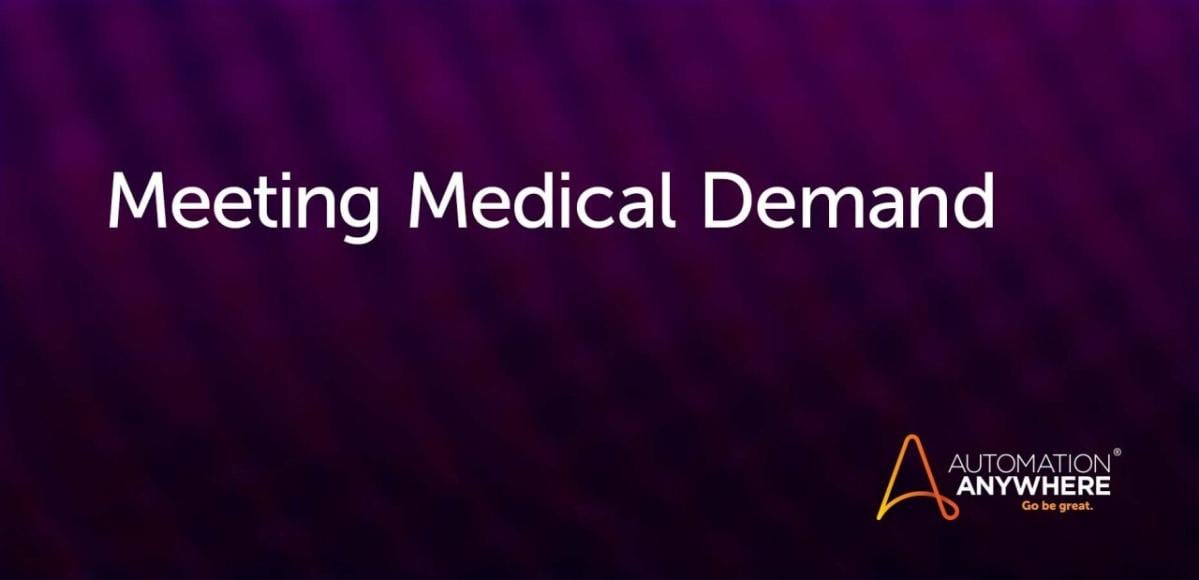 On March 17, 2020, a Swiss government official issued an uncharacteristically dire warning that the Swiss healthcare system — which has a reputation for being excellent but expensive — would collapse by the end of the month if the coronavirus (COVID-19) kept spreading at its current rate, according to Reuters.
Compounding the problem, Switzerland had seen a 25% decline in its number of hospitals between the years 2000 (376) and 2017 (281), according to Statista, along with a significant reduction in hospital beds.
Italy, Switzerland's immediate neighbor to the south, had been hit hard by COVID-19, second only to mainland China at the time. By March 24, more than 69,000 Italians had contracted the virus and 6,820 had died, according to Forbes.
The hospital capacity of Italy's highly regarded healthcare system had been quickly overwhelmed, despite providing 3.2 beds per 1,000 people (versus 2.8 in the U.S.). Doctors were forced to make agonizing choices, such as which patient should be assigned the last remaining ventilator.
Mandated COVID-19 reporting
With more than 80,000 confirmed cases and 540 deaths by April 4, according to U.S. News & World Report, and an unfolding tragedy next door, Switzerland was climbing its own alarming epidemic curve — a curve the government aimed to flatten through mandated public lockdown and other aggressive public health measures.
The hope was that slowing the spread of COVID-19 would blunt the increase in new cases and spare the healthcare system.
One of those aggressive measures required all Swiss hospitals to send a comprehensive daily report to the Federal Office of Public Health detailing their ability to handle COVID-19 patients. The report includes the availability of beds reserved for COVID-19, ICU beds, extracorporeal membrane oxygenation (ECMO) machines (artificial lungs), and supply of masks and other key items.
Unfortunately, the reporting procedure was manual, inefficient, and disliked by parties on both ends of the transaction. It also diverted valuable resources from patient care.
Automation empowers healthcare workers
Global IT services and solutions company DXC Technology, an Automation Anywhere partner, quickly recognized the role automation could play in the mandated COVID-19 reporting. Robotic Process Automation (RPA) in healthcare could help hospitals process information faster, more accurately, and less painfully — and let hospital staff get back to patient care sooner.
The company developed a solution in which a Digital Worker or bot would:
Distribute prefilled reporting forms via email to every hospital
Manage incoming reports
Send out reminders
Monitor hospital key performance indicators (KPIs) with alarm thresholds in place
By having critical, up-to-date visibility into the status of healthcare resources across the country, the Swiss government, which is considering the proposal, would be equipped to greatly improve decision-making while easing the paperwork demand on busy healthcare workers.
RPA: The key to meeting medical demand
Automation can supply Digital Workers that can perform the tedious, manual, and repetitive tasks machines do best, while freeing human workers to do what only humans can do.
A pandemic causes an unanticipated, dramatic upsurge in the demand for medical care that often stretches the limits of the supply chain. A human workforce not augmented by Digital Workers may struggle, but a Digital Workforce has the ability to scale easily and rapidly to help healthcare workers meet that demand.
Streamline healthcare processes with RPA.
About Automation Anywhere Staff