Blog
How Bots Can Improve the Public Sector Workforce
February 3, 2020
10 Minute Read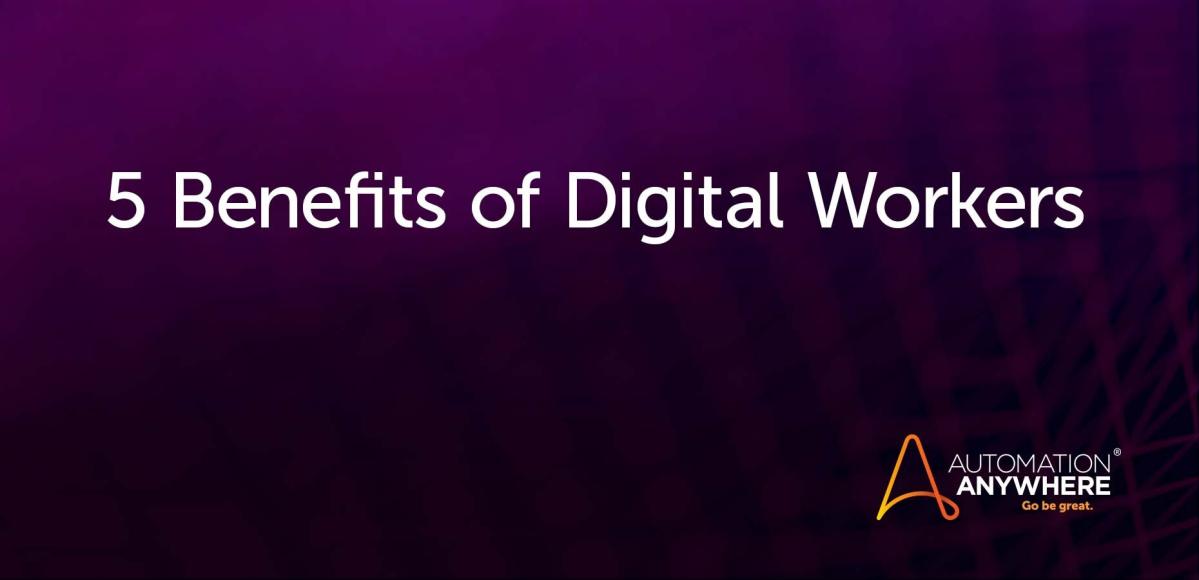 Serving as a government employee is a great privilege that comes with great responsibility. Taxpayers have no choice but to pay your salary, so you have a duty to work as hard as possible while keeping your ultimate sponsor in mind in everything you do.
This was my mantra as I stepped into the job of chief human capital officer at the U.S. Department of Housing and Urban Development (HUD) in 2005 to oversee a workforce of 8,500 distributed among 17 program sub-agencies scattered across dozens of regional offices.
As the key advisor to the secretary for all employee issues, I was determined to find ways to modernize outdated employee systems, shrink skills gaps, strengthen employee performance programs, and prepare a succession plan for the coming retirement wave. But I encountered something I wasn't prepared for.
"Shadow" staff
HUD's official human resources department consisted of a staff responsible for addressing all the traditional HR needs, from benefits administration to recruitments to training to labor relations, intern programs, and retirement planning. HUD's HR staff size, based on a per-employee ratio, was about average compared to its government peers.
Not counted among the official HR department, however, were "shadow" employees working in the program agencies who performed similar activities as the official HR staff. My initial reaction was to deem this a waste of resources — after all, how can you justify hiring two people to do one person's job? Would a typical taxpayer want the government spending money this way?
But it wasn't so simple.
Shadow staff was not a strategic initiative at HUD but rather evolved out of frustrations with the official HR unit's capabilities. Programs would make a request from the HR department for, say, a new hire and become exasperated with slow responsiveness or an off-the-mark job description.
In time, program units would dedicate a person or two from their own organization to stay on top of HR, and soon these people started to "help" the central HR team by drafting their own job announcements. Roles and responsibilities became blurred and, inevitably, we wound up with experts in both central HR and the shadow HR units arguing over policy and allowable actions.
A lack of accountability and transparency allowed each side to point fingers at the other, effectively destroying the credibility of the official HR group as the authorizing body. Dysfunction was the result.
Needed: Strategic intent
As I've since learned, shadow staff wasn't unique to HUD or to HR — there are shadow IT organizations, shadow budget staff, and shadow procurement shops all over government.
It's important to note that having subject matter experts in the program units can be a successful model — especially when roles and responsibilities are clear and programs and central organizations partner with respect to employee performance and resource allocation.
All of this presumes strategic intent from leadership to ensure maximum value to taxpayers by prohibiting duplicative activities. These are not wasteful shadow organizations when structured properly but require guardrails to ensure they don't drift into shadowland.
However, where there's no strategic intent, shadow staff contribute to a lack of controls, a lax following of rules and regulations, wide variation in service delivery, and a lack of transparency. Accountability is shot. Valuable time is spent re-creating audit trails to understand where each decision is made and who made it. Resources that could go toward the mission are absorbed by the shadow units, which may grow into their own empires.
Enter Robotic Process Automation
Robotic Process Automation (RPA) is a technology that's being rapidly adopted in government to do many of the tasks shadow staff are likely to handle. Over the years, government has spent billions in technology, but despite ever-more sophisticated functionality from systems such as SAP, Oracle, and Microsoft Office, the majority of processes are still done manually.
In fact, the greater the system complexity, the more human intervention is needed to port data from one system to another, particularly when legacy IT systems are involved (see Figure 1). RPA is designed to fill the gap between automation software and what needs to be automated to release humans from doing robotic work.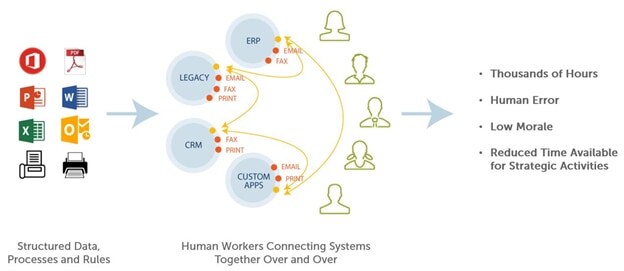 Automation Anywhere's vision of RPA in the public sector is to take the robot out of the human and solve government's mission challenges by liberating employees from mundane, repetitive tasks, allowing them more time to use their intellect and creativity. We see a world where every employee will work side by side with Digital Workers, making humans exponentially more productive and far more fulfilled.
5 benefits of adding Digital Workers to government
1. Work becomes more strategic
Some of the cultural concerns often mentioned are that Digital Workers will eliminate government jobs. In reality, jobs won't be eliminated but will shift toward becoming more strategic and consultative.
Think about the invention of Excel. How many accountants lost their jobs to an Excel spreadsheet? The truth is accountants became even more valuable as they gained time by being freed from mindless tasks, such as copying rows of data.
Do you think most people enjoy doing the mundane, rote work that Digital Workers can perform? They don't. Proof is that backlogs stack up of work they'll get to later or that can be "saved for the summer interns."
This is the type of work that rarely gets mentioned at awards ceremonies (unless the backlog grows so incredibly high that it becomes a priority initiative, at which point you typically need to spend extra resources to get through it). Cutting and pasting repetitive reports is not the kind of work government staff are trained to perform and doesn't lead to promotions or career growth.
Just as Excel made accountants more valuable, RPA is poised to elevate skill sets throughout government.
2. Digital Workers boost morale
By implementing automation, government can play to its strengths. In the annual Federal Employee Viewpoint Survey, the highest perennial marks went to alignment with the government mission. In fact, 77% of all survey respondents agreed with the following statements, with NASA employees (the most highly engaged workforce in the federal government) agreeing 87% of the time:
My work gives me a feeling of personal accomplishment. (Q. 4)
I like the kind of work I do. (Q. 5)
My talents are used well in the workplace. (Q. 11)
I know how my work relates to the agency's goals. (Q. 12)
The work I do is important. (Q. 13)
No one could reasonably claim that performing automatable tasks aligns their skill sets to the mission. Most often, inputting data or cutting and pasting information from one system to another serves to separate the employee from the mission he or she is invested in performing.
Automation is making work more human. According to a 2018 survey conducted by Goldsmiths, University of London, the arrival of automation technology — specifically RPA and artificial intelligence (AI) — is having a positive effect on human workers.
The survey of senior business leaders from major enterprises in the U.S., UK, India, and Japan found RPA and AI are amplifying the human experience and strengthening the links between employee learning, growth and engagement, and organizational performance. The researchers found that in augmented workplaces:
Workers are 38% more engaged than those in non-augmented competitors.
70% of respondents said augmentation had improved the wellbeing of their team.
80% of those using AI and 78% using RPA say it frees employees from repetitive work.
3. Errors are reduced
The more government organizations can execute their processes with consistency and without errors, the better. Figure 2 depicts, using a heat map, typical HR processes that are most appropriate to be automated by a Digital Worker: hiring, onboarding, and personnel management.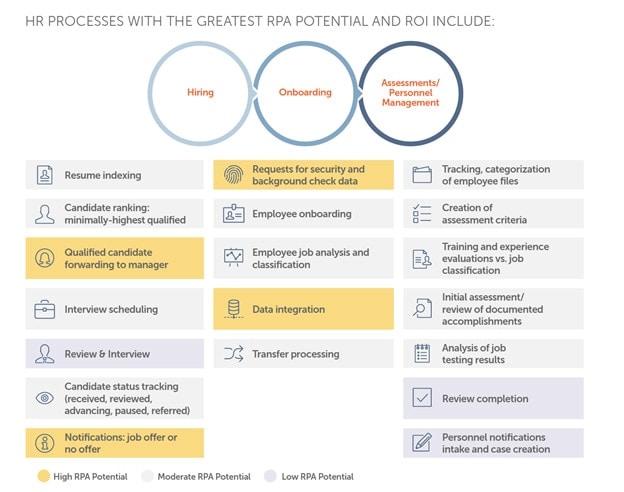 As you can see, many of these processes can be assisted by a Digital Worker, reducing errors and subsequent rework, speeding processing times, and allowing the human HR analyst to move things forward and address the exception cases as they occur.
4. An audit trail provides transparency and accountability
Shadow organizations are generated when there's a general lack of trust and awareness of what official headquarters units are doing. The greatest chance to avoid this is to build in transparency using Digital Workers in combination with performance dashboards, such as Bot Insight (see Figure 3).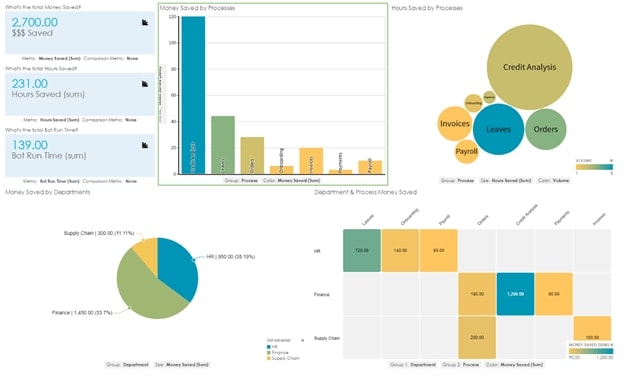 5. Digital Workers help address government workforce gaps
The federal workforce is typically thought to be made up of full-time employees (FTEs), but in truth, you must also consider contractors as a critical resource to fill work gaps. One major benefit to hiring a contractor instead of a full-time employee is contractors can scale up and down according to the work needs. There are more flexibilities to install contractors as the need arises. The downside is they have a reputation of incurring higher hourly rates than FTEs.
Digital Workers are like contractors, only cheaper and faster. They can perform tasks on a constant basis. They can scale up or down when needed, and they can be reprogrammed when there's a new task to be accomplished. As Digital Workers become part of the organizational culture, the reprogramming can be part of a maintenance schedule.
Unlike with a contractor, you don't need to conduct expensive background checks, as security requirements are built into the platform.
It's not that the federal government has too many personnel; it's just that it has workforce shortages in certain high-risk areas and surpluses of workers in others, making it out of balance. The U.S. Government Accountability Office (GAO) has identified mission-critical skills gaps as a high-risk area.
As each automatable task gets turned over to a bot, the federal workforce will shift to a more hands-on, consultative, strategic approach. This will address the high-risk skill sets identified by the GAO, as well as drive higher performance in general.
With 30% of current federal government FTEs becoming retirement-eligible by 2023, according to Government Executive, the coming brain drain is another factor driving the need to automate tasks and let humans do what they do best.
As HUD's chief human capital officer in 2005, could I have waved a wand and decree that all HR report to me, regardless of whether they were shadow or not? Even if that highly impractical, politically fraught step was taken, things would have eventually shifted back into shadowland.
My response then at HUD was to keep the central and shadow HR staff where they were and pursue iterative progress by establishing a stronger partnership between both groups. We documented roles and process flows and set standards for timely HR actions. We tracked everything via spreadsheets and email.
If RPA had been available then, accountability and auditability would have skyrocketed, and the partnership between the programs and central departments would have grown stronger.
That opportunity is here today and can help public sector units deliver internal services faster, more accurately, and more transparently than ever before.
Improve your public sector
workforce with Digital Workers.
About Keith Nelson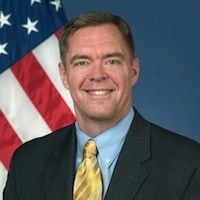 Keith Nelson puts his more than 18 years of experience in the federal government to work as senior director of industry marketing for public sector at Automation Anywhere, where he strives to eliminate red tape in government, academia, and nonprofit sectors.
Subscribe via Email
View All Posts
LinkedIn