Blog
Making Technology Jobs Accessible to All
November 7, 2019
4 Minute Read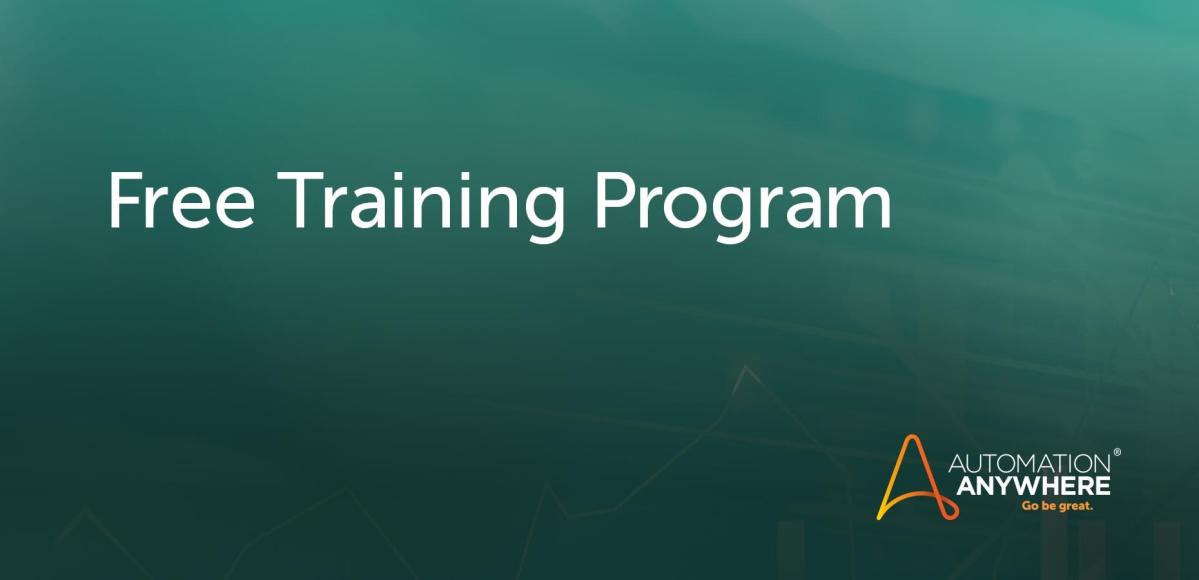 The demand for digitally skilled talent is on the rise, with 88% of hiring managers agreeing formalized retraining programs will be imperative in the coming years, according to a Salesforce Research report.
Challenging social backgrounds and lack of opportunity to develop specific skills shouldn't preclude highly motivated individuals from stepping up to help fill the skills gap and secure good jobs. Whether it's an autism diagnosis, homelessness, or simply a poor economic area, these disadvantages don't have to be limiting.
That's why Automation Anywhere has embarked on a corporate social responsibility initiative to equip all segments of society with technology skills they can take to any job they're interested in. As part of that initiative, we've partnered with PeopleShores to retrain and upskill challenged, underprivileged, and at-risk individuals in Robotic Process Automation (RPA), the fastest-growing segment of the software enterprise market, according to Gartner.
The mission of PeopleShores, "bringing technology-oriented careers to the shores of economically challenged communities in the USA through impact sourcing," aligns well with ours. Our collaboration underlines the need for organizations to address potential skills gaps related to automation and, at the same time, helps provide PeopleShores team members with a new career path that matches the kinds of skills companies will require.
RPA job training for a better life
Specifically, our partnership will empower PeopleShores employees, or process associates (PAs), with the tools and training needed to get them on their feet. We engage with PeopleShores in three main areas:
Partnering in RPA training through Automation Anywhere University (AAU) to help upskill and certify the PeopleShores workforce and test their RPA knowledge
Providing use of Automation Anywhere Enterprise A2019, the first purely web-based, cloud-native Digital Workforce platform for bot development and management
Working as a socially responsible partner to ensure business and digital transformation can be done in a meaningful, impactful way
"With this strong partnership with Automation Anywhere, many of our process associates are going from novices to bot developers in less than six months," says Murali Vullaganti, PeopleShores founder. That's life-changing as it opens doors for workers to fill vital roles and earn more than minimum wage.
3 steps to a world of opportunity
The PeopleShores job training program is divided into three stages. Disadvantaged individuals who prove themselves highly motivated to learn, grow, and contribute, and pass a rigorous screening process, start as trainees. This stage lasts one to three months, depending on the individual's development.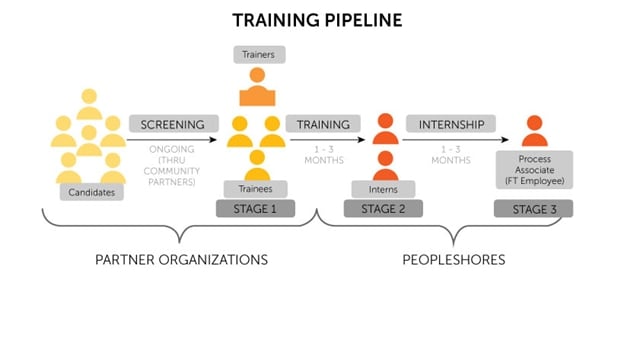 Training covers in-demand skills, such as RPA, data analysis, computer tools, and time management, as well as social skills, grooming, professional etiquette, teamwork, and customer service. At the end of the training, qualified candidates are referred to PeopleShores for potential jobs.
Internship, stage two of the program, serves as a stepping stone between training and full-time employment. After passing in-person interviews, a background check, and character reference checks, trainees are hired as interns for up to three months, working 28 to 40 hours per week for hourly pay.
Interns learn advanced skills in this stage, typically in an area of potential staffing. Those who show outstanding performance are hired full-time as PAs.
Stage 3 marks many PAs' first full-time employment positions. Because of that, the stage includes a comprehensive orientation that covers benefits, job expectations, employment policies, confidentiality, fiscal responsibility, and much more. PAs receive salaries, healthcare benefits, and paid time off.
But the PeopleShores program doesn't stop there. A focus on employee growth, development, and support is paramount and includes on-the-job training in both online and classroom formats.
Together, Automation Anywhere and PeopleShores are empowering the workforce of the future, giving opportunities in the form of jobs to underserved segments of society. After all, it's our corporate social responsibility.
The future of work
belongs to everyone.
About Neeti Mehta Shukla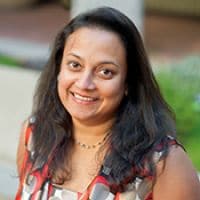 Company Co-Founder and Social Impact Officer, Neeti is committed to empowering non-profits and uplifting vulnerable societal groups through tech upskilling and making automation a global force for good.
Subscribe via Email
View All Posts
LinkedIn