Blog
Klevops Acquisition Furthers the Mission of Automation Anywhere
August 8, 2019
3 Minute Read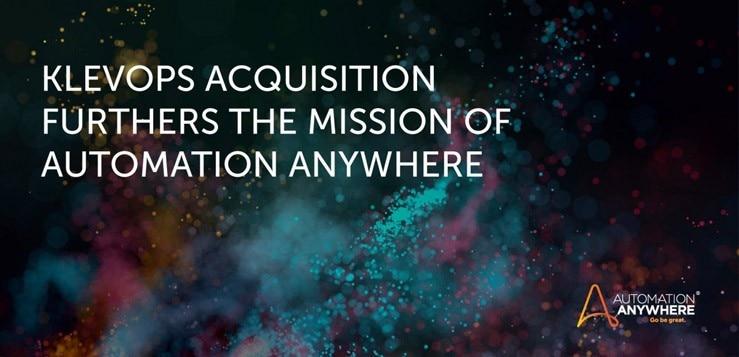 Automation Anywhere is excited to announce the acquisition of Klevops, a privately held company based in Paris. With the acquisition, Automation Anywhere fast-forwards the Robotic Process Automation (RPA) category to Attended Automation 2.0.
Klevops technology provides a first-of-its-kind capability for managers to easily orchestrate work streams across a team of employees and bots, driving a higher level of employee productivity and improved customer experience. This enables customers to automate more processes than ever before, with the same level of central governance, security, and analytic capability for which Automation Anywhere has always been known.
Attended Automation 2.0
Put simply, attended automation is Robotic Process Automation that requires human interaction to complete processes. Today, attended automation operates as a sort of virtual assistant — triggered by one employee at a time — sending and receiving information to and from a bot.
Attended automation is deployed on workers' desktops, which means the bots can also be available when their RPA needs human help to make a decision. The bots otherwise go on through their process, freeing human workers to focus on higher-value projects while being both more productive and more efficient.
This virtual assistant has already proven very useful for businesses and enterprises. However, it's restricted to one employee at a time. And, hence, the need for Attended Automation 2.0.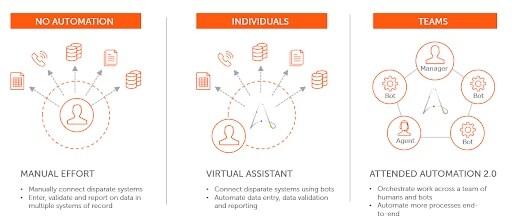 Graphic 1: A comparison image that shows, on the left side, a business process using no automation and entirely manual effort, a center images that shows how automation works with individuals as a virtual assistant, and a right-side image that diagrams how Attended Automation 2.0 works with teams.
Rather than having attended automation restricted to a single employee at a time, Attended Automation 2.0 — that is, our RPA platform now with integrated Klevops technology — enables several employees to orchestrate attended automation tasks across multiple groups of employees and multiple bots easily and intuitively.
As a result, customers will be able to maximize the advantages of using intelligent automation (RPA+AI) across their entire organization while maintaining or exceeding their existing levels of security, governance, and analytics.
What this means for Automation Anywhere customers
Our customers will benefit by increasing the automation footprint for their teams with a truly differentiated, best-in-class, easily deployed technology not found elsewhere that enables their employees to work in a more intuitive manner with bots, both individually and as teams of bots and people.
As the category leader in intelligent RPA, Automation Anywhere will continue to invest in building the world's best, most complete products and enduring partnerships, addressing customer needs like never before. Attended Automation 2.0 is one great example. Watch this space for more.
Discover how attended automation
can work for you.
About Prince Kohli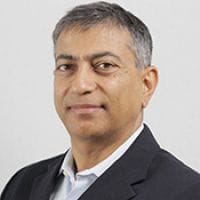 Prince Kohli serves as chief technology officer with experience building products and teams spanning cloud computing, enterprise software, network transport, systems, and security.
Subscribe via Email
View All Posts
LinkedIn