Blog
Forrester: Automation Anywhere a Leading Product in RPA
October 29, 2019
4 Minute Read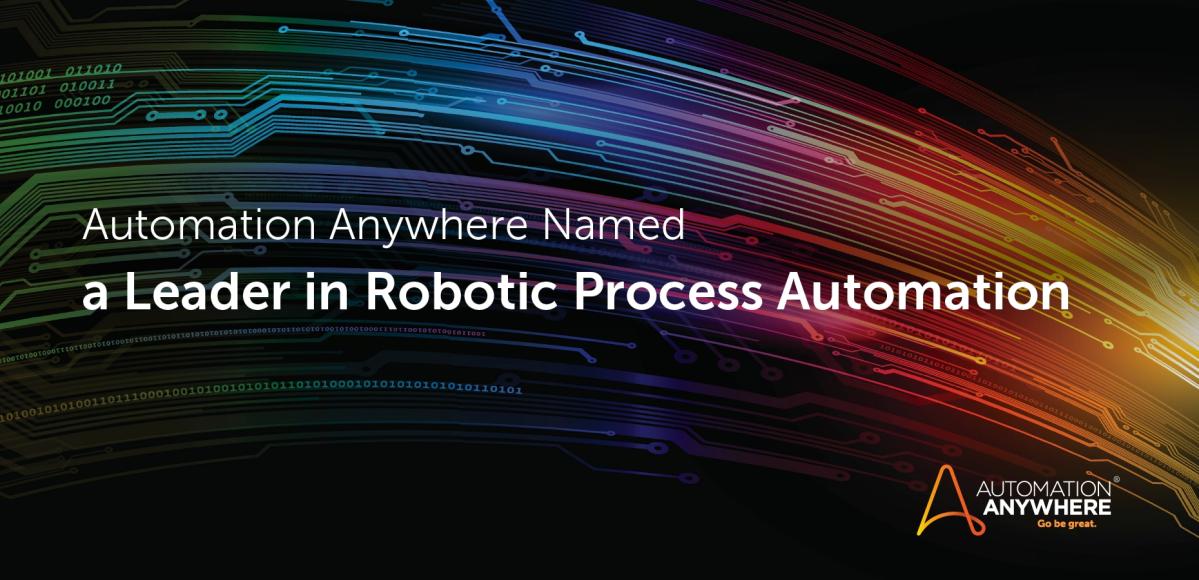 In a new Forrester report, "The Forrester Wave™: Robotic Process Automation, Q4 2019 The 15 Providers That Matter Most and How They Stack Up," Automation Anywhere — called by Forrester "one of the most recognized names in RPA" — was lauded as a leader with a truly global presence. Here are some of the takeaways from the report.
What does being an RPA leader mean?
To Forrester, the three most important criteria when evaluating Robotic Process Automation (RPA) platforms are:
Their ability to scale — by which Forrester means their support for helping customers jump-start a larger journey of transformation and innovation
Built-in analytics and openness to integrate with artificial intelligence (AI) frameworks for truly intelligent process automation tasks
Support for human-in-the-loop processes
Because these are all things in which Automation Anywhere excels, we were not surprised to be named a leader in the increasingly crowded RPA field. In terms of the strength of our strategy, the strength of our current product, and our market presence, we outpaced the pack of most RPA contenders.
We're especially proud of being prescient about the importance of integrated AI to RPA. A theme that constantly arose in the Forrester report was that enterprise customers are ready to move beyond basic RPA to combine it with technologies that fall under the broader AI umbrella, such as text analytics, conversational intelligence — to build chatbots for customer service, for example — and machine learning.
Automation Anywhere has been on the forefront of the intelligent automation movement since we introduced Document Automation — the industry's first integration of cognitive automation into RPA — in 2017, allowing customers to easily process a wide variety of complex documents.
We achieved a large number of perfect scores
Forrester awarded Automation Anywhere the top possible score of 5.0/5.0 across a broad range of functions and features. Among the most notable:
Bot development/core UI/desktop functions
Market presence
RPA/AI platform Integrations
Scale experience
Innovation and market approach
Application control
Language support
Design environment
Robot control, scheduling, and prioritization
RPA and text analytics
The report points out strengths of the Automation Anywhere Enterprise product, including its thin client architecture, ease of use and automation connectivity, sophisticated bot design controls that allow for very fine tuning, and the overall low cost of ownership. These distinctions confirm Enterprise as one of the best-in-class automation products available today.
What this means for Automation Anywhere customers
As Automation Anywhere continues to accelerate innovation and market expansion, customers will benefit from our ability to fund exciting new research and development ventures, as well as acquire promising technologies to add to our already-rich portfolio.
A case in point: our recent announcement of Automation Anywhere Enterprise A2019, an AI-powered, cloud-native RPA as a Service platform that can work on premises, in the cloud, or in hybrid environments. Also in October, we announced that we surpassed 100,000 bot downloads from our Bot Store, which we had launched less than 19 months earlier.
And, back in August, we announced our acquisition of Paris-based Klevops, which enables several employees to orchestrate attended automation tasks across multiple groups of employees and multiple bots easily and intuitively. Unlike most attended automation scenarios, this one will allow entire departments to coordinate human-bot interactions from one place.
Automation Anywhere already has one of the largest trained partner networks in the world, with more than 550 engineers working on R&D, more than 800 partners, and more than 3,000 customers. All these numbers continue to increase week over week, and our more than 40 offices around the world give us a truly global presence.
Forrester especially took note of our new mobile phone app to manage bots from anywhere, and our text analytics enhancements to IQ Bot that support handwriting. "Automation Anywhere delivers a digital workforce with a low total cost of ownership," Forrester concluded.
Read the complete
Forrester Wave report.
About Jeff Snyder